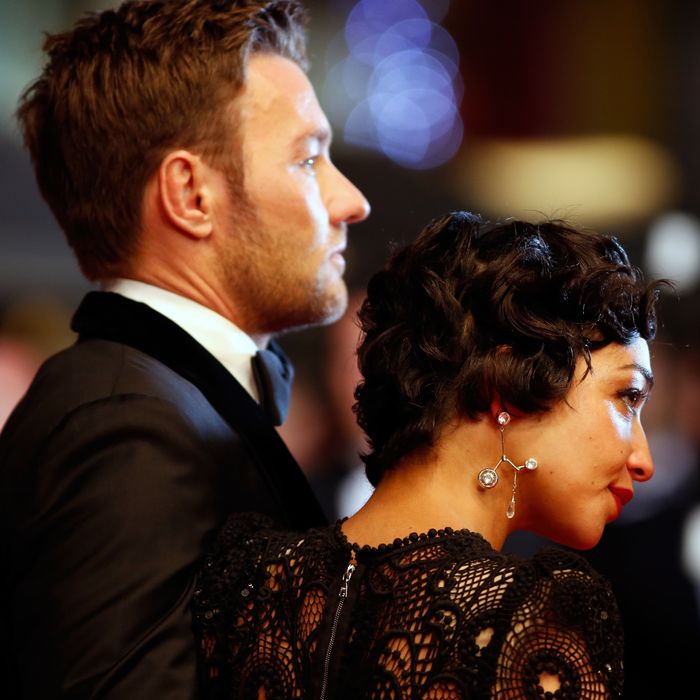 Joel Edgerton and Ruth Negga of Loving at Cannes.
Photo: Tristan Fewings/Getty Images
Long considered the unofficial opening of awards season, the Gotham Independent Film Awards (which announced its 2016 nominations yesterday and will be held at Cipriani Wall Street on November 28), have never been the kind of bellwether of future Oscar success that, say, the SAGs and PGAs have been. Mostly, it's just a great party where all of New York's independent-film scene turns up and gets drunk together.
But maybe they should be.
Think of the Gothams as the precursor to L.A.'s Independent Spirit Awards, which is itself a precursor to the Oscars, with more of an emphasis on highlighting breakthrough talent and nodding to indie-film stalwarts, such as Jim Jarmusch, whose lyrical movie Paterson, starring Adam Driver as a New Jersey bus driver who writes poetry, got three nominations but isn't expected to get any love from the Academy. Moreover, while the Gothams nominating committees are made up of film critics and festival programmers (making for a lot of WTF? nominations, like Richard Linklater's Everybody Wants Some, up for Best Feature this year), the juries determining the winners look a lot like a cross-section of Oscars voters — writers, directors, actors, producers, etc., from the massive membership of the Independent Feature Project (IFP), which runs the Gothams, many of whom are also Academy members themselves. What that means is that, while not often directly predictive, the Gothams are strong indicators of the growing consensus around particular movies and people who are already in the Oscars conversation; if you want to know who's on a hot streak, or about to be on one, look no further.
Coming first makes the Gothams, in many ways, the one pure indication of a movie's regard, removed from the mass fever of film festival wins, or the hype of awards building upon awards that comes later in the season. They've also aligned with the Oscars more and more in recent times. Last year, long before the surges of The Revenant and The Big Short (both of which were too big-budget to qualify for Gothams), Spotlight was the big Gothams winner, taking home prizes for Best Feature, Best Screenplay, and Special Jury Prize for Ensemble Cast. The year before, Birdman topped Boyhood, just like it did at the Oscars. In previous years, they've pointed to the consensus forming around The Hurt Locker, Winter's Bone, Beginners, Beasts of the Southern Wild, Matthew McConaughey in Dallas Buyers Club, Julianne Moore in Still Alice, and Citizenfour in the documentary category.
So go ahead and place your bets on Kenneth Lonergan's Manchester by the Sea and Barry Jenkins's Moonlight — both of them emotional bruisers, the former the wrenching tale of a lonesome Boston janitor who takes in his dead brother's teenage son, the latter a heartbreaking journey through black-male identity — being in the Best Picture race. Each got nominated for Best Feature and Best Screenplay, and while Manchester technically got the most nominations, at four, it's because Casey Affleck, who plays the janitor, is in Best Actor and Lucas Hedges, who plays the teenager, is in Breakthrough Actor, whereas the entire cast of Moonlight is getting a Special Jury award for ensemble performance. Essentially, they're even.
Also worth paying attention to: 1) Casey Affleck in the Best Actor category. Denzel Washington's Fences isn't out yet, so wasn't nominated, but if Affleck starts winning awards as early as November, that looks like the battle to come. 2) Loving actors Joel Edgerton and Ruth Negga both getting Gotham nominations. The movie premiered with a quiet fizzle at Cannes, but has been gaining steam, slow and steady. 3) The battle royale between Annette Benning in 20th Century Women; Natalie Portman in Jackie, nominated for Best Actress alongside Negga; Elle's Isabelle Huppert (a tough sell for Oscars given that she plays a woman who refuses to be a victim to her rape, but this is a good start on the momentum front); and Kate Beckinsale for Love & Friendship (huh?). La La Land's Emma Stone and Fences' Viola Davis aren't competing because their movies aren't eligible, but it'll still be very interesting to see who wins. 4) The documentary nominations for Weiner and OJ: Made in America. Many critics have called Weiner the best political documentary ever made, but have worried that the ever-evolving story about its subject, Anthony Weiner, and his continued dick-pic-ing — plus separation from wife Huma Abedin, right as Abedin's boss, Hillary Clinton, might become president — would either overshadow the film or make it seem like yesterday's news. Meanwhile, the uphill battle for OJ: Made in America is that it aired in five parts on ESPN, and in order to be considered for an Oscar, Academy members have to think of it as a 7.5-hour theatrical feature. Both nominations are flag-planting votes of confidence.
It's going to be a looong season. We'll see you at the bar.