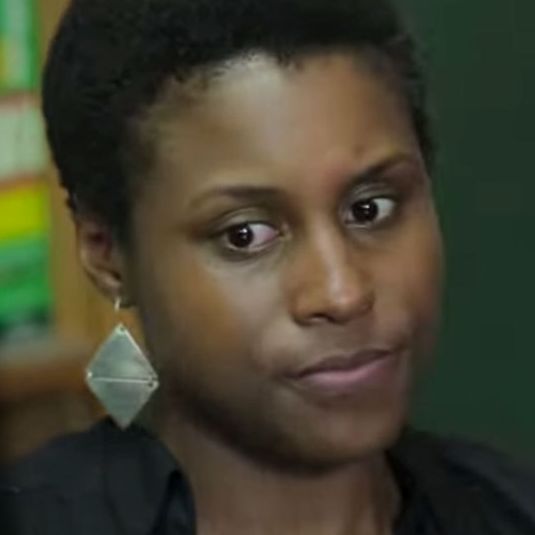 From "J" to "Issa."
Photo: HBO
Issa Rae's TV show, Insecure, finally (finally!) makes its official debut on October 9 on HBO. Fans of Issa Rae will no doubt remember her award-winning web series, The Misadventures of Awkward Black Girl, where she played "J," a painfully awkward black woman who works at a company that manufactures "Gutbusters." Awkward Black Girl, which came out in 2011, epitomized the beauty of a web show: It was low-budget, featured charming performances (Fred! White Jay! CeCe!), and quick, observational humor about race, dating, and office politics. Moreover, it capitalized on the promise of the internet, where a funny, original black woman could make a hit series that you wouldn't likely see on TV at the time.
Well, now you can! On Insecure, which Rae created with Larry Wilmore,  she plays a woman (also named Issa) trying to figure her life out in South Los Angeles. The big question for ABG watchers might be how much of the web series' DNA has found its way into Insecure: It turns out quite a bit! The 30-minute episodes are filled out with narrative drama, higher stakes, and more fully realized supporting characters in her boyfriend Lawrence (Jay Ellis) and her best friend Molly (Yvonne Orji), but viewers will be able to trace a through line from ABG to Insecure. Here are some of the aspects that live on in the show:
She still raps!
A delightful feature of J's in Awkward Black Girl was her catharsis-via-rap, where she would drop rhymes whenever she felt enraged. In the first episode of Awkward Black Girl, she dedicated this to her ex: "Bitch nigga you's a liar, I'll set your face on fire." In Insecure, Issa's raps don't just exist in the realm of the fanciful — in the pilot, she freestyles during an open-mic night. Expect more classics about trifling men, office mates, and broken pussies.
White people in the office are still terrible.
Much of the setting for Awkward Black Girl took place under the harsh fluorescent lighting of the office. In Insecure, Issa works for a nonprofit to help underserved youth in Los Angeles, where she's the token black person. Moreover, Issa's experiences are counterbalanced with those of her best friend Molly, who's a third-year associate at a law firm. She's also working in a predominantly white environment, but unlike Issa, she's got this.
Her best friend CeCe returns. Sort of.
On Awkward Black Girl, J met her "awkward soul mate," CeCe, played by Sujata Day, during a long, awkward walk down the hallway. Day returns to Insecure again, but unfortunately, she's not the best friend anymore. Instead, she plays one of the office mean girls who throws side-eyes at Issa. Sad!
Issa is in another love triangle.
One of the major narrative arcs for Issa's characters on ABG and Insecure is the same: the love triangle. In ABG, our heroine J got dumped by "the love her life" only to find herself enmeshed in a love triangle between a white guy, "White Jay," and her co-worker Fred. Interracial dating doesn't become a theme this time around as both of her paramours are black: her longtime, live-in boyfriend Lawrence (Jay Ellis) and her "What if?" guy, Daniel (Y'lan Noel).
Awkward moments!
Insecure doesn't concern itself as much with the minutiae of daily life as Awkward Black Girl did, but at its heart, it's still about a heroine who feels self-conscious about her choices in life. Insecurity is just a more deeply seated way of thinking about awkwardness, and with the bigger platform, Insecure takes the themes ABG presented a step further.