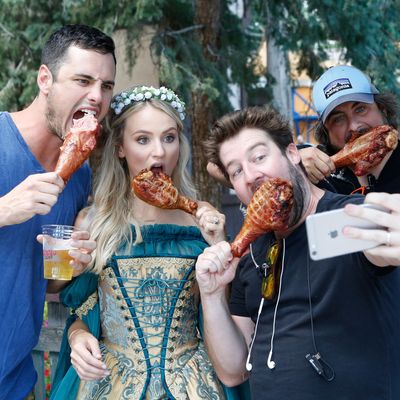 Ben Higgins, Lauren Bushnell.
Photo: Adam Larkey/Freeform
Do you think Jade and Tanner are sitting around somewhere, posing with their hair-vitamin gummy bears and detox teas for their Instagram, wondering why they didn't get a spin-off show on Freeform? Imagine what could have been. Why didn't we get a tragicomic look into the brief Iowan life of Chris and Whitney? How did we end up with Oatmeal and Nickname TBD? They leave me with so so many questions. This episode stretches out two events into a full hour: Host Chris popping back up into their lives to ask them to get married on live TV and Oatmeal being psychologically tortured by his fiancée. Nickname TBD might be evil.
Before we can get to the two main conflicts, if you can call them that, there's this unfinished JoJo and Jordan business. Nickname TBD doesn't want to meet with JoJo because she's convinced JoJo and Oatmeal are still in love with each other and are one friendly brunch away from running off together. They go to a restaurant that somehow serves mimosas, Brussels sprouts, and sushi in one meal. Who pairs mimosas with sushi? Everything about this lunch is out of control. After a stilted toast from Oatmeal, all four sit in silence for an uncomfortable amount of time before JoJo asks if it was weird she kept bringing up Oatmeal on her season. Nickname TBD smashes her champagne flute and holds it up to Oatmeal's neck until he answers. He mutters something about getting a new air conditioner. The emotional blood lust of Nickname TBD is slaked for another day. Jordan asks the important question and wants to know if they fart in front of each other. Nickname TBD insists that she's never farted. She doesn't even know what farts are. She takes in food, digests it, and then excretes Bath & Body Works cucumber-melon body spray.
You know that bitch is a cucumber-melon girl.
For some reason, TMZ is outside the restaurant and asks all the former Bachelor Nation members questions about their lunch. "Wait … you had mimosas with Brussels sprouts?"
Oatmeal and Nickname TBD are at home cooking breakfast and Nickname TBD demonstrates a physics trick I learned in kindergarten — that you can squeeze an egg on its ends and it won't pop when there's a knock on the door. When they open the door, there's a straight-up TV tray with an index card on it. My episode notes were as follows: IT'S A TV TRAY WITH A DATE CARD. STOP. MOST LOW-BUDGET DATE CARD. I guess Freeform doesn't have the budget that ABC does. Host Chris is in Denver and he wants to meet them at The Brown Palace, which is what I imagine a very fancy man calls his asshole.
Host Chris meets them with an array of teatime treats and Oatmeal says he's excited to have "scrumpets and tea." I can't with how positively dense these people are. If we sent this broadcast up into space, the Reapers would come down and harvest our society. Host Chris drops the bomb we've all been waiting for and offers Oatmeal and Nickname TBD the chance to televise their wedding. Oatmeal immediately breaks into a cold sweat and Nickname TBD is suddenly wearing a Pnina Tornai ball gown. Oatmeal says he's overwhelmed and doesn't know if his friends and family would be into a televised wedding. Host Chris just gets up and leaves. Nickname TBD is busy picking out cardstock for invitations. Oatmeal thinks it would be best to talk to some of his closest friends and family about this decision, so he talks to some Denver Broncos who were strangers to him up until a few months ago. They ask if she takes up too much space in the bathroom because women love products. Nickname TBD asks her sister why Oatmeal hates marriage.
Nickname TBD decides now is the perfect time to play a prank on Oatmeal. So she tapes down the handle of the spray attachment on their sink and prods him into turning on the sink somehow. Here's the thing about pranks: If one person doesn't like pranks and the other person keeps playing pranks on that first person, pranks are no longer being played. One person is engaging is psychological warfare. More on that later.
Oatmeal decides to reveal his guilty pleasure to Nickname TBD. How fucking awesome would it have been if his secret was something like he needs to dress up like a baby and have his diaper changed to reach orgasm? Or that he killed an elephant on safari and developed a taste for elephant meat? But no, he's into Renaissance Faires. He likes dressing up like a dork and eating giant turkey legs. He doesn't even have a passion for the history. I don't think he could tell you which period of history a Renaissance Faire celebrates. He would probably say, "the '80s" and he would mean "the 1980s" not the "1580s." Nickname TBD immediately is ashamed, but then Oatmeal explains why he likes them: It's a chance to be weird! Ah yes, this white brunette business analyst clearly loves getting weird. Nothing says "out of the box creative expression" like going on The Bachelor. Oatmeal is a free spirit who only wears waffle-knit henleys.
On the ride to the Renaissance Faire, they do another fake rap. Why.
As payback for making her appear in public in a foolish costume, Nickname TBD decides to torture her fiancé for no good reason. Oatmeal is going to throw out the first pitch at a Rockies game and she gets the team to tell him that he also has to sing the National Anthem. Ha ha, isn't it hilarious? Isn't it hilarious to make the person you love most in the world stress for a week about confronting their greatest fear? She knows it's wrong, but does nothing. When he asks for encouragement and advice, she tells him he's not good enough even though she knows it's fake. This is truly the banality of evil. In the end, a choir of children come out to sing the National Anthem, which is the true horror. No one takes a knee during the anthem. Cowards.
Finally, Nickname TBD and Oatmeal sit down to discuss having their wedding televised and they agree to be come together and accept a big ol' budget from ABC to televise their wedding thus justifying this show. Synergy.