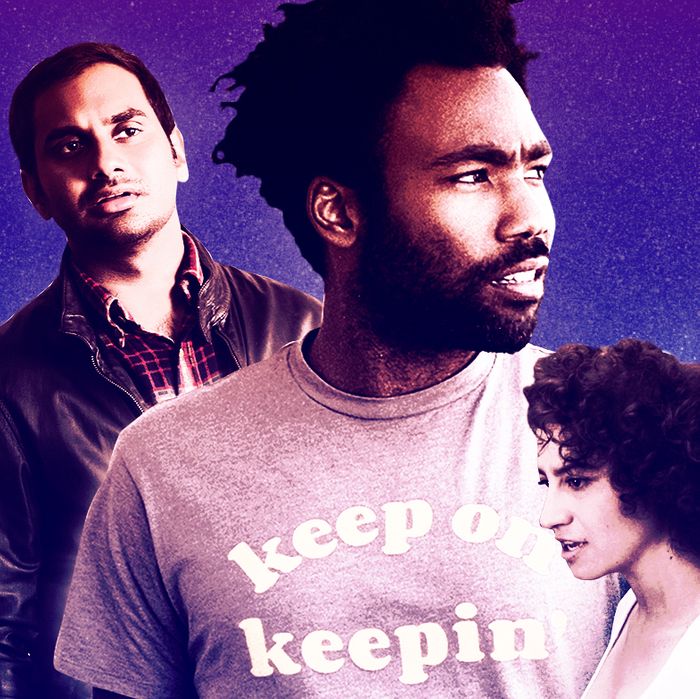 Photo-Illustration: Maya Robinson and Photos by Netflix, FX and Comedy Central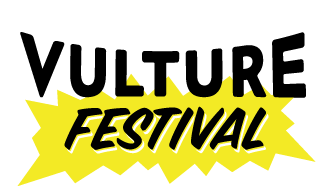 Come see Jerrod Carmichael at the 2017 Vulture Festival with The Carmichael Show co-stars David Alan Grier, Loretta Devine, Amber Stevens West, Tiffany Haddish, Lil Rel Howery, Danielle Sanchez-Witzel, and Ravi Nandan on Sunday, May 21, at 3 p.m. in New York. Tickets available on VultureFestival.com!

In 2010, a lot of comedians were buzzing about the "Louie deal" — the go-to shorthand for a TV show in which they'd have complete creative freedom. Louie represented a dream for a generation of comedians, but at the time, it still seemed like an impossible one. Little did we know that TV executives, especially those at cable and streaming sites (at first), were beginning to hand out development deals to comedians like dentists do toothbrushes.
Unlike the the '90s, when comedians were given a lot of money to make traditional, three-camera sitcoms based loosely on their acts, over the last six years since Louie, deals have offered comedians less money to do whatever they want. Networks don't just want stand-ups — they want auteurs. And to their credit, many of today's funny people are up to the challenge. Looking at all the shows by and starring comedians in the last five years, you see a tremendously diverse group of shows, both in terms of representation and point of view — this ranking is meant to celebrate the best of the best in a post-Louie era.
To qualify for this list, a show has to have been created and executive produced by a comedian (or comedic group), star that same comedian (or group), and capture that comedian's (group's) voice. The two top criteria in determining a show's rank were (a) specificity of comedic voice and (b) execution of comedic voice, followed by how original the show's structure is, and how well it executes that structure. I also weighed how consistently good the show was against how good it was at its peak, without necessarily valuing one more than another. Considering that some of these shows have released far more episodes than others, I did not severely penalize a dip in quality. That said, as you'll see, shows with fewer episodes undeniably had an advantage if they came out the gate hot with a clear vision.
A quick note about series I didn't include: Non-narrative shows — sketch and talks shows like Inside Amy Schumer, Billy on the Street, or The Eric Andre Show — because they are a different form entirely; American adaptations of shows that first aired before Louie, like Review or Wilfred; Netflix's Lady Dynamite, because while the excellent series is based on Maria Bamford's persona, Bamford herself didn't create it. Shows like Pamela Adlon's Better Things, Issa Rae's Insecure, or even Lena Dunham's Girls are also not on the list because they are not the works of comedians, which I am defining as a person who has a specific live-comedy background. And despite the existence of many great British comedies, only American comedians' work was considered, because the list is meant to tell a story about a byproduct of America's Second Comedy Boom. Lastly, this is not meant to be comprehensive: If a show that does meet these requirements is not on the list, it's because I believe the shows on this list are better.
Without further ado, the 15 best auteur comedies, ranked.
15. Legit, FX (2013), FXX (2014)
As with a few comedians on this list, Jim Jefferies's comedy is made better when he has other characters weigh in on it. In his act, Jefferies alone might come off like a misogynist or an asshole, but on the show, there are characters to tell him he's a misogynist asshole. It does a lot to clarify his perspective. Like Louie or even Curb Your Enthusiasm, Legit — which ran for two seasons before being canceled — finds comedy in Jim Jefferies playing himself at his worst. But what's exciting about the show is its pairing of his scumbaggery with disabled characters, who typically in media are treated with kid gloves. The series literally starts with Jim taking DJ Qualls's character, who has muscular dystrophy, to a prostitute to lose his virginity, even though the act might kill him. The show also featured many disabled actors in roles where they partied, cursed, and were generally assholes. The result was an interesting mixture of dark, gallows humors and sentimentality.
14. Another Period, Comedy Central (2015–present)
Created by Natasha Leggero and Riki Lindhome, Another Period is closer to shows like Childrens Hospital or Reno 911! than Louie in terms of tone and structure. And like those, few shows do more with the creative freedom they're given than Another Period. In a time of televised comedic understatement, Another Period revels in its excess, which is perfect for the show's core concept — a parodic mash-up of Keeping Up With the Kardashian and Downton Abbey. Every performance is huuuuuge, and every story line is 100 percent ridiculous — from Harriet Tubman teaching Leggero and Lindhome's characters about branding to Leggero's character learning about condoms and setting out on a mission to find and use one. The result is Another Period feels like a bizarro updating of a classic sex farce.
13. Difficult People, Hulu (2015–Present)
Difficult People arguably cares about capital-J jokes and being funny more than any show on television. It's a point made outright on the show, as the Comedy in Theory was one of their main targets this season. In one episode, Billy scoffs, "When did comedies become 30-minute dramas?" In another, Method Man says, ""So what kind of TV you guys want to do? Sitcom? Talk show? Maybe one of those streaming joints that claims to be a comedy but no one on the staff truly knows how to write a joke even if you put a gun to their head?" Having characters execute hard setup–punch line jokes is actually one of the most challenging things to pull off, as it can make a viewer question the realness of the world (you know, because real people don't have professional comedy writers writing their banter). Yet Julie Klausner, the show's creator and co-star, along with Billy Eichner, created human characters who communicate with pop-culture references and pithy asides, and it feels true to who they are.
12. The Mindy Project, Fox (2012–2015), Hulu (2015–Present)
The Mindy Project is arguably the most inconsistent show on the list as a result of having a tremendous cast whose less interesting story lines occasionally distract from the protagonist's journey. But when it's good, it's so freaking good. Its best episodes, which almost always focused on Mindy and Danny's relationship — especially between seasons two and four — discernibly moved the possibility of the romantic-comedy genre forward by lingering in the grayness of their relationship. Creator Mindy Kaling created one of the most complex, honest, will-they-won't-they stories ever, all while brazenly unleashing some of the biggest swinging, hardest jokes on TV. I love a good love story, but what makes Mindy so good is that it never loses sight of the "com" in rom-com. It's exactly what Kaling set out to do, and it's exactly what she achieved.
11. Baskets, FX (2016–Present)
Though not autobiographical in the way many of the show on the list are, Baskets is personal. Years back, Zach Galifianakis (who created it alongside Louis C.K. and Jonathan Krisel) had seemed frustrated by his Hangover stardom and the comedy he was expected to make for money. It is a similar frustration felt by Chip, who wants to be a clown but can only find work as a rodeo clown. And in near defiance of the comedy of excess of the Hangover films, Baskets is interested in a smaller sort of humor. Despite being a clown, the physical comedy always comes during mundane circumstances. And the other performances, all of which are pitch-perfect (especially Louie Anderson's), are subtle, despite the occasional ridiculousness of the world. Baskets is an artful, specific manifestation of the stupidity, the sweetness, the melancholy that defines Galifianakis's best work, like his doomed talk show and stand-up specials, namely Live at the Purple Onion. After being in a few studio tentpoles, this clown feels at home in his small tent.
10. The Carmichael Show, NBC (2015–Present)
Before the second season of The Carmichael Show, I interviewed Jerrod Carmichael, the show's star and creator. We spent nearly the entire time arguing. It wasn't star behavior — Carmichael loves arguments, and The Carmichael Show reflects that spirit. Each episode focuses on a single topic — from Bill Cosby to depression to porn addiction to Trump. Like with Jefferies, the show has something Carmichael's stand-up lacked. In his stand-up, Carmichael would offer controversial thoughts that were contrary to popular opinions as a way of sparking something in the audience, but because it's a solo medium, a conversation couldn't actually happen. The Carmichael Show allows him to fully realize that vision by having each character on the show represent a different point of view. In an era where people shout opinions without any intention of hearing the other side out, it's great to have a show so committed to debate.
9. Master of None, Netflix (2016–present)
Of all the shows on this list, Master of None has the most potential to move up. The highlights of its first season stack up as some of the best television made all this year; however, these highlights make the show's flaws that much clearer. Not unlike The Carmichael Show, Master of None is a show of ideas, and in that way it is also an extension of star and co-creator Aziz Ansari's stand-up act. The issue is that sometimes the dialogue doesn't feel like humans talking as much as them reciting Ansari's stand-up at a lower volume, and on the street. That said, the show is transcendent when it feels like the story is leading the comedy, not the other way around. In particular, "Parents," "Indians on TV," and "Mornings" tell funny, engrossing stories that are also insightful.
8. The Last Man on Earth, Fox (2015–present)
Months before it aired on Fox, a friend sent me the script for the pilot of The Last Man on Earth. I remember thinking, Who would ever put this on TV? There was a lot of talk when the show premiered about how it felt like a cable show, but it was really like nothing we'd seen anywhere: a 30-minute comedy in which a character walks in near silence, slowly making his way through an unexplained world. Some of that was lost during the first season when more characters were added, and the protagonist started feeling like another post–David Brent comedic antihero. But the show really found its focus in season two. LMOE uses its two defining technical characteristics — its cinematic aesthetic and distinctly slow pacing — to create a sense of loneliness and hopelessness that, when mixed with the show's silly and at times juvenile sensibility, results in a tone all creator Will Forte's own.
7. Playing House, USA (2014–present)
Mr. Robot gets a lot of credit for making USA a "prestige" network, but I'd contend that Playing House deserves that distinction. While it was sad when NBC canceled Best Friends Forever after only six episodes, when you see what creators-stars Jessica St. Clair and Lennon Parham have been able to do with Playing House, it's hard to say it was a bad thing in retrospect. BFF, though charming and very funny, ultimately ended up feeling a bit madcap. Playing House is more visually interesting and grounded, allowing St. Clair and Parham to show their range as actors. (Seriously, try getting through an episode without crying a little.) The heart of the show is clearly Parham and St. Clair's next-level banter. Usually scripted from improvisations that the duo tape recorded, the dialogue is idiosyncratic, hilarious, and still so real. I can't think of a show that better captures the specificity of how two best friends talk to each other. Playing House knows exactly what it is, and delivers every episode.
6. Crazy Ex-Girlfriend, CW (2015–present)
We're really getting into the heavy hitters now. You could shuffle these top six in many different ways and it would still make sense, which is a testament to the comedy-auteur genre. Here is CXG at six, a show our TV critic Matt Zoller Seitz reasonably called the best show on TV last season. While I do find the show funny, I personally don't connect with it comedically. This is, however, not a problem with the show. It speaks to the state of the genre and how it allows room for specificity of comedic sensibilities — none of these shows aspire to be all things to all people. CXG is wildly ambitious, and it consistently subverts rom-com tropes with precise humor — the calling card of co-creator and star Rachel Bloom — across its 18-episode first season. Its ability to excavate its characters' psychologies while maintaining a sense of buoyancy is a real achievement. And that's all without even mentioning those songs. They make it look easy, but to execute multiple music videos each episode that are hilarious, distinct, fit within the world of the show, and serve the story is nothing short of incredible.
5. Catastrophe, Amazon (2015–present)
Catastrophe is the most adult show on television. I don't mean that it's like Watch out, parents, this show is non-stop boobs and cursing, but that these characters are grown-ups with grown-up problems and flaws. And the show doesn't just not sugarcoat them — it revels in them. In its second season, co-creator Sharon Horgan's issues with motherhood were not easily solved, because in real life, there are no easy answers. The show let her fail and suffer and contradict herself, and Horgan is such a great performer, she makes it all hilarious. Alongside Rob Delaney, the show's co-creator/co-writer/co-star (as an American comedian, his presence also makes the show qualify for this list), the two portray an adult vision of romance, created less by magical happenstance and more by effort. The scope of the show might be small, but it's universal.
4. Real Husbands of Hollywood, BET (2013–present)
Kevin Hart is one of the funniest people, period. Full stop. This is a statement of fact. The thing is, I don't think any of his movies — except his stand-up films — have effectively captured this. If you want to see Kevin Hart just be funny, you have to watch Real Husbands of Hollywood. Other than how often Hart finds himself in fights — often with children — the show is less a Real Housewives parody than it is Hart's version of Curb Your Enthusiasm. Husbands has a seemingly bottomless well of comedy: Hart's brazen overcompensation for how insecure he is about being famous. As he continues to get more and more famous in real life, and in turn in the world of the show, this tension only increases. And this is all just subtext. The text is watching a person who is tremendously gifted at being a fool be a fool.
3. One Mississippi, Amazon (2016–present)
While other shows on the list translate ideas and topics from the creator's stand-up to their shows, One Mississippi is the only to expand upon a specific story. In that way, the show has been in the works for four years, ever since Tig Notaro's now legendary Hello, I Have Cancer set, the recording of which was number one on Vulture's list of best stand-up specials of 2012. The show fleshes out the story and adds some fiction here and there, resulting in something equally funny and moving. I can't think of a show that better handles loss, treating it as something that is both deeply sad and deeply weird. Its pilot, which focuses specifically on Notaro pulling the plug on her mother, is one of my top five episodes of television ever. But it's not just loss — One Mississippi also tackles mortality in its treatment of bodies as undeniably gross, fallible objects. And despite taking on the heaviest of subjects, it is consistently funny. Like the best shows on this list, One Mississippi has a rhythm that is wholly its own. It reflects Notaro's slow, almost methodical pacing in her stand-up, resulting in a consistently exciting contrast of tone and subject matter — deadpan takes on mortality.
2. Broad City, Comedy Central (2014–present)
When I settled on the final order of the list, I noticed an interesting trend: All shows in the top four reference a setting in their title. That's not to say, Oh my God, it's like the city is a character IN THE SHOW, but more that, in so much as The Simpsons is the high-water mark of TV, creating a specific universe is a sign of a great comedy. When Broad City premiered, there was no lack of art about New York City, and still, in three short seasons, they have been able to carve out a corner of it that feels completely unique, three-dimensional, and lived in. It all speaks to the strength of co-creators and stars Ilana Glazer and Abbi Jacobson's comedic voices. Together, they created a show that is heartfelt and irreverent — open-minded and brazenly lowbrow — filled with poop jokes and social awareness. There is only one New York, and there is only one Broad City.
1. Atlanta, FX (2016–Present)
I know it seems premature to put a show that hasn't finished its first season at the top of a list, and yet here is where Atlanta is and where it should be. Atlanta feels both like a culmination of the trend to treat comedians as auteurs, as well as something wholly original and unprecedented. Star and creator Donald Glover compared the show to Twin Peaks. Our Matt Zoller Seitz said "it's the closest that scripted TV has gotten to the spare literary fiction of Charles Portis or Raymond Carver." Both are apt comparisons, and here's another: To me, Atlanta feels like certain plays I've seen or read. Like a Harold Pinter comedy of menace, the characters wrestle with their identity while navigating a seemingly real, but slightly off — if not sinister — universe. Ultimately, all these things are correct and none of them are: Atlanta has a special, can't-put-your-finger-on-it quality.
Atlanta is also a very funny sitcom. I know the word "sitcom" is déclassé in these prestige TV times, but (a) The situational comedy is a viable, beautiful medium and (2) Atlanta is undeniably a sitcom, and not just because it has 30-minute episodes. Glover, who wrote on 30 Rock and then starred on Community — two of the best sitcoms ever — plays with, subverts, and builds on the form. (The story line where he goes on a date without enough money to pay for it is as classic as it gets.) And it is a very funny show. Episode four is maybe the funniest to date — take the moment where Darius and Earn are talking in the car, and Darius references Steve McQueen.
Darius: "AIDS was invented to keep Wilt Chamberlin from beating Steve McQueen's sex record. By '69, he was already number three on the all-time list. By '71, he would've beat that boy for show."

Earn: "I thought AIDS was made by the government to kill homosexuals."

Darius: "Oh yeah, that too."

Earn: "Two for one … Who's Steve McQueen?"

Darius: "The actor, man. You know, the King of Cool. You know, the guy from The Sand Pebbles."

Earn: "I don't know him."

Darius: "Yeah, most black people don't know who Steve McQueen is."

Earn: "Really…?"

Darius: "But I thought you'd be into that kind of stuff, but I guess not."

Earn: "But you know who Steve McQueen is though."

Darius: "Yeah, but I'm Nigerian."

Earn: "… Okay."
Later in the episode, Darius and Earn are in a pawn shop and Earn sees a Steve McQueen poster.
Earn: "Hey, you know who Steve McQueen is?"

Pawn Shop Owner: "Yeah."

Darius: "Would you know who Steve McQueen was if you didn't work here?"

Pawn Shop Owner: "Black people don't know who Steve McQueen is. I keep that there for protection. If some dude comes in here asking about that poster, I know he's trying to get me to turn around, so he can rob me."
That is a classic sitcom callback, beautifully executed. But it also says so much about the characters, identity, and popular culture. And it's able to make these points and observations because the joke is good. Atlanta is not a great show that is funny; it's a great show because it's funny.