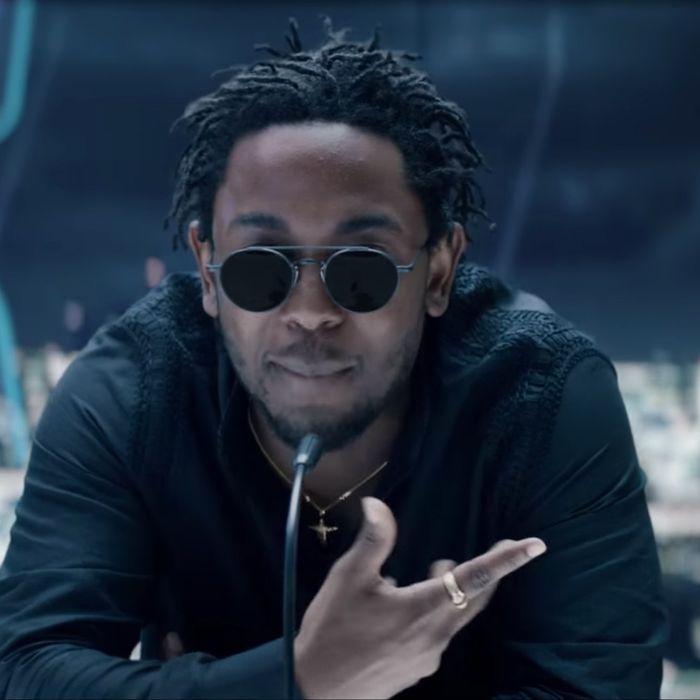 "Don't Wanna Know," the Maroon 5 single released earlier this week, isn't an especially remarkable song. It's pop fluff artificially sweetened by an infusion of "tropical" flavor (read: diluted West Indian sounds), which makes it about par for the course as far as pop in 2016 goes. It's more than a coincidence that the lyrics, with their ex-girlfriend-centered content and possessive tone, are highly reminiscent of Drake, far and away the year's leader in blowing up watered-down world music into behemoth hits.
But the song also calls to mind another subgenre. "Don't Wanna Know" features a guest verse from Maroon 5's Interscope labelmate Kendrick Lamar, and that brief interlude (a scant eight bars) is, to put it gently, bad. Shoddy and lewd, the lyrics ("Do he do you like this, do he woo you like this, do he lay it down for you, touch your poona like this?") sounds like rejected entries from the OVO slush pile, and they're particularly execrable in the light of Kendrick's undeniable verbal genius elsewhere. When a rapper regularly touted as the Best Rapper in the Game delivers an inarguable dud of a verse, it's an event, albeit one everyone's eager to forget.
Willful amnesia aside, though, this is hardly the first time. Kendrick's verse on "Don't Wanna Know" is merely the latest entry in a subgenre so exclusive that it's actively repellent: the worst guest verses by the best rappers. The following doesn't pretend to be a complete listing of the subgenre; it's no more or less than what we could dig up, and we don't recommend listening to any of the verses. It's not exhaustive, but it is a bit exhausting.
Eminem on "The Hills (Remix)" by the Weeknd
Marshall Mathers and Abel Tesfaye have a few things in common: an underclass upbringing; a Great Lakes home city; lyrical themes of heavy-duty substance abuse, misogyny, and extreme violence. Mixing the two musicians together might have seemed like a good idea. But since Eminem lacks any talent for seduction, giving him two verses to bludgeon the listener with harsh, tortured relationship facts amounts to nothing more than a brutal chore.
Jay Z on "Drunk in Love" by Beyoncé
A sweet song, of course, but who could argue that the track isn't weighed down by the set of smarmy sex bars from Mrs. Carter-Knowles's lesser half? The most one can say for Jay's 16 is that their sloppiness simulates the drunkenness central to the song, and that's not saying much.
Jay Z on "Pound Cake/Paris Morton Music 2" by Drake
Repetitious and casually shallow, Jay's phoned-in verses offered Drake an opening to claim he was better — not just on the track, but soon after as an artist and a businessman as well. Jay Z is an artist who began his career telling listeners, in essence, that not trying is not an option — here he stopped trying, and in doing so proved his point in the worst way.
Nas on "We Are" by Justin Bieber
No one ever said that Nas's forte was writing relationship bars, and his soggy 16 on an otherwise decent Bieber joint shows precisely why.
Lil Wayne on "Good Time" by Paris Hilton
A song like this isn't really a song. It's a punishment inflicted on a world so sinful that it allowed Paris Hilton to believe she could or should make music. This song will be held against humanity at the final judgment, and Wayne will be personally held accountable for lines like "I walked up to a big butt and ask her ass 'But what?'" If Wayne at his best had a boundless ceiling, at his worst, his floor is an abyss. On "Good Time" he was falling and taking everyone in earshot with him.
Lil Wayne on "Ready to Go" by Limp Bizkit
This is one of the better Limp Bizkit songs. Wayne's verse is worse than Fred Durst's. The phrase Wayne's verse is worse than Fred Durst's is more tasteful and sonically complex than anything in either Wayne's or Fred's verses. Make of these facts what you will.
Kendrick Lamar on "Bad Blood (Remix)" by Taylor Swift
For months, maybe years, we tried to understand how "Backseat Freestyle," the chest-beating homage to peak-era Lil Wayne set early in Kendrick's Good Kid, M.A.A.D City, could possibly have been, as Taylor Swift was declaring it, her favorite song. Swift has a tendency to butter up artists she wants to trot out as friends and collaborators. But why aim to assimilate an artist whose cultural currency was entirely different from hers? In any case, Kendrick agreed, or gave in, to her blandishments: "Bad Blood," a saccharine-yet-acidulous track from 1989, features in its remix two verses from K-Dot so anodyne they raise suspicions Lamar had been tranquilized prior to their delivery.
Jay Z on "Suit and Tie" by Justin Timberlake
"Years of distress, tears on the dress; try to hide her face with some makeup sex. This is truffle season; Tom Ford tuxedos for no reason." A shallow, tiresome intermission in an otherwise pleasantly shallow song.
Eminem on "C'mon Let Me Ride" by Skylar Grey
Even at his worst, Eminem's verses are never less than intricate at the verbal level. But superior form is no guarantee against a deficiency of tone, and tonally his verse on his protegée Grey's leer-courting single is exactly as dumb as the rest of the song.
Lil Wayne on "Pop That" by French Montana
There are four rappers on this blaring ode to wealth and strippers. It's French's track by title, so he can relax. Rick Ross is always relaxed and competent. Drake ate the big lunch his writers packed for him. And Wayne decided to baptize himself in a river of of the crassest banalities ("I am rich like a bitch; on my Proactiv shit, pop that pussy like a zit"). It's interesting that "Pop That," like "Pound Cake," was released in 2013: Each song marks the point where Drake, simply by delivering consistently, began to pass an erstwhile mentor in the rat race of rap.