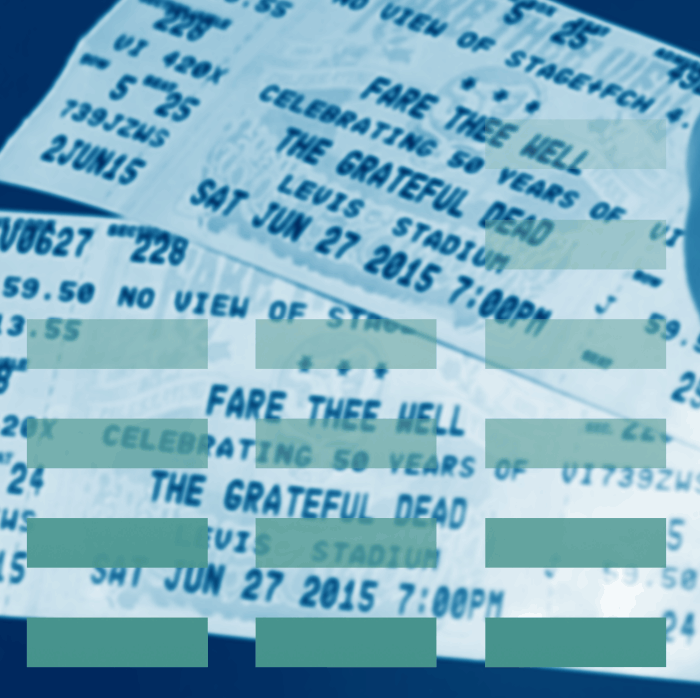 Photo-Illustration: Vulture
This week we're providing a series of Vulture Hacks: expert advice, gear guides, and recommendations to help you maximize your entertainment experience.
There's hell, and then there's buying tickets through Ticketmaster, the decades-old gatekeeper to seemingly every popular event you've ever hoped to attend. To watch Ticketmaster's countdown clock expire in real-time is to experience the emotional roller-coaster of glee, panic, and crushing disappointment in the time it takes to read "Sorry, no tickets match your search." Thankfully, there's a hack for everything — even corporate America. Behold, Vulture's guide to gaming the Ticketmaster overlords, which can easily be applied to any other big ticketing agency that's ever done you wrong.
PRESALE TIPS
Sign up for a credit card
Prior to the general sale, most events offer exclusive presale opportunities for credit-card holders. Not just any credit card, though: Ticketmaster's Big Three of Citibank, American Express, and Chase are the ones that allow first dibs on tickets. Find out which credit card will unlock certain presales by clicking on the "Special Offers" tab of a specific event page. Right now, for example, an AmEx card will score you early tickets to the second leg of Kanye's Saint Pablo tour.
Join a fan club
The next-best presale rewards those who unabashedly stan the hardest. Plenty of your favorite artists have fan clubs and a membership (be it through payment or handing over your email) will get you exclusive codes to fan presales and VIP packages on Ticketmaster. Sometimes it's even as easy as following an artist or sports team's official social-media account (particularly Facebook) for special passwords to events. With streaming now in the fray, a subscription to certain services can also grant early ticket access. (Tidal members, for example, are first in line for tickets to Jay Z's annual Made in America festival and several of its artists' tours.) To know when there's an active presale, or how to get a code, it's worth signing up for email alerts from both Ticketmaster and specific local venues you frequent.
Presale codes are hiding in plain sight
When in doubt, crowdsource through less-official means. Just start with a simple Twitter search, whether it's typing "artist name presale" or scouring fan Twitter accounts. Jack Slingland, director of client relations at reseller TickPick, tells Vulture that most presale codes (excluding those for credit cards) are generic, meaning the same code can be used by anyone to unlock an event presale. Look to fan accounts, other social media avenues, and especially forums (both on official sites and subreddits) to find threads created for specific events, where users sometimes share codes. If all those roads lead to a dead end, sites like Ticketcrusader, TickPick, PointsCentric, Presale Password Info, and Presale.code offer endless presale loopholes and cheats.
GENERAL SALE TIPS
The mobile app is your friend
If you couldn't take advantage of a presale and the pressure's on, you'll want to first download Ticketmaster's mobile app. It's free, fast, and, more efficient than the traditional webpage. That said, Slingland notes that Ticketmaster has recently upped security measures on mobile, so you'll have to deal with a image human-verification test to prove you're not a bot.
Don't forget to create a Ticketmaster account
Imagine being one of the tens of people to get Adele tickets, only to lose them because you forgot to actually sign up for Ticketmaster beforehand. Don't be that person: Create an account, make sure all of your information (especially payment method!) is up to date, and log in ahead of time.
Be ready at least ten minutes before a sale begins
An unspoken practice of the ticket-selling business is that you never actually sell all your tickets at the appointed on-sale time. (Ticketmaster has been in hot water with the Federal Trade Commission for this kind of tactic.) Even Ticketmaster's two-year-old countdown clock doesn't necessarily mean that every ticket goes on sale when the clock runs out. According to Slingland, that's especially true of less-in-demand events. One workaround is to sync your device's clock to Ticketmaster's clock — their system reportedly runs on time.gov, so yours should, too. (Vulture has reached out to Ticketmaster for comment.)
Speed matters
Syncing your clock with Ticketmaster's countdown means nothing if you're still using dial-up. (In which case, you have far more problems than buying Drake tickets, my friend.) Get on the fastest Wi-Fi or ethernet connection you can find. You can even test your speed if you're unsure.
Block those pesky CAPTCHA tests
If it seems like CAPTCHA was invented for the sole purpose of capturing your tickets just as they're within reach, well, duh. Skip the headache by downloading a safe browser or mobile plugin that will disable those damned prompts, such as AdBlocker Plus, Rumola, Skipscreen, or Captcha Monster.
Practice makes perfect
Do a trial run with another event to familiarize yourself with the process, the venue, and Ticketmaster's timing. (It's best to pick a less-in-demand event, for obvious reasons.) That'll help to scout out which section you want and get a sense of the hit your wallet's about to take.
WHEN THE SALE BEGINS

Do not refresh the page!
Ticketmaster will automatically do this for you. And try to use more than one device or, better yet, multiple people on different accounts. This doesn't have to be a solo race, especially if you're after large group purchases. (It's easier to get fewer tickets in one search.)
Use multiple browsers
If you read up on Ticketmaster's own tricks, they tell you not to search for tickets simultaneously in multiple browsers because "we'll think you're a bot and cancel your tickets." To quote Donald Trump, "Wrong." The real reason Ticketmaster advises this, Slingland says, is to "limit the number of attempts that are going on so people don't potentially cheat other fans." In that same tip sheet, Ticketmaster recommends using more than one device; Slingland believes that searching for tickets on multiple browsers is virtually the same idea. To better your chances, search for different combinations (such as section, number of tickets, price) in each browser. Just don't search for tickets to an event in multiple tabs within the same browser. That might trigger the bot sensors.
Read the fine print
Circumvent one of Ticketmaster's shadiest loopholes by always clicking the "Show Details" tab when searching for tickets. It'll ensure you get the full scope of how much you'll actually be paying, extra fees included (as high as 30 percent, according to Slingland). "That's the trick a lot of these places pull: waiting until you get all the way through the checkout process, and then you see the additional service fees," Slingland says. "When you're shopping around for tickets you need to know the full price for cost per seat before your credit card information is entered."
Use the cart to call "dibs" on tickets
By doing so, you can keep searching for a better combination in another browser or device. Ticketmaster gives you at least three minutes to proceed with a purchase before you forfeit the tickets.
LAST-MINUTE TIPS
Never believe that a show is totally sold-out
It probably isn't. If you try searching later that same day — even 45 minutes after the sale begins, in my experience — more tickets may suddenly appear. "If there's an event that isn't selling out, it may take you a lot longer to gain access to that inventory and they may not always be giving you the best inventory because they want to sell out something that's higher up," Slingland says. When that happens, you're more likely to be given a seat map (the one with all those blue dots) at a later time, which means "the show actually isn't sold out and you could've actually bought better tickets if you had waited."
Use your phone to call
So much ticket-buying happens online that calling Ticketmaster directly sounds like a giant, archaic waste of time. But it's really no different than people who line up at dawn for tickets on Broadway. It can't hurt!

Dip your toe in the resale markets …
However questionable, Ticketmaster now offers its own fan-to-fan resale service. It's verified by Ticketmaster, claims to be about as legit as it gets, and is easy to access on every event page, right at the top. Of course, StubHub and TickPick are other popular alternate sources to pick up resale tickets. One place Slingland strongly warns against, though, is Craigslist: "Even if they're providing someone with a hard ticket, they can easily convert that into an E-ticket and there's no guarantee," he warns. "Craigslist can't give you the protection of a marketplace that screens all their sellers. Stay away from there." Similarly, browsing Facebook event pages for other attendees selling their tickets last-minute is an option, but, you know, try not to get catfished.
… or beat Ticketmaster at its own game
If an event isn't sold out yet, check elsewhere for better deals first. "The sellers on secondary markets know that event is not sold out and, a lot of times, they need to price below face value to cut their losses," Slingland says.

Don't give up until the event begins
Though scalpers have made it harder for fans to wait it out, try calling or visiting your respective venue's box office within days of the event – especially the day of — for delayed ticket releases and tickets resold to the venue by season-ticket holders. Scalpers can't get a hold of those. Still, you need to be realistic about both the event and location: For Chance the Rapper and Kanye West's recent shows in their hometown of Chicago, Slingland says the "market had exploded leading up to the event that there just wasn't enough inventory and the prices went way up."
If all else fails, play the lottery
So it's the 11th hour and you're feeling desperate but also a lil' bit lucky, right? Keep an eye out for last-minute ticket giveaways on artists' official social-media accounts, official venue accounts, fan pages, and local radio stations. @Bey_Legion, for example, partnered with several affiliates to promote giveaways to nearly every city on Beyoncé's Formation World Tour.