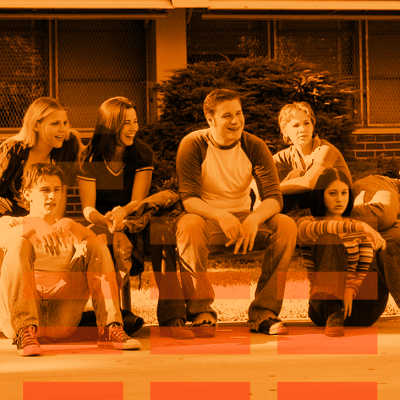 Photo: Vulture and Getty Images
This week we're providing a series of Vulture Hacks: expert advice, gear guides, and recommendations to help you maximize your entertainment experience.
We live in a moment when there's never any danger of running out of TV to watch. The downside is that there's never enough time, and sometimes you just want a show you can trust to be fast and satisfying. If you're looking for a simple, settle-in-for-a-long-weekend binge (and you've already watched Stranger Things), here are 26 options to fill your need for a short, potent TV fling.
SHOWS TO CATCH UP ON

Catastrophe
Short, filthy, and searingly funny, Amazon's Catastrophe charts the course of Sharon and Rob's relationship through unexpected pregnancy in season one, and early parenthood in season two. It has all the humor and charm of a rom-com, and it grounds the conventions of that genre by building its story around two bracingly honest, smart, flawed people. The pleasure lies in watching them laugh together, and in enjoying a relationship that feels like spending time with real people, if those people were very, very funny. 4 hours, 50 minutes.
Available on Amazon Video.
Documentary Now!
This IFC darling is a weird, unlikely production by Bill Hader, Fred Armisen, and Seth Meyers in which every episode is a different send-up of some well-known documentary property. The second season has an episode that mimics The War Room; another episode called "Juan Loves Rice and Chicken" that takes on the Jiro Dreams of Sushi model. But Documentary Now! is not spoofing the originals, precisely. As Sam Adams writes at Slate, the key to the show is how deeply its creators love the originals, and how thoughtfully they gently riff on each style. Even if you're not into documentaries, the silly, well-constructed jokes will work regardless. 5 hours, 15 minutes.
Available on Netflix and DirecTV. Available for purchase on Amazon Video, iTunes, YouTube, and Google Play.
Top of the Lake
With a second season set to premiere sometime in 2017, now is the perfect time to sit down with the dreamlike, desolate, lady-rage-fueled mystery of Top of the Lake season one. You know that trope where the detective is a grizzled old man who's been damaged by his past, but he hopes to make it right by solving one last case? What if, instead of a grizzled old man, that detective were Elisabeth Moss, and she were solving the disappearance of a young pregnant girl in the New Zealand bush? It's not a long binge, but give yourself some breathing room nonetheless. Top of the Lake is beautiful and self-contained and emotionally draining. 5 hours, 42 minutes.
Available on Netflix. Available for purchase on Amazon Video, YouTube, and Google Play.
Deutschland 83
There's a lot of TV right now that loves the '80s, and if that era is interesting to you — and especially if you love The Americans — consider delving into the Cold War from another perspective. Deutschland 83 is a German-language series about a young East German soldier who gets sent on an undercover spy mission to the West. It's got dodged bullets and near misses, secret girlfriends, plans to smuggle vital information, and some amazing '80s German fashion. 6 hours, 8 minutes.
Available on Hulu. Available for purchase on Amazon Video, iTunes, YouTube, and Google Play.
The Get Down
The Netflix hit of the summer was Stranger Things, but if you're looking for a different short Netflix binge, consider The Get Down, which got a little lost in the TV conversation. It's big, bold, and often a huge mess, but the first part of Baz Luhrmann's epic hip-hop fairy tale has style and guts to spare. Plus, the music is good, and you can watch Jimmy Smits strut around the Bronx wearing a tan suit with lapels so sharp it's a wonder he doesn't cut himself. 6 hours, 22 minutes.
Available on Netflix.
Fortitude
If you don't want to watch Stanley Tucci as an American detective trying to solve a hideous crime in a tiny arctic village, that's your decision. Fortitude is a dark, often grisly show, and that's not for everyone. But if you like mysteries with an almost supernatural flair, or if you like Stanley Tucci, this show is worth your time. Bonus: You'll also get polar bears, a woolly-mammoth skeleton, and a crotchety old man played by Michael Gambon. 8 hours, 39 minutes.
Available on Amazon Video. Available for purchase on YouTube and Google Play.
The Fall
Dark, detective-y British mystery-thrillers are one of my very favorite binge-viewing experiences, and The Fall is one of the greats, although it's extra heavy on the super-dark creepy intensity. A big chunk of The Fall's appeal is Gillian Anderson's work as DSI Stella Gibson, a character whose confidence and complexity earns her a solid ranking among the detective greats. The series works, though, because we watch Gibson's investigation while also watching the villain (played by #NotMyChristian Jamie Dornan) as he plans and executes further crimes. It becomes a disturbing, enthralling dance as the characters move closer together. Two seasons are currently available in the U.S., and a third season is airing in the U.K., so you can also be assured that even more unnerving thrills are on the horizon. 9 hours, 46 minutes.
Available on Netflix. Available for purchase on Amazon Video, YouTube, and Google Play.
Billions
The first season of Showtime's financial drama Billions is not technically a self-contained narrative, but it makes for remarkably satisfying stand-alone viewing. In the beginning, its two opposed protagonists (Damian Lewis as a bad boy-hedge-fund manager and Paul Giamatti as the U.S. attorney hot on his trail) circle each other warily. By the end, all of the twists and ever-heightening dramatic turns bring the two of them into a gloriously testosterone-fueled showdown of personalities and ambitions. It's stilted at times, begins unsteadily, and the female characters aren't always complex enough. But when it really gets going, it's surprisingly fun. 11 hours, 22 minutes.
Available on Showtime and DirecTV. Available for purchase on YouTube and Google Play.
American Crime
Not to be confused with either of the two series about O.J. Simpson, American Crime is an anthology-style series that takes on the self-contained story of a crime and its aftermath with each season. The series has shown a willingness to tackle big, chaotic controversy: The first season is about a murder trial that gets entangled in issues of race, gender, and immigration, while the second is about a sexual assault in a school. The show is invested in depicting a crime from multiple angles, creating a shifting, imbricated portrait of the event and its participants. American Crime also benefits from its excellent ensemble cast, including Regina King, Lily Taylor, Timothy Hutton, and Felicity Huffman. 15 hours.
Available on Netflix. Available for purchase on Amazon Video, iTunes, YouTube, and Google Play.
Better Call Saul
It's easy to say, "Did you like Breaking Bad? Guess what, there's a spinoff!" But that would do a disservice to Better Call Saul, which has developed into a remarkable series in its own right, already garnering a few "better than the original" think pieces. While understandable, that framing also does Better Call Saul no favors — it's related to Breaking Bad, of course, and you'll recognize some of those same sensibilities in this prequel, especially in the cinematography and style. But Bob Odenkirk's Jimmy McGill is funnier, more depressing, and altogether more complicated than Walter White's comparatively one-direction slide into criminality. Plus, it's still a manageable binge. 15 hours, 24 minutes.
Available on Netflix. Available for purchase on Amazon Video, iTunes, YouTube, and Google Play.
MINI-SERIES
And Then There Were None
The platonic ideal of a mystery mini-series, BBC's Agatha Christie adaptation has style and spine tingles and locked-room mysteries to spare. Ten people are invited to a luxurious vacation on a remote island, and spoiler — ten people will not be making it off. It is a gorgeous production, and hits exactly the right melodramatic, psycho-thriller tone without ever tipping over into absurdity. Charles Dance is particularly great as Justice Wargrave, but And Then There Will None will also fill your British actor needs nicely with Aidan Turner, Toby Stephens, and Maeve Dermody. 2 hours, 47 minutes.
Available for purchase on Amazon Video.
The Jinx: The Life and Deaths of Robert Durst
Completely absorbing, The Jinx is one of the most remarkable entries in the true-crime genre. In case you missed the boat on the media frenzy last year, The Jinx separates itself from other true-crime productions with the semi-willing participation of Robert Durst himself, who sits down with director Andrew Jarecki to provide his own version of events, which Jarecki intercuts with other interviews, reenactments, and narrated timelines of Durst's alleged crimes. The primary draw is Durst, whose otherworldly sinister quality is the series' fascinating, monstrous, enigmatic center. 4 hours, 28 minutes.
Available on HBO Go, HBO Now, and DirecTV. Available for purchase on Amazon Video, YouTube, and Google Play.
Show Me a Hero
Did you remember that Oscar Isaac was in a lovely, depressing, Springsteen-infused biographical mini-series about Yonkers and race and fair housing? Co-written by David Simon, Show Me a Hero is the story of Nick Wasicsko, who rises through the political ranks to become the nation's youngest mayor of a major city, and who is then forced to tackle Yonkers' segregated public-housing crisis. It is not an upper, but Show Me a Hero will scratch your itch for thoughtful, clear-eyed storytelling about race in America, and for the way political machinations trap good people into unpleasant decisions. 5 hours, 56 minutes.
Available on HBO Go and HBO Now. Available for purchase on Amazon Video, YouTube, and Google Play.
Cranford
One of the sweetest, gentlest, coziest mini-series you could ever ask for, Cranford follows Judi Dench and Eileen Atkins as two elderly women in a tiny 19th-century English village. They wish the best for everyone, gossip constantly in the nicest possible way, and titter about exciting events like a new doctor in town, someone's visiting niece, or the arrival of the new train tracks. This could so easily be frivolous frippery, but Cranford, like the best of its genre, is also full of sadness and warmth. You will weep, you will get "Loch Lomond" stuck in your head, and you will swoon with delight at the cow wearing pajamas. 7 hours.
Available on Amazon Video. Available for purchase on iTunes.
John Adams
If you'd like a historical mini-series to go deep inside, but you're looking for fewer bonnet-wearing women and more overlap with your recent Hamilton obsession, HBO's John Adams is here for you. Paul Giamatti is an enjoyably gruff, stubborn Adams, Laura Linney is excellent as his supportive, hard-working, intelligent wife, Abigail, and the real treat of the series is its design and cinematography, which spares no expense to bring you misty Revolutionary battlefields, the debauched French court, and as many beautifully detailed early-American costumes as your heart desires. 8 hours, 18 minutes.
Available on HBO Go, HBO Now, and Amazon Video. Available for purchase on YouTube and Google Play.
The Hour
Split across two British-style limited series, The Hour can get a bit confused about what exactly it's trying to do, cramming together a '50s behind-the-newsroom show with romance, stories about class in Britain, and a whole Tinker, Tailor, Soldier, Spy plot. But even when it falters, The Hour overflows with style and ambition and a totally enthralling love triangle (more like a parallelogram, really) between its three leads. Did I mention those three leads are played by Ben Whishaw, Dominic West, and Romola Garai? Yeah. If I were going to quit in the middle of this list, abandon all of my life responsibilities, and just park in front of a screen, The Hour is the one I'd pick. 11 hours, 34 minutes.
Available for purchase on Amazon Video.
COMPLETED SERIES
Clone High
Short, silly, and very funny, Clone High is a one-season animated series that mines its premise for nerdy jokes and delightful high-school humor alike. The idea is pretty high-concept: It's a high school full of teenaged clones of historical figures who are all part of a secret government experiment. Abe Lincoln is the often clueless, awkward protagonist, Joan of Arc is a Daria type with a crush on him, JFK is a wealthy jerk, Gandhi is the class clown, you get the idea. If you're looking for a binge that's fast, light, and pleasurably smart, this is an excellent choice. 4 hours, 33 minutes.
Available for purchase on Amazon Video, iTunes, YouTube, and Google Play

Trophy Wife
There's a deeply held belief that Terriers didn't make it because its name did not sell the show for what it was. That may be true, but Trophy Wife is a much stronger candidate for that complaint. Its title suggests that it is about a bimbo wife whose entire worth is in her looks; in fact, the sole season of Trophy Wife is about a delightful, ebullient, and complicated family. The father-husband, played by Bradley Whitford, his two ex-wives, and a current spouse, all of whom are funny and human and fully realized in their own right. The actors who play the kids (especially the outstanding Albert Tsai) are remarkable. It's a great show for people who love the silly kindness of Parks and Recreation or the generous family humor of shows like Fresh Off the Boat or Black-ish. Or, obviously, for any Bradley Whitford completists out there. 7 hours, 42 minutes.
Available on ABC. Available for purchase on Amazon Video, iTunes, YouTube, and Google Play.
The Middleman
There are no other shows like The Middleman, which is both a crying shame and utterly unsurprising. It is weird and sweet and meta and so distinctly itself. Based on the comic books of the same name, The Middleman is about sort of super heroes who rid the world of unpleasantly disruptive monsters so normal people never have to see them, and its titular character is like if a combination of Captain America and Dudley Do-Right took up the supernatural clean-up business. Thankfully, the Middleman's partner Wendy Watson (played by the superb Natalie Morales) grounds and humanizes him. The whole show is almost Jane the Virgin–esque in its self-awareness, its generic playfulness, its combination of real characters with insane circumstances, and its utter joy-producing fun. 8 hours, 49 minutes.
Available for purchase on iTunes.
Party Down
It's hard to overstate how much comedic power is just hanging out among the low-key, hilarious, undermotivated cater-waiters on Party Down. The premise is that an events staff shows up to cater a different event in every episode, which is a fun way to build in variation and novelty while also developing the lives of the main cast. And that main cast includes Adam Scott, Lizzy Caplan, Ken Marino, Jane Lynch, and Martin Starr, as well as appearances by Megan Mullally, Jennifer Coolidge, Ken Jeong, and Kristen Bell. It's a perfect no-pressure binge watch. Each episode is an entity in and of itself, while the whole series lets you see these characters and their ambitions change over time. Plus, there's a Steve Guttenberg episode in season two that is almost unbelievably great. 9 hours, 2 minutes.
Available on Hulu, Starz, and DirecTV. Available for purchase on iTunes, YouTube, and Google Play.
Kings
A strange series that was cancelled after only 13 episodes because no one watched it, and that bothers me to this day. The premise is a very loosely adapted, modern-day retelling of the Old Testament story of David, with a definitively Shakespearean bent and a tantalizing dose of fantasy that makes sense in a fictional universe based around an unseen but ever-present God. Many of the characters are well-drawn, including Christopher Egan's David and Sebastian Stan's Prince Jack, but the unquestionable core of the show is the glowering, portent-reading, loquacious, and vengeful King Silas, played by none other than Ian McShane. To call this series a satisfying binge is a slight fib — if you're like me, the ending leaves you wishing for more. But this is definitely one that is better to have loved and lost than never watched at all. 9 hours, 12 minutes.
Available for purchase on Amazon Video, iTunes, YouTube, and Google Play.
Terriers
If you like Veronica Mars, detective partnerships, California noir, long-form mystery, Donal Logue, friendship, humor, and/or really excellent TV storytelling that balances strong episodic structures with serialized plots, but you somehow haven't seen Terriers, I just have one thing to say: You are in for a treat. Everyone has a couple of cancelled TV shows that still really hurt; this is one of mine. The good news is that it ran for a full season, and that one season makes for a solid, narratively satisfying binge watch. 9 hours, 17 minutes.
Available on Netflix. Available for purchase on Amazon Video and iTunes.
Agent Carter
If you're a diehard for any particular superhero franchise, you'll watch it regardless of whether it's in the dour, violent, ultra-serious vein or it's a romp. But Agent Carter, a spinoff series inspired by the first Captain America movie, is built to please more broadly. It's fast, and it's full of competent, confident kickass women and the dopey men who try in vain to keep them down. It's funny, almost veering into slapstick in moments, before swerving back into car chases and explosions. It's led by Hayley Atwell, whose sly smile and self-assurance sells Peggy Carter's near-universal expertise with great élan. And it's so stylish that you can also buy Peggy's (highly recommended) lipstick. 12 hours, 35 minutes.
Available for purchase on Amazon Video, iTunes, YouTube, and Google Play.
Freaks and Geeks
The '80s are everywhere, and another recommendation on this list — Deutschland 83 — can transport you back to the Cold War. But if you haven't seen Freaks and Geeks, this is the place you should start for your post–Stranger Things adolescent nostalgia trip. It's full of younger versions of lots of your well-known actors (among them, Jason Segel, Seth Rogen, Linda Cardellini, and Martin Starr), it is hilarious and human and awkward, and it feels potently true to a suburban high-school experience. And like so many great TV shows, it adores its own form. Give yourself a chance to watch Bill Haverchuck love TV, and to unabashedly love TV yourself. 13 hours, 14 minutes.
Available on Netflix.
Slings and Arrows
This show is very Canadian, thoroughly theater-nerdy, and an 100 percent satisfying binge. It's about a Canadian Shakespeare theater, and each TV season follows a new season of the theater's summer program, including one major Shakespeare tragedy. It's as much a series about the inner workings of the theater as it is about the plays, but it always finds delicious thematic links between the two — sort of like the best, funniest, most adult, most satirical, and most sweetly sincere episode of Wishbone you could hope for. At its best, Slings and Arrows is among the most thoughtful TV ever created about the nature of art, the relationship between art and commerce, and the magic of theater. 13 hours, 55 minutes.

Available to rent and purchase on DVD.
Sports Night
The rare Aaron Sorkin show that I'd recommend to Sorkin-ites and Sorkin skeptics alike. If you are already a West Wing person and can recite President Bartlet's "20 Hours in America" speech by heart, Sports Night will feel like the warm embrace of a familiar friend, with all of the dialogue rhythms and ideological preoccupations you know and love. If the patronizing, myopic Sorkin turns you off, you'll find that Sports Night has all of the things you want in his shows with a minimum of the grandstanding and pomposity. Its behind-the-scenes-of-a-sports-show premise is breezier and less inherently windbaggy than his other series, and the ideas are often nascent, fresher versions of his later fixations. All that, and Felicity Huffman, Peter Krause, and Josh Charles! 16 hours, 13 minutes.
Available on Hulu and ABC. Available for purchase on Amazon Video, iTunes, YouTube, and Google Play.