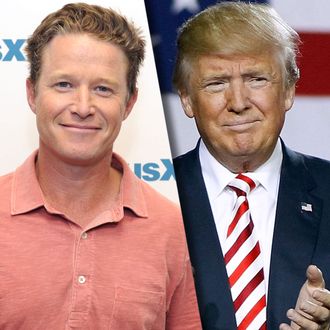 Billy Bush has officially been suspended by NBC pending a review following the release of an Access Hollywood tape containing a misogynistic off-camera conversation the former Access anchor had with Donald Trump in 2005. Though NBC had previously maintained that Bush would be back on the air on Monday, CNN's Brian Stelter reported that the network will now reprimand Bush over the tape by suspending him from Today for an unknown length of time, and possibly for good:
"I know we've all been deeply troubled by the revelations of the past 48 hours," Noah Oppenheim, the NBC executive in charge of Today, wrote in an internal memo. "Let me be clear — there is simply no excuse for Billy's language and behavior on that tape. NBC has decided to suspend Billy, pending further review of this matter."
This post has been updated throughout.