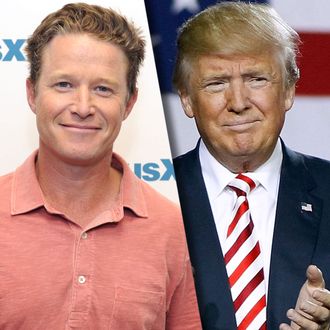 What a guy.
Photo: Getty Images
After the Washington Post published a video on Friday of Donald Trump — and former Access Hollywood host Billy Bush was unknowingly recorded condoning sexual assault ("Grab them by the pussy, you can do anything," Trump says) — Bush has come under fire for his own offensive behavior. In the tape, recorded in 2005 on the set of Days of Our Lives, which Trump was visiting to tape a cameo, Bush is seen and heard encouraging Trump to inappropriately engage with Days actress Arianne Zucker. "Sheesh, your girl's hot as shit, in the purple. Yes, the Donald has scored!" Bush says, later forcing Zucker to hug Trump and the "Bushy." As expected, Bush is now being routed online, with several comments under his last Facebook post calling him a "pig," "scummy," and demanding that he be fired from NBC, where he currently appears on the Today show.
Meanwhile, TV-business veterans are already anticipating NBC will have to take quick action against Bush in response to Friday's revelations. "It was 11 years ago, but they have to do something," one TV-industry insider tells Vulture. Bush "is a co-host of arguably their top brand, and his audience is primarily women." The executive predicts "at minimum an on-air apology, [but] more likely a suspension" of Bush, adding that NBC may ultimately go even further. "Misogyny is no laughing matter, [so they] could also just let him go," the insider said. A rep for Access Hollywood told Vanity Fair they had no comment, and that they will address the story during tonight's show; Bush has deleted his Twitter account, so don't expect any comments from him there.
Update: In advance of tonight's Access Hollywood coverage, NBC sent out a statement from Bush to various media outlets that said, "Obviously I'm embarrassed and ashamed. It's no excuse, but this happened eleven years ago — I was younger, less mature, and acted foolishly in playing along. I'm very sorry."
Additional reporting by Josef Adalian.