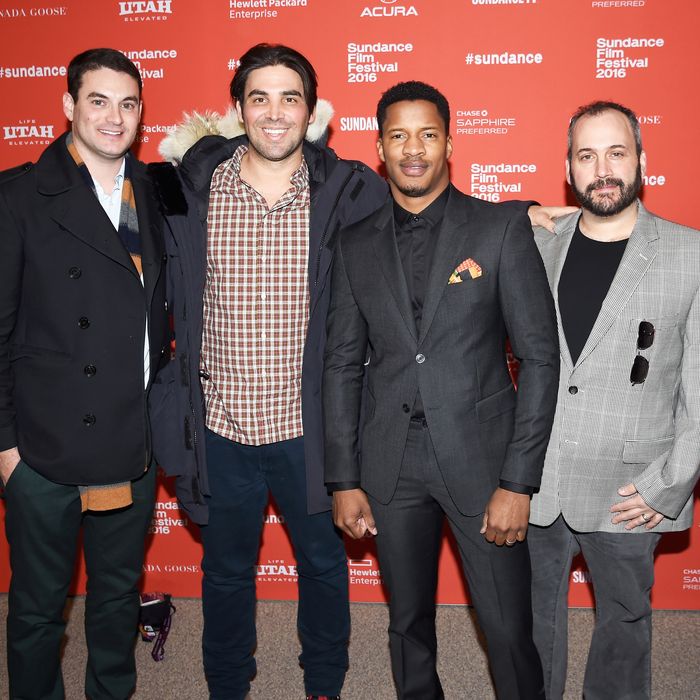 Jason Berman, Kevin Turen, Nate Parker, Aaron L. Gilbert, and Jason Cloth at Birth of a Nation's Sundance premiere.
Photo: Nicholas Hunt/Getty Images for Sundance Film Festival
When Fox Searchlight bought The Birth of a Nation for a festival-record $17.5 million at Sundance, it seemed like a filmmaking fairy tale: Nate Parker, an actor turned writer-director-producer, had cobbled together $10 million (including $100,000 of his own cash) and turned it into possible Oscar gold. Of course, that narrative has curdled since January, as the scandal over Parker's college rape charges has dominated headlines about the film, which tells the story of Nat Turner's 1831 slave rebellion. But the scandal has also overshadowed another fascinating element of the film's backstory: the many folks who shelled out to turn Parker's dream project into a reality.
Indie filmmaking is a rough gig. Without the backing of a studio or the handful of billionaires keeping our most beloved auteurs afloat, directors and producers are often forced to gather financing from as many places as they can find it. For Nate Parker, that meant some dozen different sources, according to The Hollywood Reporter's exploration of the film's fundraising process. The campaign was spearheaded by three producers: Parker; Jason Michael Berman of Mandalay Pictures, a company behind Wild Things, Sleepy Hollow, and Enemy at the Gates; and Kevin Turen, who runs screenwriter David Goyer's production company, Phantom Four. THR says the trio was able to rustle up 60 percent of the movie's budget, and the remainder was provided by Aaron L. Gilbert, head of the prolific Canadian company Bron Studios. Alongside Parker, Berman, and Turen, Gilbert gets a producer credit on Birth, as does longtime Spike Lee associate Preston L. Holmes.
But in addition to those five, a strange list of executive producers on the film helps tell an illuminating story of the forces that combined to fund the unexpectedly controversial film.
THE ATHLETES
One of the most interesting bits in the THR story is who it names as the first financiers to come on board: Tony Parker and Michael Finley.
For those who don't follow professional basketball, Parker and Finley are both NBA players: the former a champion point guard for the San Antonio Spurs, the latter a retired 16-year veteran. Parker previously served as an executive producer on two fairly low-profile indies, Meet the Blacks and Amateur Night, while Finley, through his company Follow Through Productions, has produced Lee Daniels' The Butler, as well as the Richard Gere vehicle The Benefactor.
The sports connections don't end there. Another of the companies that helped pay for Birth is Hit 55 Ventures, which currently has no other credits to its name. Hit 55 is run by former NFL linebacker Derrick Brooks (number 55 for the Tampa Bay Buccaneers), making his film-financing debut.
THE BUSINESSMEN
While investing in an independent film has a certain amount of artistic and social cachet, it is, at the end of the day, a business investment, and among the credits of The Birth of a Nation are a few names relatively new to film financing. Three of them, Ryan and Jill Ahrens and co-producer Ben Renzo, run Argent Pictures, for which Birth is the first project. Before getting into the movie business, Renzo was an asset manager trained in law while Ryan Ahrens was a lawyer and real-estate investor. Argent has two other major projects in the works: American Made, a Tom Cruise CIA movie directed by Doug Liman, and Hacksaw Ridge, which marks the return to film directing of Mel Gibson, a reported mentor to Parker on Birth and similarly controversial figure.
There's also Michael Novogratz, whom Parker has described as a "very close friend." Novogratz was a significant and well-known hedge-fund manager who shuttered his fund after enormous losses on investments in Brazil in 2015. A champion of high-school and national wrestling programs, former helicopter pilot in the Army, and buyer of Robert De Niro's Tribeca apartment, Novogratz had an outsize reputation on Wall Street, but film investing is seemingly a new field for him.
In addition to Novogratz and the Ahrens Pictures group, there are a few more: Mark Moran, a former video-game developer who also directs and produces; Jane Oster, who worked with Parker on the movie Eden; Jason Cloth, whose Creative Wealth Media Finance works closely with Bron Studios; Barb Lee of Point Made Films, a documentary film company that focuses on identity; Alan J. Stitt, a Canadian arbitrator who also executive- produced the Tom Hiddleston Hank Williams biopic I Saw the Light; orthopedic surgeon Armin Tehrany; and Alan Simpson and Andy Pollack, who both often work with Bron Studios.
THE FILMMAKERS
While Parker reportedly went to Gibson, Steven Soderbergh, and Spike Lee, among others, for help with The Birth of a Nation, none of those men's names are in the credits. Two other directors are: The first is Goyer, whose aforementioned Phantom Four played a major role in financing the project. The other is Edward Zwick, the veteran filmmaker whose credits include Glory, The Last Samurai, and the upcoming Jack Reacher: Never Go Back.
In addition to his own directing, Zwick is a decorated producer: He won an Academy Award for Shakespeare in Love, and was nominated for another for Traffic. The last time he executive-produced a film, it was on his son Jesse's directorial debut About Alex, which Nate Parker acted in. And when AFI canceled a screening of Birth due to Parker's rape scandal, it was Zwick, an AFI board member, who stepped in, moderating a Q&A after a showing of Jack Reacher: Never Go Back.
THE FALLOUT
Producer Aaron Gilbert, who says he cried during his first meeting with Nate Parker, told the Canadian newspaper The Globe and Mail, "I stand by Parker and I stand by this film." But he appears to be the only one of the long list of Birth's producers and executive producers who has publicly commented since the news about Parker's past broke wide.
For all of these people, The Birth of a Nation represents a financial as well as artistic interest, making their connection to the controversy complicated and sensitive, particularly because many of them are on record as saying that they became involved through the force of Parker's personality and conviction. That persuasive case likely didn't include discussion of his past rape accusation — but now, that legacy has become a significant part of the project they invested in.