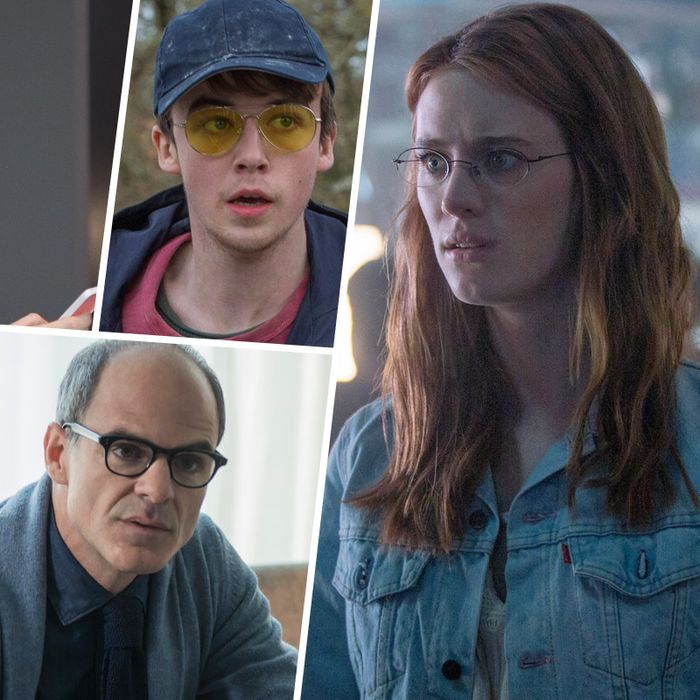 One sensation you might feel while watching Netflix's new batch of Black Mirror episodes is déjà vu. Partially because so many of the episodes take place in that lacuna between contemporary technology and science fiction, but mostly because you might see a character and think, Hey, that actress … She looks so familiar …  Have I seen her in something before?
Black Mirror has become a home to actors right on the edge of widespread recognition. The first two seasons had Domhnall Gleeson, Hayley Atwell, and even Lady Sybil. In season three, the anthology series adds a whole bunch more British and American that guys and that girls. Here, Vulture presents an episode-by-episode guide to the Black Mirror's latest set of almost-familiar faces.
"NOSEDIVE" a.k.a. the one with the popularity app
Bryce Dallas Howard
Her role: Lacie, a woman obsessed with pastel colors, and with her popularity app.
You might know her from: Jurassic World, where she ran from dinosaurs in heels, or Jessica Chastain's Instagram, where she confirmed that she is not Jessica Chastain.
Alice Eve
Her role: Naomie, Lacie's former BFF, who is extremely good at the popularity app.
You might know her from: Star Trek Into Darkness, where she played the scientist Carol Marcus; Entourage, where she played a Vanity Fair reporter who profiles, marries, and then separates from Vince; Sex and the City 2, where she played Charlotte's nanny.
Cherry Jones
Her role: A truck driver, who does not care about the popularity app.
You might know her from: Any number of roles, including 24 (for which she won an Emmy), Signs, Erin Brockovich, and most recently, Transparent.
Alan Ritchson
His role: Naomie's fiancé, Paul.
You might know him from: The new Teenage Mutant Ninja Turtles movies, where he plays Raphael; Smallville, where he played Aquaman; Catching Fire, where he died quickly; or New Girl, where he played a guy with a micropenis.
James Norton
His role: Lacie's brother, who does not make an effort to engage in the popularity app, or perfect an American accent.
You might know him from: Happy Valley, where he plays the sociopath Tommy Lee Royce; the recent War & Peace mini-series, where he played Andrei Bolkonsky; Grantchester, where he plays a clergyman; or from the always-swirling speculation that he could be the next James Bond.
"PLAYTEST" a.k.a. the video game one
Wyatt Russell
His role: Cooper, an American touring the world who signs up to test a video game.
You might know him from: Everybody Wants Some!!, where he played Willoughby, the most intellectual, and most often stoned, member of a college baseball team. He's played similar jock roles in 22 Jump Street, as the football star Zook, and This Is 40, as "Flirty Hockey Player." (Also, just FYI: He's Kurt Russell and Goldie Hawn's son, and Kate Hudson's half-brother.)
Wunmi Mosaku
Her role: Katie, the woman who guides Cooper through the video-game test.
You might know her from: Philomena, where she played a nun; Batman v. Superman, where she played Kahina Ziri, the Nairomian citizen who testifies against Superman, though her plot was mostly cut from the theatrical release.
Ken Yamamura
His role: The video-game designer.
You might know him from: A small role in Gareth Edwards's Godzilla; playing the younger version of Hal Yamanouchi's antagonist Yashida in The Wolverine.
Hannah John-Kamen
Her role: Sonja, a British video-game journalist who hooks up with Cooper.
You might know her from: Killjoys, where she plays Dutch; season six of Game of Thrones, where she plays Ornela, a Dorthraki widow who befriends Daenerys; or Black Mirror season one's "Fifteen Million Merits," where she plays ABBA-singing contest winner Selma Telse, ruining your theories about a Black Mirror shared universe.
"SHUT UP AND DANCE" a.k.a. the blackmail one
Alex Lawther
His role: Kenny, a boy who gets blackmailed.
You might know him from: The Imitation Game, where he played the young Alan Turing to Benedict Cumberbatch's Benedict Cumberbatch–aged Alan Turing.
Jerome Flynn
His role: Hector, a family man who also gets blackmailed.
You might know him from: Game of Thrones, where he plays Bronn, mercenary turned friend of Tyrion Lannister. It might take some time to recognize him, since Flynn cleans up pretty good.
"SAN JUNIPERO" a.k.a. the '80s one
Mackenzie Davis
Her role: Yorkie, a shy visitor to San Junipero.
You might know her from: Her similarly '80s work as tech genius Cameron Howe on Halt and Catch Fire; The Martian, where she played Mindy Park; supporting roles in rom-coms What If and That Awkward Moment; Blade Runner 2049 casting announcements.
Gugu Mbatha-Raw                       
Her role: Kelly, an outgoing party girl who befriends Yorkie.
You might know her from: Her starring turns in Beyond the Lights, where she played the Rihanna-esque pop star Noni, the costume-drama Belle, or the Will Smith–vehicle Concussion; the time she was a CIA agent on TV in Undercovers; her single episode of Netflix's Easy; or Jupiter Ascending, where she rocked some gargantuan ears.
"MEN AGAINST FIRE" a.k.a. the solider one
Malachi Kirby
His role: Koinange a.k.a. Stripe, a super-soldier.
You might know him from: Kirby has appeared on a bunch of British TV, but Americans will probably remember him from his role as Kunta Kinte in the recent Roots remake.
Madeline Brewer
Her role: Raiman, another soldier.
You might know her from: Imagine her in cornrows and you'll realize that Miller played ill-fated drug addict Tricia Miller in season one of Orange Is the New Black.
Sarah Snook
Her role: Medina, the team leader.
You might know her from:  Steve Jobs, where she played Andrea Cunningham; The Dressmaker, where she got to speak in her native Australian accent.
Michael Kelly
His role: Arquette, the shady man in charge.
You might know him from: House of Cards, where he plays Frank Underwood's chief of staff Doug Stamper; any number of other performances as shady guys in suits.
Loreece Harrison
Her role: The woman in Stripe's dream.
You might know her from: Nowhere — this is her first credited role.
"HATED IN THE NATION" a.k.a. the one with the bees
Kelly Macdonald
Her role: Karin Parke, the detective investigating the murder cases.
You might know her from: The Scottish actress got her big break by playing Diane in Trainspotting and has gone on to roles in Gosford Park, No Country for Old Men, and Boardwalk Empire. Still, her voice might be the most distinctive thing about her – yes, that detective is Merida from Brave.
Faye Marsay
Her role: Blue, the novice cop who realizes something's amiss.
You might know her from: Game of Thrones, where she plays the Waif, Arya's tutor turned enemy, who serves in the House of Black and White. She's also appeared in The White Queen and Love, Nina. Or, perhaps, she's just Maisie Williams in disguise.
Benedict Wong
His role: A senior government official investigating the case.
You might know him from: Marco Polo, where he plays Kublai Khan; The Martian, where he played JPL director Bruce Ng; Prometheus, where he played Ravel, the ship's pilot.
Esther Hall
Her role: Vanessa, an executive at a tech company.
You might know her from: The British Queer As Folk, where she played Romey, the mother of Stuart's child; or HBO's Rome, where she played Lyde, Evander Pulchio's husband.
Jonas Karlsson
His role: Rasmus Sjoberg, the designer of the thing that's central to this episode (we're really trying not to spoil things).
You might know him from: Unless you watch Swedish TV, not much, but rest assured that he really is Swedish.