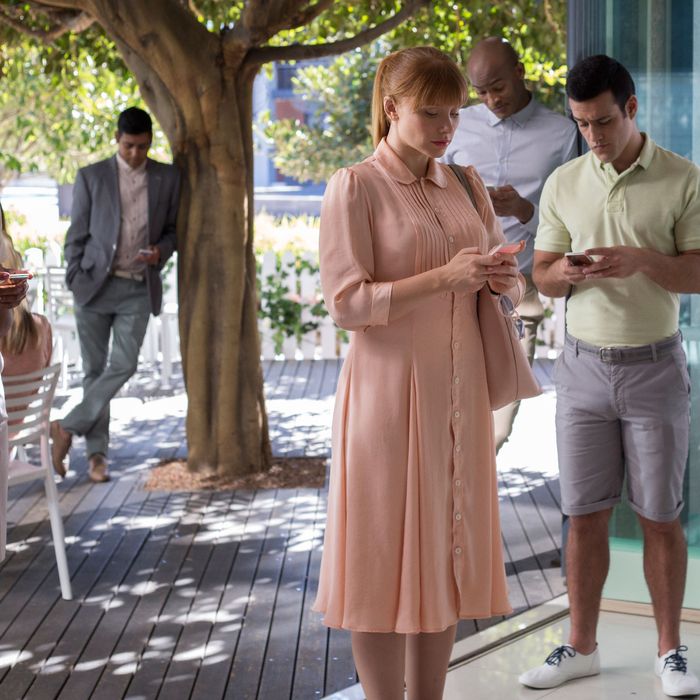 Bryce Dallas Howard (center) in "Nosedive."
Photo: David Dettmann/Netflix
It's difficult to narrow down Black Mirror's genre to a single categorical definition. Is it a sci-fi anthology series? A Twilight Zone for the Tinder generation? A string of separate but thematically connected cautionary tales about the digital revolution? A reminder that Uber ratings and Twitter hashtags may very well lead to the demise of human decency?
Actually, all of those sound about right in connection with the expansive third season of Black Mirror, which begins streaming Friday on Netflix. Now that the tech-thriller Charlie Brooker originally built for British TV has officially become the property of Netflix, there are more episodes (six instead of the usual three, not counting the 2014 holiday special), episodes that run longer (all clock in at close to or more than an hour), changes in settings (some episodes take place outside the U.K.), and even more tonal variety between stories, all of which makes Black Mirror a little harder to pin down in terms of genre. Still, like the seasons that came before it, this collection is marked by chapters that illustrate what happens when virtual reality stages a coup on actual reality. In nearly every episode, humans find themselves controlled by devices or inventions that are supposed to enhance their lives but wind up threatening their freedoms instead. Somewhere, in some realm of the afterlife, George Orwell is streaming this series while shaking his head and saying, "Good God, even I didn't expect things to get this disturbing."
With more narratives to unspool, perhaps it's inevitable that the quality level can't remain consistent throughout. Of the six new episodes — which showcase the talents of such directors as Joe Wright (Atonement) and Dan Trachtenberg (10 Cloverfield Lane) as well as actors that include Bryce Dallas Howard, Alice Eve, Gugu Mbatha-Raw, and Mackenzie Davis — four fall in the very good to great range, which is still a respectable average. The two merely decent ones borrow most directly from recognizable genres: "Men Against Fire," a mini–war movie that stars Malachi Kirby of Roots as a soldier who breaks down after killing some unique enemy combatants, and "Hated in the Nation," a standard crime procedural that veers toward horror when concerns about hashtag trends and bee shortages enter the picture. Neither is badly made or poorly acted, they just don't seem as inspired or inventive as the others in this batch. ("Hated in the Nation," which lasts for a full 90 minutes, feels especially long and, occasionally, heavy-handed.)
Black Mirror episodes are best when entered cold, so I'll attempt to keep plot details to a minimum. That said, the real goodies here are: "Nosedive," the Wright-directed piece co-written by Brooker, Mike Schur, and Schur's one-time Parks and Recreation star Rashida Jones, in which smartphones are obsessively used to rate interactions, and lives can be shattered by low star ratings; "Play Test," a legitimately scary story about a world traveler (Wyatt Russell) who stumbles into a VR game that may be more R than V; "Shut Up and Dance," a nail-biter in which one young man (an extremely convincing Alex Lawther) becomes a slave to an unseen digital dictator; and "San Junipero," which immediately immerses itself in the sights (Lost Boys posters, big hair) and sounds (Belinda Carlisle, Robbie Neville) of 1987, as well as a nightclub encounter between two women (Mbatha-Raw and Davis) that travels to unexpected places. Watching each one is like plunging down a fresh rabbit hole or diving into a new "Choose Your Own Adventure" novel. You're never quite sure what you're going to get, and that's half the fun.
The fourth episode, "San Junipero," rises as the stand-out moment of season three, partly because Davis and, especially, Mbatha-Raw deliver such moving performances and partly because its story shifts are the least predictable. It's also the only one that packs an emotional wallop that comes close to matching season two's heart-breaker "Be Right Back," which, like this episode, was directed with great grace and restraint by Owen Harris. But the others are worth a look, too. "Nosedive" boasts a wonderful Stepford Wives quality, as well as strong work by Howard, Eve, and, in a supporting role, Cherry Jones. And if it's a Netflix heart attack you're seeking, both "Play Test" and "Shut Up and Dance" should get the job done quite nicely.
As has always been the case, the themes that Black Mirror explores are based on concerns we've all heard about the internet, social media, and technology many times before. Our screens are preventing us from having authentic relationships. We're too busy "liking" things and swiping left or right. Our moral boundaries have been erased by the often seamy activities our Wi-Fi connections make it so easy to pursue. But by using those concerns as a foundation, Brooker and his co-creators are continuing to build worlds that feel both consistently mind-blowing and not too distant from 2016.
As it always has, Black Mirror reflects what it feels like to live now while offering a sneak preview of how bleak things could get if we're not careful. If someone decides to create a TV time capsule that represents this decade, I can easily imagine Black Mirror being placed in it. But when we dig up that capsule 50 years from now, the question is whether we'll look at this eerie, brilliant show as a document of our outdated and unfounded worst fears or a prescient piece of foreshadowing that sounded warnings we failed to heed.