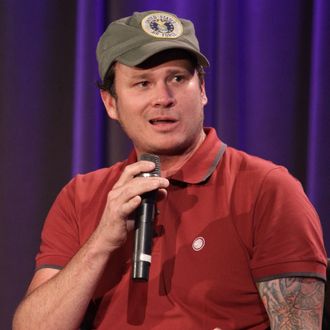 Photo: Rebecca Sapp/Getty Images
If back in 1999 when Blink-182 released Enema of the State, you thought "Aliens Exist" was just a fun, if unmemorable, single off the album, then you haven't been keeping up with the band's former guitarist and singer, Tom DeLonge. While the '90s band has found some renewed fame touring for their new album California, DeLonge quit the trio and has been investigating UFOs. His research, it ends up, has led him to some high places, like the email inbox of one of Hillary Clinton's top advisers. A recent WikiLeaks dump revealed that, on a few occasions, DeLonge has contacted John Podesta, a Clinton campaign adviser who previously served in the Obama and Bill Clinton administrations and who also happens to be interested in flying saucers and the like, reports The Wall Street Journal.
The emails only represent DeLonge's side of the conversation. In one, from 2015, DeLonge told Podesta that he wanted to introduce him to "very 'important' people" who knew a good deal about their "sensitive topic." DeLonge wrote, "Both were in charge of most fragile divisions, as it relates to Classified Science and DOD topics." In a second email, DeLonge mentions meeting a military official with good detail, explaining, "When Roswell crashed, they shipped it to the laboratory at Wright Patterson Air Force Base. General McCasland was in charge of that exact laboratory up to a couple years ago." The WikiLeaks, unfortunately, did not uncover any correspondence between the two where they unveiled which political figures are indeed little green men wearing human skin.