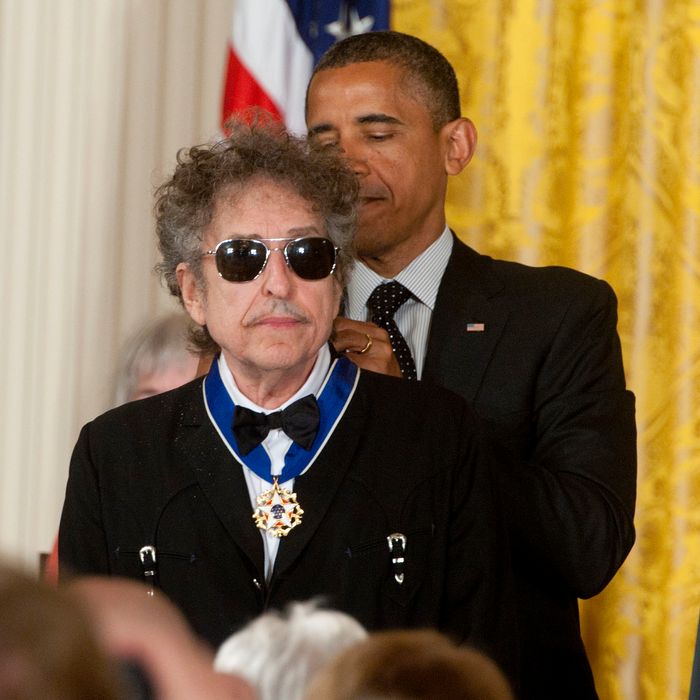 WASHINGTON, DC - MAY 29: Bob Dylan receives the Presidential Medal of Freedom from President Barack Obama in the East Room of the White House as astronaut John Glenn applauds on May 29, 2012 in Washington, DC. (Photo by Leigh Vogel/WireImage)
Photo: Leigh Vogel/WireImage
If Bob Dylan has a trophy case, he'll have to do some rearranging soon, now that he's been announced as a recipient of the Nobel Prize in Literature. On top of getting a snazzy medallion and the equivalent of $900,000, it's an amazing achievement for Dylan, though it will be interesting to gauge his feelings about being honored when (if?) he shows up to accept the award at the Nobel Prize Award Ceremony in December. As you see below, Dylan has a mixed history with these sorts of things. Sometimes he's gracious, other times he's dismissive, and then there are the times when he's totally inscrutable.
1963 - Tom Paine Award
Just weeks after the assassination of President John F. Kennedy, the 22-year-old Dylan accepted this award from the Emergency Civil Liberties Committee, which recognized his work in the civil-rights movement, by giving a meandering speech criticizing the March on Washington and the United States' ban on travel to Cuba, before delivering this gem: "I got to admit that the man who shot President Kennedy, Lee Oswald, I don't know exactly where, what he thought he was doing, but I got to admit honestly that I, too, I saw some of myself in him." After getting booed by the audience, Dylan later apologized in an equally rambling letter, closing with "See yuh, respectfully an unrespectfully."
 1970 - Honorary Doctorate of Music Degree
During a reclusive period in his career, Dylan surprisingly agreed to attend Princeton's graduation ceremony to get an honorary degree alongside Coretta Scott King and several other notables. According to a Rolling Stone report of the day, Dylan was nervous, barely spoke to anyone, and nearly left before the ceremony even started. "Tricked once more," he'd write in his autobiography Chronicles: Volume One. "I was losing all kinds of credibility."
1988 - Rock and Roll Hall of Fame Inductee
Dylan used his brief induction speech to thank Muhammad Ali, Little Richard, and folk-music historian Alan Lomax. And then he cracked wise about the Beach Boys' Mike Love, who'd earlier blasted the Beatles, Diana Ross, Billy Joel, and Mick Jagger. "I want to thank Mike Love for not mentioning me," Dylan said to laughs. "Peace, love and harmony is greatly important indeed but so is forgiveness and we gotta have that too."
1991 - Grammy Lifetime Achievement Award
With the Gulf War in progress, a 50-year-old Dylan performed "Masters of War" before accepting his honor. After taking his plaque from presenter Jack Nicholson, he gave a short speech which included a quote he attributed to his father: "He'd say, 'You know it's possible to become so defiled in this world that your own father and mother will abandon you and if that happens, God will always believe in your own ability to mend your own ways.' Thank you." Those words were his paraphrasing of a Biblical psalm: "Even if I were so depraved that my own mother and father would abandon me to my own devices, God would still gather me up and believe in my ability to mend my ways."
1997 - Kennedy Center Honoree
Dylan wasn't required to say anything upon receiving this award. Instead, then-President Bill Clinton said, "Like a rolling stone, Bob Dylan has kept moving forward, musically and spiritually, challenging all of us to move forward with him. Thank you, Bob Dylan, for a lifetime of stirring the conscience of the nation." Gregory Peck also spoke, "The reediness of [Dylan's] voice and the spareness of his words go straight to the heart of America."
1997 - The Dorothy and Lillian Gish Prize
For his "outstanding contribution to the beauty of the world," Dylan gets a silver medallion and $200,000. At the ceremony, critic and historian Greil Marcus delivers a lovely speech in praise of the honoree.
1998 - Grammy Award for Album of the Year
After winning two golden gramophones, for Best Contemporary Folk Album and Best Male Rock Vocal Performance for "Cold Irons Bound," (and getting soy-bombed) Dylan and producer Daniel Lanois took home the Album of the Year Award for Time Out of Mind. Dylan's acceptance speech consists of a comprehensive listing of the people who helped record the album, then veers into a story about being a teenager and seeing Buddy Holly perform in Duluth, Minnesota.
2000 - The Polar Music Prize
Nervously rocking from one side to the other, Dylan silently accepts this Swedish award from King Carl XVI Gustaf. He almost smiles.
2000 - Oscar for Best Original Song, "Things Have Changed" from Wonder Boys
Dylan accepted his Oscar via satellite from Australia, thanking Wonder Boys director Curtis Hanson and many people who worked at Columbia Records. "Obviously, a song doesn't pussyfoot around or turn a blind eye to human nature," he said. Obviously.
2001 - Golden Globe for Best Original Song, "Things Have Changed" from Wonder Boys
Looking pretty bored, he thanks director Hanson, his band, the record company, "everybody in my family and I guess that's about it."
2004 - Doctorate of Music, St. Andrews University
Much like at Princeton 34 years earlier, Dylan is depicted as somewhat ambivalent when getting this degree. "Hearing himself described as 'a great writer' he clenched and unclenched his right fist," The Independent reported. He also yawned.
2007 - Prince of Asturias Award for the Arts
Dylan gets a diploma, medallion, a Joan Miro sculpture, and a €50,000 check for winning this Spanish royalty prize. He doesn't go to the ceremony; he plays a gig in Omaha that night.
2008 - Special Pulitzer Award
Dylan won this prize because of his "profound impact on popular music and American culture, marked by lyrical compositions of extraordinary poetic power." In the New York Times, novelist Jonathan Lethem questioned the committee's decision, saying, "It's like giving Elvis Presley a tuxedo: It doesn't exactly fit."
2010 - National Medal for the Arts
Dylan is a no-show to receive his award from President Obama, but in fairness, he'd been at the White House a few weeks earlier to perform "Blowin' in the Wind" at the Celebration of Music from the Civil Rights Movement.
2012 - Presidential Medal of Freedom
"There is not a bigger giant in the history of American music," President Obama said when giving Dylan this award, the nation's highest civilian honor, for "meritorious contribution" to the country. Wearing a tuxedo and black aviator sunglasses, Dylan didn't smile or speak. His only reactions were to raise his eyebrows when Obama put the medal around his neck, and to nod and pat the commander-in-chief on the arm before returning to his seat.
2013 - The Order of Légion d'Honneur
France's highest public honor is usually given to its own citizens in recognition of military and civil service, and Dylan's award was temporarily blocked after some members of the nominating committee raised concerns over his anti-war beliefs and marijuana use. Eventually, Dylan joined Paul McCartney, Miles Davis, Liza Minnelli, and Sir Laurence Olivier in joining the Legion of Honour, wearing cowboy boots to the ceremony and saying, "I am grateful and proud, that's all." He was previously named a Commander of Arts and Letters by France in 1990.
2013 - American Academy of Arts and Letters, Honorary Member
An elite honors society, the Academy includes members such as Kurt Vonnegut, Meryl Streep, and Duke Ellington. Dylan didn't make it to the ceremony, where Wonder Boys novelist Michael Chabon read an essay about him. In a cursory statement, Dylan said, "I feel extremely honored and very lucky to be included in this pantheon of great individual artists who comprise the Academy of Arts and Letters. I look forward to meeting all of you some time soon."
2015 - MusiCares Person of the Year, from the Recording Academy
Honored for his art and charity work, Dylan used his acceptance speech to delve into the history of rock and roll, praise the likes of Johnny Cash, Jimi Hendrix, and Nina Simone, and gripe about Merle Haggard, Atlantic Records founder Ahmet Ertegun, and the Lieber and Stoller songwriting team. But his real grudge was against his critics: "Critics say I can't sing. I croak. Sound like a frog. Why don't critics say that same thing about Tom Waits? Critics say my voice is shot. That I have no voice. Why don't they say those things about Leonard Cohen? Why do I get special treatment? Critics say I can't carry a tune and I talk my way through a song. Really? I've never heard that said about Lou Reed. Why does he get to go scot-free?"