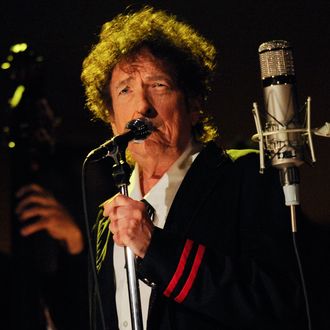 More like "Desolation No"!
Photo: Jeffrey R. Staab/CBS via Getty Images
It's been a little over a week since Robert "Bob" Dylan received the Nobel Prize in Literature, an event that drew acclaim from a panoply of admirers, but seemed to wholly un-impress the troubadour himself. For days, he didn't respond to the Nobel Committee's attempts to contact him, and when his website finally did note the victory yesterday, the acknowledgement consisted of just seven words buried in an existing sentence on the site. However, even that was apparently a bridge too far: As The Guardian noticed today, the Nobel mention has mysteriously disappeared from the site. Can someone please get Dylan's BFF Watson to convince him to say thanks?