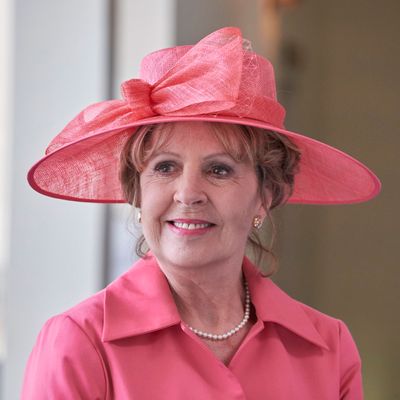 Penelope Wilton as Pauline.
Photo: Stuart Wood/Acorn TV
Just three days after Good Girls Revolt made its debut on Amazon, along comes Acorn TV's Brief Encounters, another period piece about a group of women involved in a career-related sexual revolution. This time the period is the ubiquitous 1980s — 1982, to be exact — and the profession isn't journalism, but the selling of lingerie and sex toys.
As explained by the disclaimer that appears at the beginning of each of the six episodes, this engaging series is "inspired by" women "all over the U.K." who have worked for Ann Summers, the British retailer who specializes in all things lacy and racy. Within the context of Brief Encounters — which initially aired on iTV in July and makes its American debut on Acorn, the British-focused streaming platform, starting today — the women who start peddling peek-a-boo bras and vibrators at Pampered Chef–style parties live in Sheffield and pursue the work largely out of necessity. The '80s may have been the decade of excess for some, but it also was a time when many struggled to put together a few pounds and stay afloat. Pushing what are politely referred to as "marital aids" are a way for ladies ranging from Steph (Sophie Rundle of Peaky Blinders), a young mother and house cleaner in a fractured marriage, to Pauline (Penelope Wilton of Downton Abbey), a well-off butcher's wife, to make quick cash while also having some saucy fun.
That setup naturally provides a means for exploring the divide between the more open-minded members of the Sheffield community (who, refreshingly, come in all age groups) and the conservative folk who clutch their pearls at the mere idea that a dildo exists. That aspect of the series, especially in the first episode, may remind some viewers of films like Calendar Girls or the Sheffield-set The Full Monty, which also explore what happens when British repression collides with the concept of quite literally letting it all hang out. Especially after watching, say, a sex orgy on Westworld, much of Brief Encounters may seem amusingly quaint. "This is 1982 and we're women in the throes of a sexual awakening," Wilton's Pauline announces to a police officer who arrives at her house in the middle of a barely raunchy soiree. Why, Cousin Isobel, I never!
As that line of dialogue suggests, Brief Encounters can be a little on the nose at times and its themes, as implied above, veer toward the familiar. But as a prime-time soap that reveals increasingly surprising connections between its characters, it's very good.
The lead actors — Wilton, Rundle, Angela Griffin (Coronation Street) as the pregnant-again mother of multiple kids, and Sharon Rooney (My Mad Fat Diary) as a hairdresser tasked with caring for her deadbeat dad and brothers — are uniformly excellent. The views of Sheffield, which vary from darkened streets to gorgeously hilly landscapes, capture both the grit and beauty that keeps longtime residents tethered to this place. The show, co-created by Oriane Messina and Fay Rusling, also benefits from an understated, effective treatment of the time period. (There's a wonderful, subtle moment in the second episode when one character realizes he's lost track of the young boy he's brought with him to see E.T., just as Elliott speaks the words "I'll be right here" on the screen.)
But what really distinguishes Brief Encounters isn't its carefully chosen 1982 details, sometimes cheeky bedroom talk, or its insistence that women have every right to claim their personal bliss in whatever form they like. It's watching so many of these characters reach across the divides that might separate them — age, race, economic background, sexual orientation — and form a support system for each other. This is a show about busting through the gender-based boundaries around soft-core eroticism, for sure. But more than that, it's about what happens when people open their minds and hearts enough to find intimacy in all sorts of relationships, even the extremely meaningful, platonic kind that will never require the use of "marital aids."