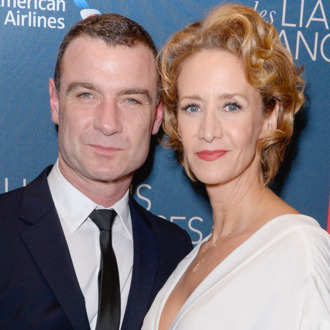 Liev Schreiber and Janet McTeer at the premiere party for Les Liaisons Dangereuses
The new revival of 1985's Les Liaisons Dangereuses, starring Liev Schreiber and Janet McTeer, officially opened last night on Broadway. It's based on a French novel from 1782, and while its twisted tale of love, sex, power, privilege, and manipulation is eternal, there is something about this particular cultural moment that really struck its cast and creators. Speaking to The Hollywood Reporter at the premiere party last night, playwright Christopher Hampton said that the production was considering adding lines to the description of roguish Valmont (Schreiber) that would hat tip to a certain sex- and power-loving presidential candidate. "We decided against it because it seemed like a cheap shot, and we thought we'd let the parallels speak for themselves," Hampton said.
Those familiar with the play (or the 1988 film starring John Malkovich and Glenn Close) will recall that Valmont starts out as someone who uses his power and privilege to use and seduce women, but later redeems himself. Or, if you're thinking of 1999's Cruel Intentions, the top-notch teen retelling, then you'll know that Sebastian Valmont (Ryan Phillippe) is a privileged New Yorker who has problems with women but falls in love with young, virtuous Cecile (Reese Witherspoon) and (spoiler alert) becomes a better man just before he's tragically hit by a car and killed. So, Trump has at least the first part of that character description down pat; however, it's doubtful any of us should wait for the "redeems himself" part. In the meantime, those of us up for a more refined tale of sex and manipulation than the current election news cycle allows can see Les Liaisons Dangereuses through January at the Donmar Warehouse in New York City.