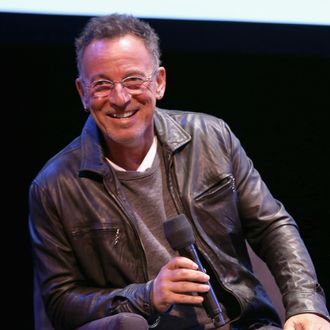 Photo: Anna Webber/Getty Images
After staying relatively quiet about politics throughout most of the election cycle, Bruce Springsteen has of late become much more willing to discuss the country's prospective presidents. In a recent Rolling Stone cover story he discussed Donald Trump, saying, "The republic is under siege by a moron, basically."
The topic came up again on Friday night during a New Yorker Festival conversation with David Remnick that took place at Manhattan's Town Hall theater. In an interview that touched on his family, struggles with depression, musical influences, and Springsteen reading a few passages of his new book, Born to Run, Remnick waited until near the end of the 90-minute event to bring up politics. To the delight of the audience — which included Patti Smith, his manager, Jon Landau, and his wife, Patti Scialfa — The Boss did not walk back any of his remarks on Trump.
"When he was just a big sort of bloviating New York billionaire, he could be highly entertaining and funny, but he's not funny as a presidential candidate. I predict he will not win. But, I do believe he's done a lot of damage already. He's let loose forces from the alt-right movement, he's brought it into the mainstream, that are not going to go away when he goes away. And I don't believe he's going to go away … he's not going to go gently into the good night. The subversion of the idea of democratic elections is a very dangerous idea. When you start telling people that unless you win, the election will be illegitimate, and you have as many people listening to him as he does, it's a very, very dangerous thing, a very dangerous genie to let out of the bottle. I'm a little afraid of his lasting effect on the country."
Remnick brought up the fact that many of Springsteen's songs, such as "Youngstown," "Darlington County," and "The River," are about working-class areas that are now more likely to support Trump. Bruce expressed his sadness over that, but he gets why that's the case in today's political climate.
"If you look at the history of Youngstown and any of the places you mention, the last 40 years of deindustrialization and globalization hit a lot of people very, very, very hard and their concerns and their issues were never addressed by either party. It's not a surprise that someone comes along and says, 'Do you want your jobs back? I'm going to bring them back. I'm going to build a wall and keep all these folks out.' You want to hear these kinds of solutions to your problems, unfortunately they're fallacious and it's a con job. But I completely understand why a voice like that would be appealing."
Though he didn't mention Hillary, he said he still supports Obama, though he wishes he'd have gone farther with some of his policies, such as implementing a better public option for health care.
"I'm still a fan of Obama's," he said. "I think he's going to be remembered as a good president."
And in case anyone was wondering how he stays in such good shape at 67, Springsteen was less than forthcoming. He doesn't have a health regimen — he just plays marathon concerts because draining himself of all his energy is the best way to stay mentally strong. "It's a purification ritual. I always say exhaustion is my friend. The next day, I feel incredibly clear and too fucking tired to be depressed. You gotta have some energy to be depressed."