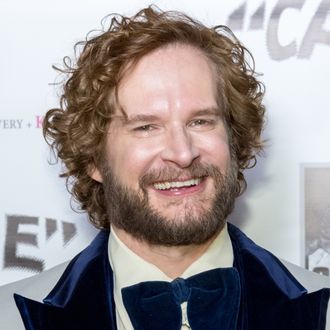 Photo: Greg Doherty/Getty Images
After coming onboard the new CBS All Access series Star Trek: Discovery as showrunner in February, The Hollywood Reporter says today that Bryan Fuller will no longer be heading up the show. A statement released by CBS Television Studios praised Fuller's contributions to the show, and explained that he would continue his involvement with Discovery as an executive producer. He will also "continue to map out the story arc for the entire season" and "oversee the show with the existing writing and producing team." So he will seemingly be the presiding creative force on the series, he just won't run the day-to-day operations, but it's a significant shift considering how integral Fuller has been in promoting the Star Trek reboot at various major press events this year. He's also been a vocal evangelist for the entire existence of Star Trek, devoting much of the Comic Con panel he hosted to explaining why we need the program and its ideals now more than ever. Fuller does have a full schedule right now, working on shows for Starz and NBC, but according to THR, "insiders" are saying that Fuller had become frustrated with the pace of the show's development. Discovery was originally meant to premiere next January, but the series hasn't even been cast yet, and its premiere was recently pushed to May.
Update: Bryan Fuller has taken to Twitter to express support for his producing partners, Gretchen Berg and Aaron Harberts, who will continue to oversee Star Trek: Discovery.