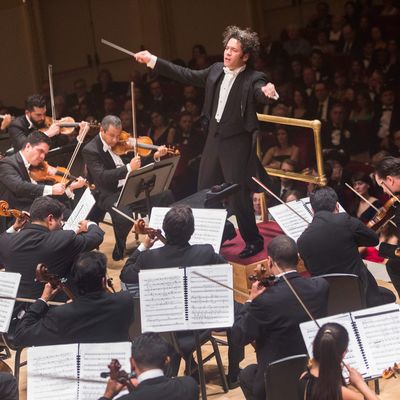 Dudamel conducts Ravel, with the Bólivar Symphony, last night.
Photo: Chris Lee/Carnegie Hall
Gustavo Dudamel and his childhood band, the Simón Bolívar Symphony Orchestra of Venezuela, arrived at Carnegie Hall for opening night, trailing a beautiful backstory. After conducting Stravinsky's Rite of Spring, and before striking up a globe-trotting suite of dances, Dudamel told the audience that he and most of the musicians on the stage had made their New York debut as children more than 20 years before, playing for an audience of distracted dignitaries in a hallway outside the U.N. cafeteria. What got them from Caracas to Carnegie Hall was a nationwide network of youth orchestras with an Orwellian name and a bifurcated reputation: El Sistema. Created in 1975 by the musical guru José Antonio Abreu, El Sistema supplies musical instruments and lessons to kids of all classes, all over Venezuela. Proudly claimed and  bankrolled by the governments of Hugo Chávez and his successor Nicolas Maduro, the organization has become a symbol of both social justice and collaboration with a repressive regime.
If Dudamel were a run-of-the-mill maestro, or the Bolivarians were just another ensemble, then the background would hardly matter. But in 2011, the conductor, who is also music director of the Los Angeles Philharmonic, turned the former youth orchestra into a major (almost entirely male) touring ensemble, making it Venezuela's most prestigious cultural export. Carnegie's gala showcase put the group in a rarefied league, too. Last year's opening-night orchestra was the New York Philharmonic; in 2014, it was the Berlin Philharmonic.
The orchestra's disciplined uproar is sporadically thrilling, and its mixture of mission and rhythmic verve usually guarantees enthusiastic ovations. But the group doesn't so much have a style as a shtick. Dudamel made stars of the brass and percussion, underlining each trombone slide and snare-drum whack. For all the complicated gestures that he lavished on Ravel's La Valse, he seemed to be operating a simple switch that toggled between loud and a little less loud. He practically Photoshopped Rite of Spring to an alarming hi-res brightness, saturating Stravinsky's orchestral colors and leaching out the score's subtlety and shadows. There was plenty of dancing in his Rite, but precious little mystery.
These days, when Venezuelans back home have to scramble for scarce food, sell their boots for groceries, die from lack of medicine, and are paid in increasingly worthless bills (when they're paid at all), it's tough to argue that the government subsidies that have kept El Sistema humming are still a top priority. Dudamel remains undeterred. In a White House speech at the National Medal of Arts and Humanities ceremony last month, he argued that when people have nothing, they are all the more desperate for music. He asked: "Can Venezuela save El Sistema? Which is now more important than ever to the people of Venezuela and to their hope. I work every day to ensure that once Venezuela moves beyond this current crisis, El Sistema will continue to rise and empower those who otherwise would have no dreams."
That statement enraged another well-known Venezuelan musician, the pianist Gabriela Montero, who posted her retort on Facebook. Dudamel, she wrote, blew a chance to "address the causes of Venezuela's crisis, or denounce those responsible for one of the most catastrophic state failures in history and the many daily violations of human rights. Had he done so, he would have had to point a finger at his many personal friends in the administration." The conductor's insistence that a failing state should preserve its commitment to music "evokes the leader of the string quartet aboard the Titanic. Finally aware that the unthinkable is happening and that the ship is, indeed, sinking, he appeals to the equally doomed passengers to urgently save the quartet — but not each other."
At Carnegie Hall, though, all was happy, shiny, and hip-shaking. Is it overreaching to tie a specific interpretation to a whole educational program or political circumstance? Maybe, but when the players leapt to their feet and twirled in place in the middle of Bernstein's "Mambo," from West Side Story, as they always do, it felt like a display of obligatory merriment. Dudamel remarked that each of El Sistema's youth ensembles plays "Malambo" from Ginastera's Estancia suite virtually every day, and it's true that the piece's headlong gallop and folksy sparkle run through the orchestra's DNA. Clicking maracas, quick marimba runs, piccolo whistles, horn blasts, and left-hook fortissimos — these are the elements of the Venezuelans' strident charm.
Other orchestras, too, have their styles and aesthetic limitations: The Vienna Philharmonic might make a hash of  "Mambo," even if it can play the hell out of a Strauss waltz. But Dudamel's history and his orchestra's are so intertwined that it's hard to separate his taste for vigorous precision from the musicians' communal training — or from the system that produced them both. Dudamel doesn't try.