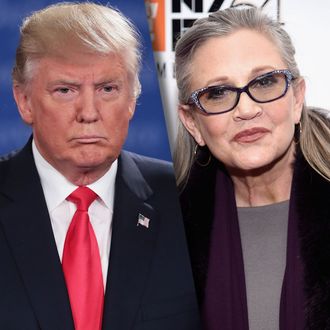 Trump and Fisher.
Photo: Scott Olson/Dimitrios Kambouris/Getty Images
No stranger to struggles with addiction, Carrie Fisher has clarified her tweet calling Donald Trump a cocaine addict. During the second presidential debate on Sunday, she had responded with a resounding yes to a fan's tweet asking, "coke head or no?," regarding Donald Trump's incessant sniffing.

So does Carrie Fisher really think the Donald is on cocaine? "I don't," she told Vulture last night at Film Society of Lincoln Center's New York Film Festival premiere for Bright Lights: Starring Carrie Fisher and Debbie Reynolds. "I don't know because every day something weirder comes out about him and more awful. But his brother died," she said, referring to Freddy Trump Jr., with whom the presidential candidate reportedly had an acerbic relationship. "His brother was an alcoholic and died of it. I think it scared him," she said. "He says he doesn't smoke, he doesn't drink, he doesn't do drugs, so he generally tells the worst truth to shock you. I know something about this, so if he did coke, he would want you to know."
So what's the sniffing all about? "Nerves," Fisher said as she took a big sniff and smiled.