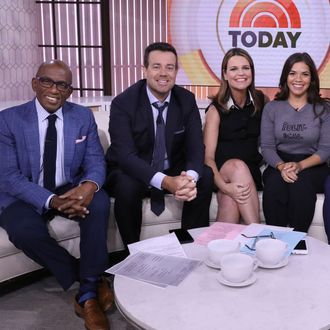 Carson Daly, among his Today pals.
Photo: Heidi Gutman/NBC
Tomorrow, Carson Daly will bring you a better Today. The former TRL host, current Voice host, and sometime Today show social-media correspondent will fill in for Billy Bush, who has been suspended indefinitely following his involvement in a recently uncovered 2005 Access Hollywood tape in which he and Donald Trump make lewd comments about women. Al Roker filled in on Bush's 9 a.m. time slot this Monday; Daly will co-host tomorrow with Tamron Hall. It's not yet clear whether Daly will fill in for multiple days, or whether he'll take your call-in requests for some classic 'N Sync.