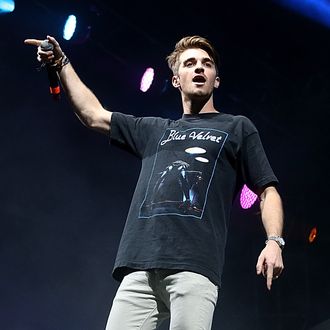 Look what we've done.
Photo: Gary Miller/Getty Images
In one week, we'll all (hopefully) wake from the long national nightmare that has been the American presidential election. Then we'll finally be able to turn our attention to much more detrimental matters, like the fact that the Chainsmokers now have the longest-reigning No. 1 song of the whole year. On this week's Billboard Hot 100, "Closer," which features Halsey, comes in at the top for its 11th consecutive week, breaking Drake's record of ten with "One Dance" for most weeks at No. 1 in 2016. So by that quantifiable statistic, "Closer" just became the biggest song of the year, a title the Chainsmokers will hold because there are only nine weeks left on the year. Let the pain of that sentence really sink in.
Just when it seemed like "Closer" might fizzle out and be overtaken by the Weeknd's newest single, "Starboy" (at No. 2 for a fourth straight week), it regained momentum off its very handsy video and apparent infighting between the Chainsmokers and Halsey. Will "Closer" carry us into the next phase of this American tragedy next week at No. 1 again? Feels right.