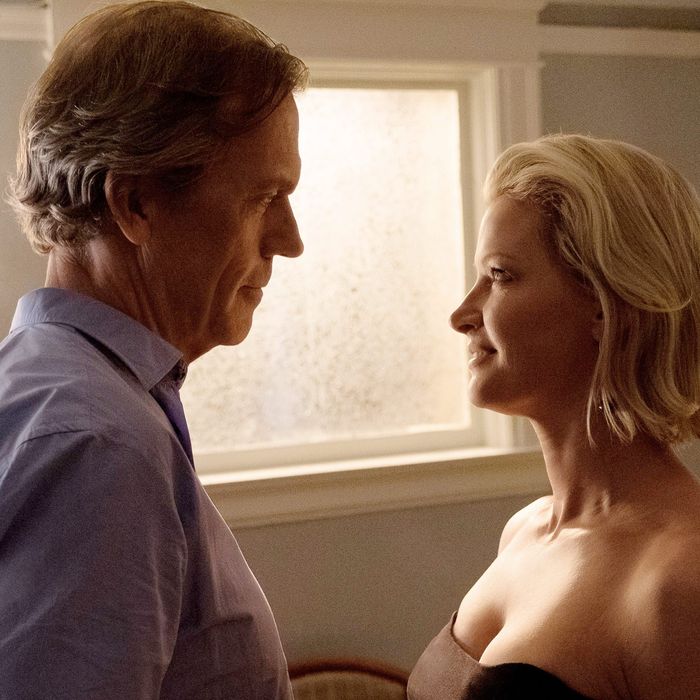 L-R: Hugh Laurie and Gretchen Mol
Photo: Hulu
In Chance, Hugh Laurie plays a flawed medical professional whose last name echoes the title of the series in which he stars. That's more or less where the similarities between Chance, a psychological thriller that starts streaming Wednesday on Hulu, and House, the medical drama headlined by Laurie for eight seasons on Fox, end.
While the unsavory side of the rude, self-involved Dr. Gregory House makes itself known as soon as he opens his mouth, the defects in Dr. Eldon Chance's character take some time to rise to the surface. As for the gritty, dour tone of this series, which opens with graphic images of a car accident in which the driver was decapitated, that's pretty well-telegraphed from the get-go.
In the initial episode of what Hulu has already confirmed will be the first of two seasons, Eldon, a neuropsychologist who assesses the connection between brain damage and troubled/troubling behavior, initially comes across as a decent, downcast man with his patients' best interests at heart and the welfare of his teenage daughter — who's still adjusting to her parents' recent divorce — at the top of his mind. But after a session with a woman named Jaclyn Blackstone (Gretchen Mol), whose estranged police officer husband has abused her so relentlessly that she now suffers from dissociative identity disorder, Eldon starts walking down some dicey alleys — sometimes actual dicey alleys — to a degree that threatens his stability and well-being.
That plot summary sounds like a lot of previously produced noir-ish television shows and films, and in many ways, even with Laurie as its nucleus, the show doesn't do enough to distinguish itself within that genre. On Chance — developed for television by showrunner Alexandra Cunningham and Kem Nunn, author of the novel on which the series is based — violence always escalates and revelatory information about the characters constantly reveals itself via a slow trickle designed to pique viewer interest. To be fair, for those who have the stamina to handle such dark material, sometimes interest will be piqued. It becomes clear fairly quickly that Eldon has secrets he's failed to fully unpack, as symbolized by the tons of unpacked boxes sitting in his San Francisco apartment. As obvious as that fact and that symbolism may be, the show still manages to make the viewer curious to know more about the nature of those secrets.
Laurie, who's also one of the show's several producers, never strikes a false note as Eldon. His performance is grounded, layered, and believable. But like his fellow actors — including Mol in hard to pin down, Hitchcockian cool blonde mode — he's often hamstrung by dialogue that strains to sound significant and filled with portent. At one point, this show actually forces a man named Chance to deliver a monologue about free will and coincidence. As D, an amoral rehabber of antique furniture who becomes the heavy in Eldon's increasingly tense tango with Jaclyn and her intimidating husband, Raymond (Paul Adelstein of Scandal), a head-shaven Ethan Suplee constantly spouts off tough-guy truisms like, "Rule number one: Never get burned. Rule number two: Never press your luck." Rule number three: Seriously, dude, no one talks like this in real life.
There are some nice touches that ratchet up the tension, including Eldon's choice of ringtone, an almost orchestral alarm bell that sounds at inopportune moments. The episodes also are well-directed; Lenny Abrahamson, nominated for an Academy Award just last year for Room, and Michael Lehmann, a TV vet who also directed Heathers, are among those behind the camera, effectively alternating between bright California sunshine and dimly lit rooms cast in shadow to convey the conflicting desires tugging at Eldon and others.
"I'm a medical professional, not a Raymond Chandler character," Eldon shouts in frustration at one point. That's this show's biggest problem: It can't decide whether it wants to be a drama rooted in psychologically legitimate authenticity or a fully heightened paperback mystery in streaming form whose departures from reality can be more easily forgiven. It's as if Chance suffers from its own case of dissociative disorder and still hasn't found the right therapist to help it chart a more manageable path forward.