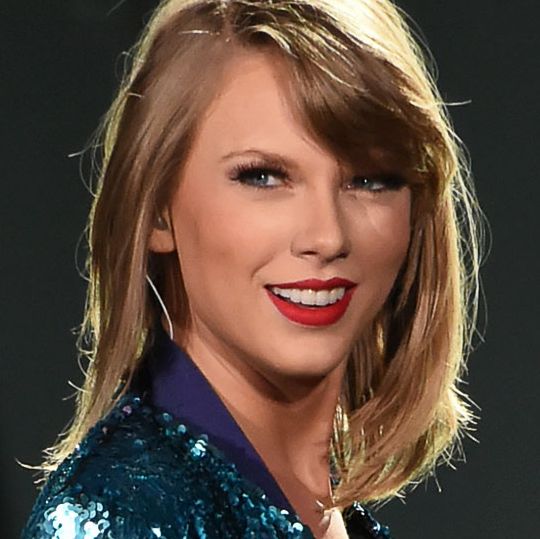 Among the innumerable hordes of fans who buy Taylor Swift's albums, fill her stadium shows, memorize the lyrics to her songs, and mimic the antics of her Instagram posse, Tyler Conroy stands out. Not just because he's met the singer three times, gone to 19 of her shows, and gotten the word fearless tattooed on his left foot, but because he won the chance to be the honorary author, or as he puts it, "yearbook president," of Taylor Swift: This Is Our Song, a massive coffee-table book of Swift profiles, music reviews, essays, fan art, and even crossword puzzles, put out by Simon & Schuster on October 24, the ten-year anniversary of the release of her first album. To better understand the intense devotion behind the project, Vulture reached out to Conroy to talk about what drew him to Swift's music and message; how Swifties make sense of the narrative around her, Kanye West, and Kim Kardashian; and most important of all, what he thinks her next album might sound like.
What was your introduction to Taylor Swift?
The first time I heard her was on the radio and I heard this Tim McGraw song. I grew up listening to Tim McGraw, I was like who is this girl and who does she think she is singing about Tim McGraw? Then, I went to see her in concert. I think that's when everything hit, realizing, holy cow, this girl is my age and doing something that I would love to do.
What drew you to her music?
In high school, I had a really hard time with bullies. I went to a high school that was very much into sports and I was very much into music and the arts. I remember when the whole Speak Now era happened in 2010–2011. That's when I was struggling with who I wanted to be. That album and her whole message behind it really pushed me to kind of come into my skin, no matter what anyone else thought.
According to the book, you've met her three times. What were those experiences like?
I met her in 2010 after I made this kind of parody of her song, "Hey Stephen," "Hey Taylor," about how I wanted to meet her. It worked — her team contacted me the day of a concert I was going to and told me that Taylor just saw the video and she wanted to meet me backstage. I was just like, "You have pretty eyes."
When Red came out, I was like, I want to tell her thank you for being the person that you are and being brave and telling your stories even though some people tell you not to. I wrote another song for her that I put out on YouTube. A local radio station in New York found it and got me tickets and meet-and-greets to meet her. I told her my whole spiel. Then, I told her I wanted to get "fearless" as a tattoo and she was like, "Oh, that's cool!" I was like, "Yeah, but I want it in your handwriting." So, I gave her an index card and she wrote it very, very carefully. I got the tattoo a week later.
A year and a half after that, I put on a Taylor Swift musical at my college. She ended up not coming, but about a month after the musical ended, I got a call from her team. I was invited as one of 89 fans that got to go to her apartment for the Yahoo livestream where she announced 1989. After the cameras went off, she invited us back to her apartment and she greeted every single person one by one. Her cats were milling around the house. Meredith, no one could really get near her. She would hiss and growl at you, but Olivia was really nice.
This year must have been hard on Taylor fans because she's gotten a lot of flak over whether she approved of the lyrics in Kanye's "Famous." What was it like to see Kim's Snapchats come out?
I think it was a very well-planned marketing approach for Kim, when she did her whole Snapchat-reveal thing right on the heels of her show starting a new season and not doing good in ratings. But at the end of the day, I really liked how Taylor handled it. I've gotten negative comments on my videos or trolls from my past who come back, and I'm like, look at Taylor, if she didn't go off on Kanye and Kim, I don't need to go off on trolls from my past. I don't believe in everything that Kanye does, you know? But he is a good artist, I will give him that. I listened to "Famous" a lot when I was writing my parody video. I would catch myself singing his version because it was so catchy. I was like, wait, no, I can't like this song!
Did you believe it when Taylor said that he hadn't specifically asked her about the word bitch?
In watching the videos and hearing all that, I don't know. I like to obviously believe Taylor, and I think that maybe she didn't hear the song in its whole context. He told her parts of it and she didn't hear it in full context.
Then when it came out her reaction was different?
I think her reaction was a little different because she was like, "Oh, well he didn't tell me that." And that changed the meaning to the song.
Not to harp on Taylor Swift's year, but she also had a very high-profile relationship with Tom Hiddleston that many people didn't believe in.
Did you hear that speculation that it was a music video? You know, she's clever, she's smart. I don't know if it was a music video or if it was real, especially because of the "I heart Taylor" tank top, the tattoo. Maybe it went from them wanting to film a music video to them actually liking each other and wanting the relationship.
Where do you think Taylor might go next? Will she evolve into more pop, or return to country?
I hope that whatever she evolves herself into, it's something new. After 1989 came out, a lot of artists tried to create songs that sounded like 1989. There's a lot of songs that have just been popping up on the radio that sound like it right now, and I think she inspired that. I wouldn't be upset either way, whether she goes back to country or goes to pop. Did you listen to Bon Iver's new album?
Yes, I did.
I've had to give it a couple of listens and sort out the lyrics so I can kind of follow along. If she released something like that, I might not like it, but I would probably appreciate it, you know what I mean? So …
It's time for the Taylor Swift concept album?
Exactly.
This interview has been edited and condensed.