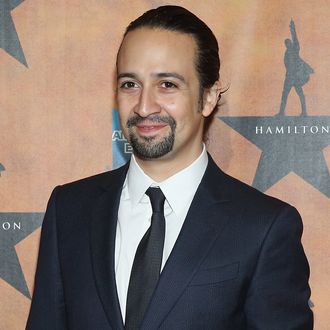 Lin-Manuel Miranda, Chicago Bound?
Photo: Neilson Barnard/Getty Images
Chicago and New York City are often foes when it comes to the finer things in life: pizza, hot dogs, and now, Hamilton. Specifically, the lottery to win tickets, and even more specifically, the live lottery performances that became a show staple, nicknamed #Ham4Ham on social media. When show creator and A. Ham originator Lin-Manuel Miranda left the NYC production back in the summer, the much-loved #Ham4Ham performances in front of the Richard Rodgers Theater were led by Rory O'Malley (the current King George) and then, eventually discontinued altogether as summer wound down. But now, Chicagoans lining up to most likely not win lottery tickets to that city's Hamilton performances have something to hold over NYC's head: #Ham4Ham. The official Hamilton Twitter account announced the good news this morning in advance of Chicago's opening night, along with a reminder that you need to register by 2 p.m. That's 3 p.m. Eastern time, in case you're feeling sure, sir, and want to try to jump on a plane to O'Hare, pronto. Another reason to make the trek? This morning, Lin-Manuel himself tweeted about being "en un aeropuerto." So maybe he's headed, I don't know, to Chicago? Just you wait …
Or check out the tweet below, and decide for yourself.