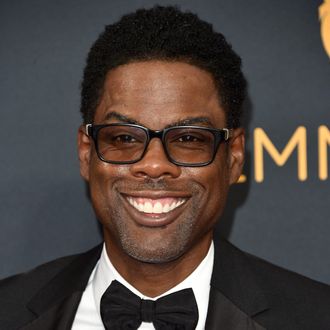 Photo: John Shearer/WireImage
After releasing his fifth HBO special, Kill the Messenger, in 2008, Rock took a break from performing stand-up — kind of. Rock continued to do sets in clubs, and would also perform at award shows, like his acclaimed monologue at last year's Oscars, or his maybe even better set from when he hosted SNL. What he hasn't done is played big headlining gigs. A lot has happened in the interim; an entire comedy boom has sprung up in the time he has been focusing on making movies. Well, Chris Rock's back to reclaim what's his.
Netflix announced today a deal with Rock to release two stand-up specials — two! — implying that he has been stockpiling material this whole time, waiting for the right time to unleash it. The first of the specials will film next year, following a world tour that he's currently in the process of planning. Rock, who has released his legendary specials and TV show on HBO — is making the move to Netflix, after the streaming giant reportedly offered him a truly insane $40 million for the rights to both. The amount comedians get paid per special is not public, but sources in the industry tell me that no one has ever gotten anything close to that. Though no one else ever created Bring the Pain.