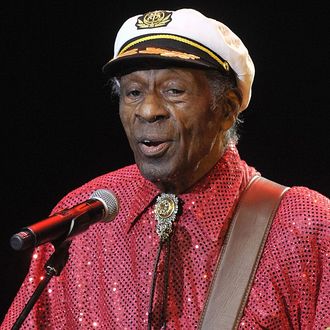 Now this is how you do 90.
Photo: Kommersant Photo/Getty Images
Time waits for no one, except maybe the Father of Rock and Roll. On his 90th birthday, Chuck Berry has selflessly gifted us with the announcement of his first album in 38 years. Chuck, which will include all new music recorded with his kids and produced by the legend himself, is set for a 2017 release. The last time Berry dropped an album was 1979's Rock It, when Berry was a spry 53-year-old. As if all this wasn't enough to warm the heart, the album is dedicated to his wife of nearly 70 (!!!) years, Themetta. "This record is dedicated to my beloved Toddy," Berry said in a statement. "My darlin' I'm growing old! I've worked on this record for a long time. Now I can hang up my shoes!" And you thought surprise albums were for the under-35 crowd.