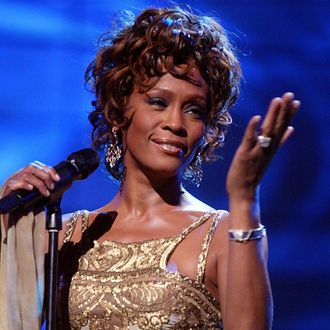 Photo: Kevin Winter/Getty Images
If you were having a nice Friday, you can stop now. The Hollywood Reporter recently got a look at some footage from the upcoming documentary Clive Davis: The Soundtrack of Our Lives, which is based on the legendary music man's memoir, The Soundtrack of My Life, and early cuts of the film suggest a substantial portion of it will be dedicated to his friendship with Whitney Houston. In the clip viewed by THR, Davis reads a letter he wrote to Houston following her performance at a televised Michael Jackson tribute concert in 2001, pleading with her to seek treatment.
Dearest Whitney, When I saw you Friday night at the Michael Jackson concert I gasped. When I got home, I cried. My dear, dear Whitney, the time has come. Of course I know you don't want to hear this. Of course I know that you're saying that Clive is being foolishly dramatic. Of course I know that your power of denial is in overdrive dismissing everything I and everyone else is saying to you. … I join your mother in pleading with you to face up to the truth now, right now, and there is no more time or postponement. You need help and it must begin now. I will stand by you with love and caring to see you through it to newfound peace and happiness in every way as a woman, as a mother, as a role model to inspire the rest of the world. Love, Clive.
The singer appeared gaunt, frail, and unhealthy during a medley of "Wanna Be Starting Something," and her physical appearance spurred waves of speculation about possible drug abuse and an eating disorder. A still photo from the performance was even deployed by Diane Sawyer as a prompt to get Houston to admit to substance abuse in her famous "crack is wack" interview with the singer from 2002. You are now free to listen to "Didn't We Almost Have It All" on loop and sob for the rest of the afternoon.