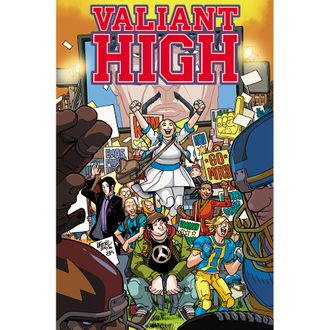 Valiant High, one of the inaugural comiXology Originals.
Photo: Valiant Entertainment
One of the past decade's most remarkable developments in comics art has been the ascent of digital-comics retailer ComiXology. Digital versions of the funnybooks account for an estimated 20 percent of the comics market and ComiXology is, more or less, the only game in town for that particular medium, which means a single retailer is responsible for roughly one-fifth of comics sales. Founded in 2007, the hegemon has been upgrading itself in the past few years: In 2014, Amazon (somewhat controversially) bought it; earlier this year, they launched an Amazon Prime–like subscription service that makes early issues of a wide array of titles available at no additional cost; and now, they're moving into the original-content game.
Like Netflix before it, ComiXology will start offering online-only titles; unlike Netflix, you snag them via individual purchase. The inaugural trio of series consist of Adventure Time Marshall Lee Spectacular, a set of adventures set in the Adventure Time universe featuring a rotating group of creators; Valiant High, a goofy vision of Valiant Entertainment's cast of superheroes as teens penned by Late Show With Stephen Colbert writer Daniel Kibblesmith and drawn by Jughead's Derek Charm; and Harvey Kurtzman's Marley's Ghost, a realization of an unfinished work by the legendary cartoonist in its title, completed by New Yorker cartoonist Shannon Wheeler and illustrator Gideon Kendall. They don't have a release date yet, but they're available for preorder. Let the experiment begin!