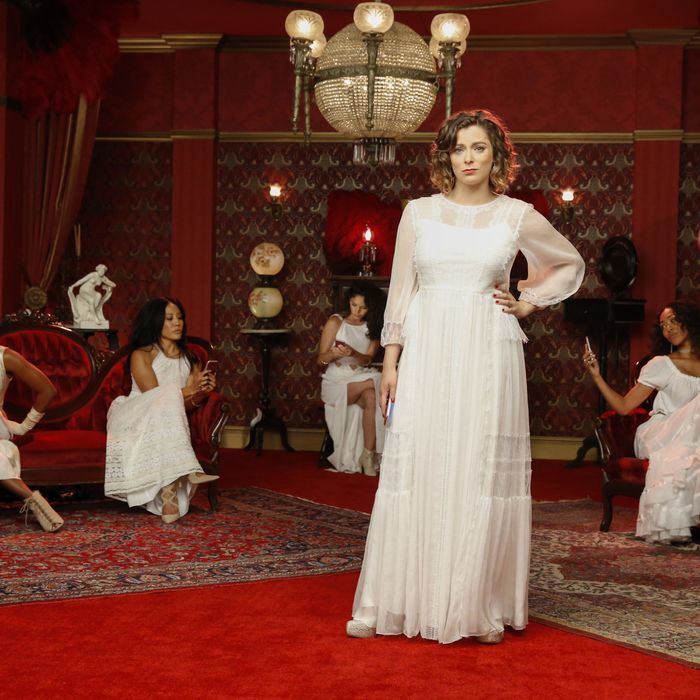 Rachel Bloom as Rebecca.
Photo: Robert Voets/Robert Voets/The CW
"Be careful what you wish for" is a cliché for a reason. At the end of a stellar first season, Rebecca Bunch got her wish, but while her first night with Josh Chan may have been a magic carpet ride, Crazy Ex-Girlfriend doesn't hesitate to crash land that carpet and set it on fire. If you got a little caught up in Rebecca's fairy tale last season, this premiere isn't shy about letting you know that you got equally caught up in her delusion. The reality of a relationship after months of anticipation can introduce a whole new world of letdowns — and they are far from pretty.
In rom-com reality, a new start with Josh would be a magic bullet for Rebecca's problems. In actual reality, splitting up Josh and Valencia has had serious consequences for her and everyone in her life, starting with Josh himself. Rather than embracing the new romance, Josh is as noncommittal as you'd expect a guy freshly out of a 15-year relationship to be. He's homeless, using Rebecca as "an Airbnb with benefits," accepting blowjobs and then migrating to the couch.
Josh claims to be uncomfortable with Rebecca because she still hasn't officially broken it off with Greg, but it's clear that he's just uncomfortable in general: with his decision to leave Valencia, with Rebecca's bruising affection (manifested in the most tricked-out "guest drawer" ever conceived), and especially with her revelation that she moved to town for him. Turns out Josh's unwillingness to commit to Valencia may have been less about Valencia, and more about Josh.
The consequences are even more heartbreaking for Greg, who's gone AWOL, in a sad reversal of last season's "Rebecca is missing" episode. As he ultimately reveals in a heartbreaking monologue — perfectly delivered by Santino Fontana — his binge-drinking at Jayma's wedding ended in a DUI. A court-mandated 30 days in AA have led to the realization that he's a serious alcoholic. (Paula's right: She repeatedly labeled him as one over the course of last season, but she was the only one who noticed.) Watching Greg struggle over being second fiddle in Rebecca's love life was heartbreaking enough the last go-round. But having him inevitably get re-involved in her machinations while trying to maintain fresh sobriety is a ballsy choice for the show, to say the least. I'm really excited to hear what it has to say (and sing) about his storyline as the season progresses.
As Rebecca said in the pilot, Josh may be the "glitter exploding inside" her, but the glitter inside Greg is alcohol, and inside Paula, it's manipulating Rebecca's love life. Despite the fact that her sex life with Scott is better than ever (there are Amazon Prime-ordered harnesses involved), Paula can't seem to let go of chasing the high she gets from playing people on Rebecca's behalf — to the extent that she makes Rebecca sign a legally binding friendship contract, stating that Paula can no longer get involved in her love life. "Of course I trust you," Paula tells Rebecca in another crushing moment. "But I don't trust myself." You may have thought you signed up for a sunny show about romance, but Crazy Ex-Girlfriend is just as much about struggling with addiction, and it isn't afraid to show it.
Rebecca's addiction isn't going so well, either. She's struggling to survive on what little affection she can cadge from Josh, even if it's a compliment on how nice her house smells. "Love Kernels," in which she portrays herself as "a sexy woman-cactus, living compliment to compliment, storing them in my body for long periods of drought," is easily one of the show's best songs yet. Rachel Bloom is a master chronicler of the tiny indignities of being a woman, and this spiritual sequel to the "Sexy Getting Ready Song" also boasts one of the show's better videos, with a budget hefty enough to nearly get Darryl replaced by a broom. As a result, the episode's other song, "We Should Definitely Not Have Sex Right Now," gets a bit cut in terms of both screen time and creativity, but it's just as good, and as relatable (for both genders).
All in all, this premiere is as dark, uncomfortable, hilarious, tuneful, bitter, and yet ultimately hopeful (Rebecca gets Josh to stay over! Paula's considering law school!) as fans of the show have come to expect. My only expectation at this point is that Crazy Ex-Girlfriend will continue to break my expectations, and that's exactly the way I like it. Toss a few of those kernels over here.
Other Notes:
In contrast with Rebecca's horror show of a love life, the romance between Darryl and White Josh continues to be one of the sweetest on television. May their guest dresser always remain full of love (and protein powder, glutamate, and socks).
My favorite CXG running gag is that every address in West Covina is on East Cameron (this week, it's Greg's AA meeting), which the show outright admits this time. Rebecca: "What's on East Cameron?" Paula: "Literally everything."
My other favorite running gag is that despite her amazing pipes in her fantasy life, the real Rebecca can't sing all that well. Her various made-up lyrics to "The Entertainer" are all hilarious: "God it's so hard to sing a sad song / With a melody that makes you wanna Charleston"
May we all one day have affection rain down on us like the candy in Kazaam, or like the money on Shaquille O'Neal that got to make Kazaam.
Hector gets good parent: "Everyone says the best part [of living at home] is the laundry, but real talk? If I have a nightmare, I don't have to tough it out. Know what I'm saying?"