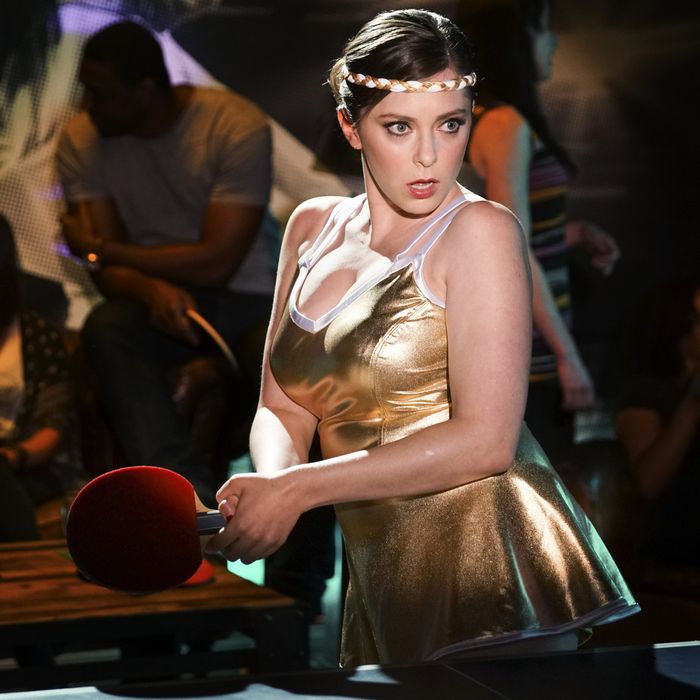 Rachel Bloom as Rebecca Bunch.
Photo: Scott Everett White/The CW
In the scene that opens the second season of Crazy Ex-Girlfriend, Rebecca Bunch (Rachel Bloom) and Josh Chan (Vincent Rodriguez III) sit beside each other in the front of a red convertible, the same car they snuggled in during the season-one finale when Rebecca finally, ill-advisedly, admitted that she moved to West Covina, California, to be with Josh. The image of them in that particular car calls to mind the movie Grease, which ends with Olivia Newton-John and John Travolta driving off in a convertible, gleefully, albeit nonsensically, into the blue sky above Rydell High. To underline the connection, Rebecca even notes that in the leather jacket he's wearing, Josh looks like Danny Zuko.
But instead of making their automobile fly via the power of their love — I guess that's why the car levitates at the end of Grease? — Rebecca and Josh drive down a basic West Covina street while she gaslights him into thinking she never said what she said about their relationship, then suggests they "pump the brakes" on their affair. That's Crazy Ex-Girlfriend in a nutshell: showing us imagery that reminds us of happy romantic musical-comedy endings, but keeping actual happy endings just out of driving distance.
That sensibility, which informed season one, along with all the go-for-broke musical numbers and cuckoo shenanigans that made it such a dizzy pleasure, still guides Rebecca's story in season two, which begins tonight at 9 on the CW. Her relationship with Josh has reached a new, Valencia-less phase — at least it has within the first three episodes provided to critics — but there's still plenty of ambiguity there, not to mention increasing complications caused by her residual feelings for Greg (Santino Fontana). The other elements that make Crazy Ex-Girlfriend such a gas are also still present. That means, of course, more deliberately absurd song-and-dance numbers, which this time include an Irish drinking song about staying sober, a Disney princess number that gets pretty gross pretty quickly, a Blink-182 riff about sexy ping-pong, a Diamonds Are a Girl's Best Friend–esque Marilyn Monroe send-up, and, in episode one, a song called "Love Kernels" that's accompanied by a Beyoncé-ish music video in which, at one point, Rebecca is dressed as a cactus. ("This movie used up all of our production budget," Rebecca coos into the camera. "Daryl is now played by a broom on a stand." Cut to: a broom with a face that vaguely resembles Daryl — Rachel's goofy boss, played by Pete Gardner — drawn on it.)
Crazy Ex-Girlfriend still pulls gloriously silly gags like that Daryl broom out of nowhere, but also feels more emboldened to go meta and self-referential this season. (At one point Greg tells his dad: "I can't just pick up and move across the country. I'm not crazy.") While that type of Über-self-awareness fits in nicely with the show's sensibility, there are times when things feel just a little off. Perhaps because of pressure to meet the high expectations set by season one or just some minor challenges finding its footing in season two, the writing occasionally comes across as forced, especially with regard to the Rebecca-Josh-Greg triangle. Characters make rash decisions or flip-flop from one scene to the next in a way that maybe isn't that different from what happens in a typical rom-com, but suggest that co-creators Aline Brosh McKenna and Bloom, and the rest of their team could benefit from pumping the brakes a little themselves.
The opening titles have changed for this new chapter in Rebecca's evolution (or regression). Instead of enabling her animated friends to declare that "she's so broken inside" like the old one did, the revised, equally delightful theme, "I'm Just a Girl in Love," features Rebecca announcing, with old-school musical panache: "I have no underlying issues to address/I'm certifiably cute and adorably obsessed." In other words, she's still denying her psychological problems, as confirmed in episode three when Rebecca visits her therapist, Dr. Akopian (Michael Hyatt), and tunes out pretty much all of her advice.
But what's interesting about season two is that, while Rebecca may still be sleeping on self-improvement, some of the people closest to her are waking up to the ways they can change for the better. That includes Greg, who faces his alcohol addiction head-on, and Paula (the wry, superb Donna Lynne Champlin), who realizes she needs to set limits on her involvement in Rebecca's dramas and start setting some goals for herself. If the first three episodes are any indication, Paula's story line actually may turn out to be the richest and most interesting one this season.
Crazy Ex-Girlfriend is about what it looks like when an otherwise capable woman (Rebecca) manically pursues some fairy-tale notion of bliss.  At the same time, it's also about people, like Paula, trying to shove false distractions aside and get real about themselves. And thankfully, in season two, it's also still about the guts and charm of Rachel Bloom, who has the cojones to put on a cactus costume and belt out a song that references the Shaquille O'Neal movie Kazaam.