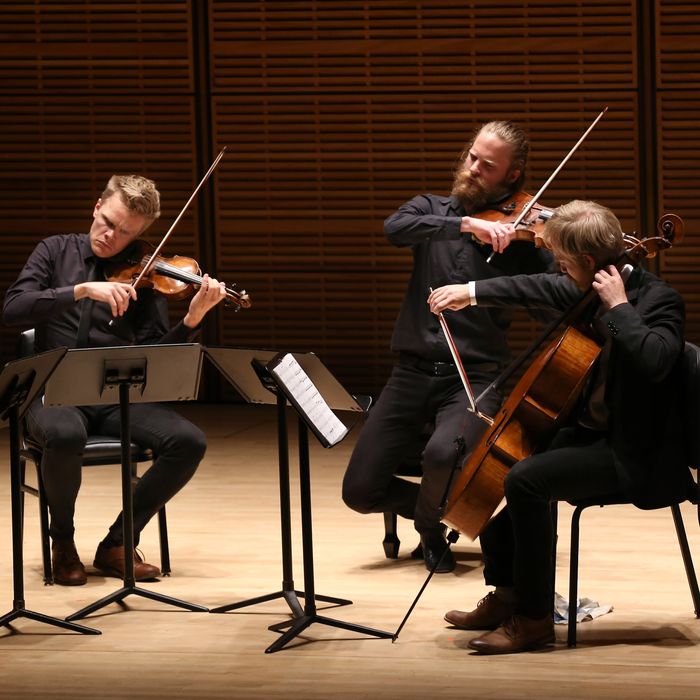 The Danish Quartet at Carnegie Hall.
Photo: Julien Jourdes
On any given night, New York is full of extraordinary rites performed in basements and second-floor rooms. On Monday night, the Danish String Quartet carried out its regular professional duties, performing works by Shostakovich and Schubert at Carnegie's underground Zankel Hall, and at the same time administered a raw kind of splendor. The concert opened with an almost intolerably dark and stripped-down performance of Shostakovich's 15th and final quartet, from 1974. It's a work of ravishing bleakness: The violin sings a cracked and lonely tune, struggling to get past its opening notes. The Danish quartet made it feel as though the voice could be snuffed out at any moment, and then the quartet would have ended, a whisper in the wind. Instead it stubbornly played on, as other instruments gathered, building the piece up from gasp to gasp until it formed the outline of a damaged soul. The funeral march in the final movement didn't mark a passing, but rather described a burdensome existence. In these players' hands, music accomplished what life often fails to do: fashion beauty out of pain. Shostakovich lived in a Soviet Union that honored and oppressed him, filling his days with dependency and fear. As I listened, I began to feel that if things go badly on November 8, this should be my Election Night song. I might even have to start each day with it for the next four years.
Replete, rich, and full of tragic euphoria, Schubert's "C Major Cello Quintet" offers an antidote to Shostakovich's bleakness. In the Adagio second movement, a quarter-hour of music I can't imagine doing without, a quiet surf of melody rolls above lilting pizzicatos. The quartet, supplemented by cellist Torleif Thedéen, indulged Schubert's rhythmic obsessiveness (dum-dum-DUM, dum-dum-DUM) and at the same time softened it into a heartbeat. The hardest thing about performing complex chamber music is to know the score so well that you create the illusion you've never heard it before. The Danes shot Schubert's straits with bravado, letting the syncopations lurch a little on an upturned wave, jacking the intensity of a crescendo until it rattled, or planing into a pool of quiet. Every revelation felt inevitable; each repeated passage told a new tale. How can four thin blond men fuse so completely into a nimble, multi-bowed, poly-stringed organism that tracks the flitting shadows of a dead composer's mind?