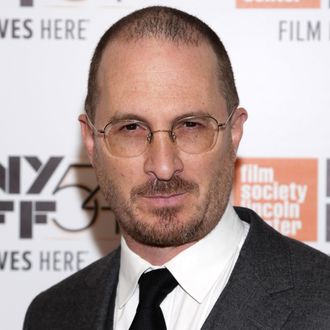 Photo: Brent N. Clarke/FilmMagic/Getty Images
Novelist Margaret Atwood's world of "speculative fiction" won't be coming to HBO, but Darren Aronofsky isn't giving up on it yet.
An HBO rep confirmed to Vulture that the network is no longer developing the Aronofsky-backed project MaddAddam. Based on Atwood's trilogy of books, Oryx and Crake, Year of the Flood, and MaddAddam, the series is set in a futuristic period of man-made tyranny, destruction, and plagues.
At a New York Film Festival event last week, Aronofsky told Vulture the series "is all written. We are working hard on it, and trying to figure it out." He said, "We are still in play."

Eliza Clark, a Yale-trained playwright and sister-in-law to Joss Whedon, penned the series. "We just went with the best writer," Aronofsky said. "Her work is amazing. It was interesting to see how her brain worked and processed to bring it all into a cohesive universe. Figuring out how to focus it into a ten-episode series was really challenging. It is such a massive, amazing piece, and we are just trying to find the right home."

Additional reporting by Josef Adalian.