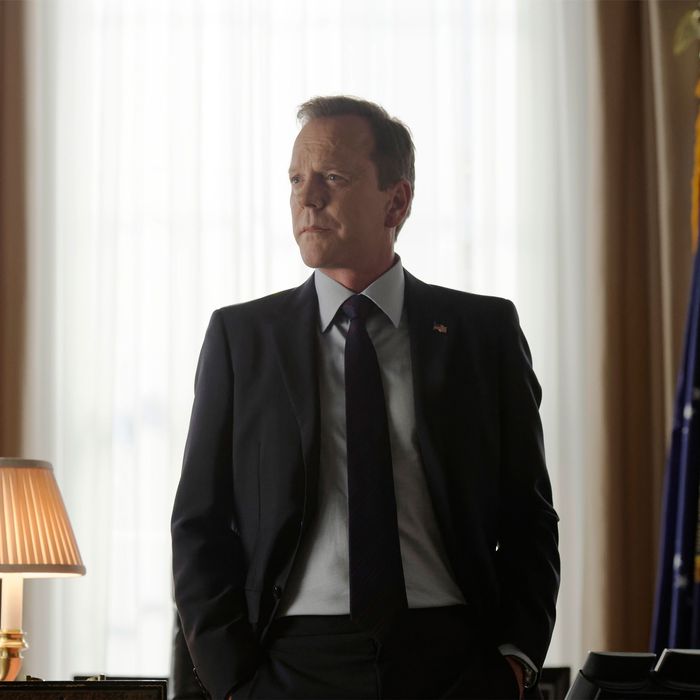 Kiefer Sutherland as President Kirkman.
Photo: Ben Mark Holzberg/ABC
Episode four was so wild, Designated Survivor had to take a week off. In case you forgot what happened, which you obviously didn't, here's where we left off: General Nuke God was fired and we're going to war.
Jack wakes up just before 5:00 a.m. to get briefed on the impending attack. Being the ultimate good guy, he first asks about a village next door, but Admiral Mykelti claims that only the bad guys will end up dead. Jack finally gives the go ahead for the attack, but right after Mykelti starts giving orders, another guy at the table hops off his separate phone call to tell everyone that the mission needs to be aborted.
The terrorist target, Majid Nassar, isn't there.
Jack is pissed, which is bad for business but great for me because we get our first true "DAMMIT" of the show. There isn't a single thing on God's green Earth I can do as well as Kiefer Sutherland saying, "DAMMIT."
A few quick scenes happen at a ceremony honoring Congressman Macleish, whom we're fairly certain is bad based on the hunches of Lady Bauer, her holiness Maggie Q. After this, Lady Hookstraten attempts to corner Kal Penn for information on Nassar, but he promptly gets her out of his face. She's growing more and more testy as she gets further and further away from the president, which suggests she's about to do something reckless. After the event, the president is rushed out to learn Nassar News that's even worse than the earlier Nassar News: They found him, but he's in the basement of a packed hospital.
It's time to develop a new plan, one that minimizes the loss of innocent life. If they use ground troops instead of just dropping bombs, they can actually take Nassar alive and extract information from him. Jack says he wants to meet with the person leading the ground attack. Admiral Mykelti is like, He comes to you. And Jack is like, I'll go to him.
I'm typically all for Jack's random acts of kindness and his Chicken Soup for the President's Soul leadership style, but this seems like an extremely busy day to go to Virginia for a conversation. After watching this scene, I'm having a change of heart on who Jack is supposed to represent. Earlier, I thought it was Obama, but now I think it might be Bill de Blasio.
Bill de Blasio is New York City's designated survivor.
Yep. Nailed it.
Following this, Hookstraten finds her way into the president's office, and she wants answers. You know that person in your life who calls you out about stuff they shouldn't know unless they were 100 percent spying on you? You know, the person who is like, "I know you didn't eat cereal this morning because when you opened the fridge you saw that the milk had gone bad," even though this person absolutely does not live in your house? That's Hookstraten. Anyway, she's digging for answers, continuing to take the whole "I am Congress" thing too seriously, and then calls the president's behavior "erratic."
Jack's face: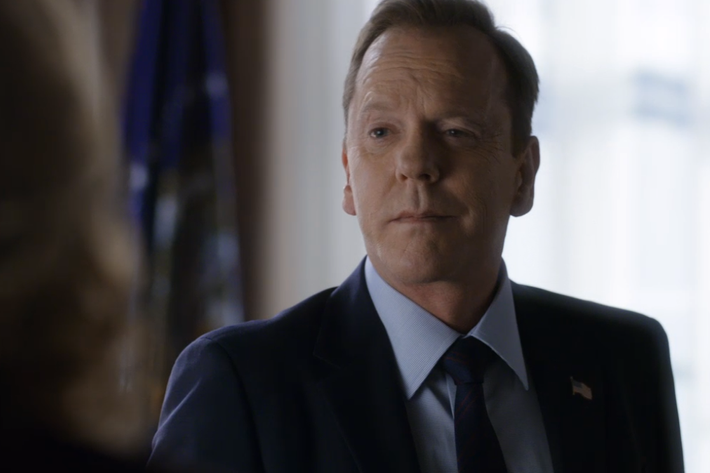 Translation: "Who is you?"
Jack bounces. He hates her. So do I.
Next scene, we see Jack in Virginia with the soldiers who will be headed to go get Nassar. He's speaking with their commanding officer, trying to get details and the officer is basically like, Aye dog, will you go let us do this?
Jack's beginning to realize that being hypersensitive does not bode well for a president, especially with regards to the whole commander-in-chief thing. People seem to appreciate that he cares, but truth be told, every person around him has been training for their entire professional life for their current roles. As someone that never had presidential aspirations, Jack is forced to play catch up.
Before the soldiers leave, Jack meets two of the soldiers, one who is about to be a new father and the other who just got married. Chances are at least one of them is going to die and Jack is going to feel really bad. Maybe I'm wrong about this, but I'm definitely not wrong about this. Zero chance all these soldiers come back.
Lady Bauer makes a stop by Congress to ask for access to some classified blueprints of the U.S. Capitol, because she's sniffing around to figure out what Macleish is really up to. Following that, we see both Macleish and Hookstraten with the president.
This is Congress now.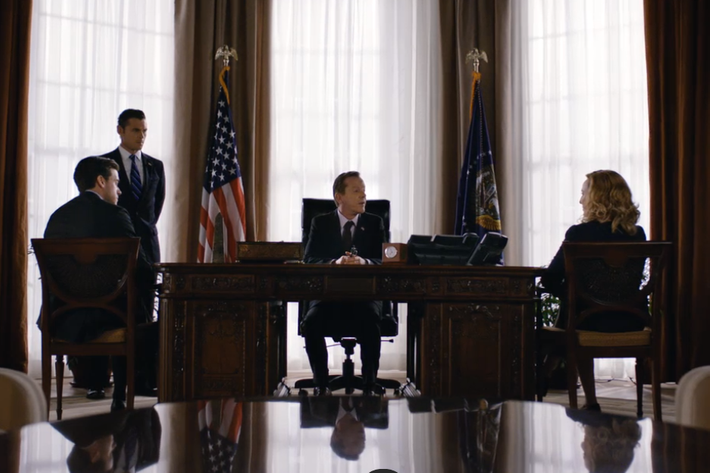 Both of these people are poisonous snakes, but with different signature attacks. Hookstraten is just being her standard miserable, on-brand self, which is why she's a snake. Macleish is being overwhelmingly supportive (kind of like Hookstraten 1.0), trying to fall in the good graces of the president. This most certainly is a giant ruse, which also makes him a snake.
As the meeting adjourns, Aaron and Jack start talking about Macleish as the Speaker of the House, thus neutralizing Hookstraten's power. This just isn't good. Not good at all.
And then it gets worse. They get a message that one of the choppers went down. It's not what we all thought, though — it didn't get shot down. Visibility fell to zero and the chopper crashed because it got caught in a SANDSTORM.
One of the soldiers is hurt, but he's going to live. Anyway, the mission is going to proceed as planned.
Next, we see Aaron and Emily meeting with Macleish. They're talking to him about being Speaker of the House, assuming he'll take the suggestion and run with it, but he kindly declines. He's playing the golden boy amazingly, saying that he didn't get into this life of service for the power — he did it to serve.
YEAH RIGHT, SON. PRETTY SURE YOU BOMBED THE CAPITOL. BUT WHAT DO I KNOW, I'M JUST A GUY THAT TENDS TO THINK MAGGIE Q KNOWS WHAT SHE'S TALKING ABOUT WHEN SHE FOLLOWS LEADS AND BELIEVES IN HERSELF.
Speaking of Dame Q, she's back with Hookstraten. We keep hearing about this Room 105, the same one that was mentioned in the sketchy phone call at the end of last episode. Maggie learns that it was a hideaway room in the Capitol and, through Hookstraten, she discovers that some random contract company worked specifically on that room during the Capitol renovations. A company that is now conveniently defunct.
Something's up. Something stanks. And Maggie is on it.
Next, we see two people who have never interacted onscreen: the First Lady and Emily. It's all fun and games, with White FLOTUS pouring tea and gearing up for story time, but Emily's like, "Unfortunately, I'm not here for anything social," which pumps the room's collective fun breaks.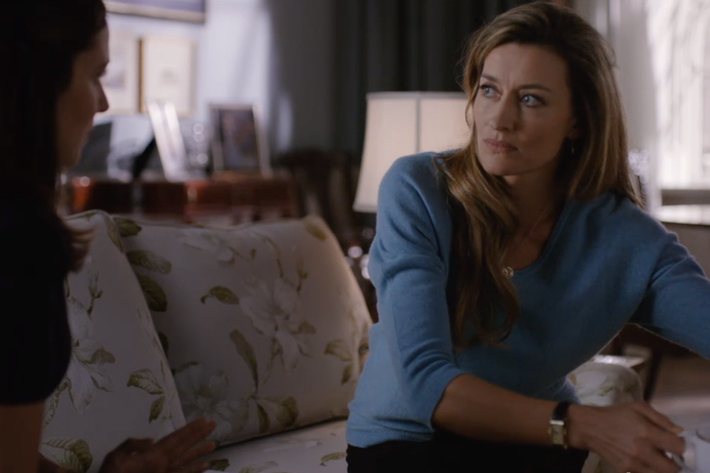 White FLOTUS is worried. I really hope this is about her son and party drugs. It's been a while.
It's not about Lil' Val Kilmer, but it's still a problem. Apparently, White FLOTUS had a boyfriend 20 years ago, pre-Jack, who is now in prison. WFLOTUS tells Emily that this isn't a big deal and she'll handle it, but if there's one thing I know about Kiefer Sutherland–related shows, never count out a crazy ex from coming back on the scene and literally ruining everything.
REMEMBER DANA WALSH? AND THE COUNTRY BOYFRIEND WITH THE INSANE DEMANDS?
Exactly. Never forget about the country boyfriend with the insane demands.
But yes, now it makes sense why Aaron wanted that sketchy file a few episodes ago. He's doing his due diligence as chief of staff by digging up anything that could be used against his boss, even felonious ex-boyfriends of WFLOTUS.
The next part of the episode is two alternating scenes, one from the control room as Jack (and Macleish) watch the raid in Algeria and the other, Maggie Q putting the puzzle together for Malik Yoba. The Nassar raid is kind of boring because nothing really happens, but on the other side, Maggie is like Angela Lansbury meets Columbo meets Scrappy Doo.
So here's what happened: Maggie tracked down the company and the individuals who worked on this mysterious Room 105 renovation — and they've all mysteriously died very recently. All eight of them, dead. That's not a coincidence. Maggie also got one of her FBI nerd friends to figure out the building schematics of the room, and found out that it was built with a type of steel that's essentially indestructible. One room, indestructible.
THEY BUILT A BOMB SHELTER IN THE CAPITOL.
Oh, how did Macleish not die? BECAUSE HE WAS CONVENIENTLY IN THE BOMB SHELTER BECAUSE HE KNEW A BOMB WAS GOING TO GO OFF BECAUSE HE PUT THE BOMB THERE BECAUSE HE WANTS TO BE KING.
Finally, Yoba is beginning to realize it. Macleish was in on the attack.
As for the raid, it suddenly gets real sexy. There's a standoff and the feed cuts to black and Jack starts freaking out. Ten seconds later, Admiral Mykelti announces that they got Nassar. Jack freaks out, but the other way this time, celebrating like he hit a half-court shot to win a rec-league basketball game.
Unfortunately, the happy vibes are but for a moment. One of the soldiers died. Jack is sad again.
We see Sad Jack in the next scene as he talks to his wife. Jack gets so sad. He doesn't understand how war works. Poor Jack. So sad, Jack is.
Let's just brush aside the sadness and get to end of the episode. Jack enters yet another room and possibly for the 100th time this season, he says, "No, please sit." It's starting to get annoying. Either everyone needs to just stay seated or he needs to let people stand. I'm tired of hearing, "No, please sit." I'm sick of it.
And then WFLOTUS meets with Aaron to talk about her ex. She assures him, like she did with Emily, that it's not a big deal. It definitely isn't something that would ever come up politically. Aaron then tells her that he would agree … if the ex wasn't telling people in prison that he's the father of her son.
THE EX-FELON IS DUBSTEP'S DAD? For the sake of the Kirkman family, I don't want it to be true, but God bless this Maury Povich story li— WAIT.
HOLY SHIT. IT'S TRUE?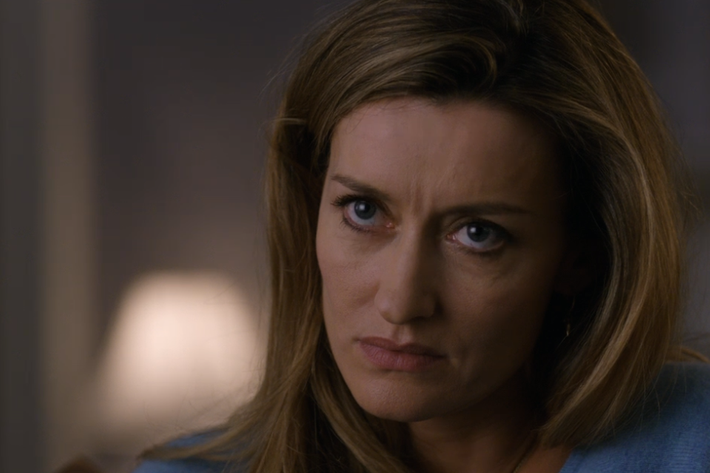 WAIT.
I DON'T KNOW WHAT'S HAPPENING.
Aaron asks, "Does Leo know the president might not be his father?" and WFLOTUS shakes her head, as to signify "no."
"MIGHT NOT?"
WHAT DOES "MIGHT" MEAN?
This is entirely too much, so let's just table it for next week because I suddenly have the meat sweats. Before the episode ends, Yoba admits to Maggie that he believes her, but warns her not to say anything because they don't know who to trust. The timing on this is phenomenal, since the president has just suggested that they promote Macleish to vice-president. And then we see the president, down by the grave of the fallen soldier, having a chat with another soldier about bravery and never questioning yourself.
SERIOUSLY, JACK "MIGHT" NOT BE THE FATHER? OMG.