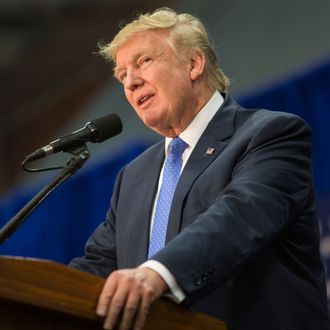 Gross.
Photo: Jessica Kourkounis/Getty Images
If you thought that Donald Trump never tried to replicate The Apprentice's success, think again: Jezebel reports that, three years ago, Trump tried his hand at creating another reality show. Trump Town Girls was intended to be a winning combination of two of Trump's favorite things: His billion-dollar real estate empire and assessing the talents of beauty pageant queens. The premise was to make an Apprentice–Miss USA hybrid in which Trump would take select contestants from the Miss Universe orbit he used to control (you know, before all this running-for-president business) and make them work at Trump International on opposing teams of two to compete for commission. The queens would have to promote his company and do "whatever it takes to win the week's payday," which sometimes included chartered flights to Monaco instead of actual money. You can probably see how this could have gone terribly wrong, but that didn't stop the show from filming a pilot!
In clips provided to Jezebel, "Mr. Trump," as the women call him, gets praised for rescuing the queens from their menial post-pageant lives as teachers and whatnot to enter the much-more-reputable brokerage business. At one point, Trump more or less calls the pageants his own personal recruitment tool for Trump International. It's a slightly more flattering portrait of Trump than the one painted by other beauty queens who've had the extreme displeasure of working for him, so why didn't America see it?
The show was reportedly meant to be a vehicle for Trump's daughter Ivanka, who's depicted in the pilot as the brains behind Trump International and a cutthroat businesswoman. "She was a very hot commodity with networks," a source tells Jezebel. In fact, Donald wasn't even really supposed to be in it. The only problem was that Ivanka lacked her father's, um, color onscreen — as the rest of the show reportedly did, and so Trump Town Girls was scrapped (as was a later idea for a show about Miss Universe queens) by the Trumps and E!, where it was being pitched.
Apparently not a problem, though, was the show's encouragement of girl-fighting between the queens and "regular" women brokers ("Well, that's a slutty dress," one beauty queen says to a woman who appears to be exiting a meeting with Trump) and the way it pimped out the queens, using their beauty to entice clients like Dallas Cowboys quarterback Mark Sanchez into buying a Trump property, as seen in a clip. Because what would a Trump show about women in the workplace be if not a total vortex of misogyny?