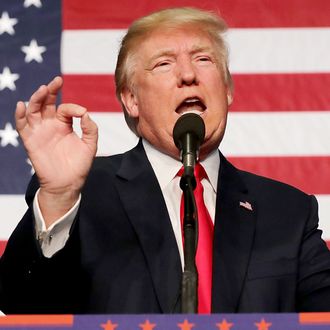 Donald Trump, 'author'
Photo: Chip Somodevilla/Getty Images
Republican presidential candidate Donald Trump may be staring down the last few days of his campaign, but there appears to be no end in sight when it comes to revelations about Trump's sexism. The Huffington Post is reporting that a 2012 novel called Trump Tower — which, as you might guess, takes place in the Donald's eponymous luxury apartments in New York — originally boasted Mr. Trump himself as the writer. The current publication bills Jeffrey Robinson as its author; however, HuffPo turned up evidence that that was not always the case. Early promotional materials reportedly listed Trump as the writer (even though it's likely it was always Robinson writing the actual words), plus the book was originally registered in his name with the Library of Congress.
The book has an erotica–BDSM bent (there is a comparison the Fifty Shades of Grey series in some reviews), but reportedly these scenes and others of a sexual nature, often lack consent. Throughout, women are described by their level of attractiveness, with explicit references made to their breast size and overall appearance. At some point in the process, Trump apparently decided to take his name off the book, but as recently as this week the novel was prominently displayed, alongside official Trump campaign merchandise, in the Trump Tower gift shop. Trump also allegedly once tried to make a TV show with a very similar premise — chronicling the lives of those living and working in Trump Tower — in the vein of "Dynasty or Dallas." As that show does not exist, the book is all we've got. It's also 400 pages, and apparently, it's very bad:
"Numerous typographical errors, bizarre 'cameo' appearances by celebrities (not least among them Bill Clinton) and abrupt tonal shifts further make finishing the novel a challenge. The first section of the book is vaguely in the genre of erotica, with numerous descriptions of naked women and sex scenes. The remainder of the novel devolves into office politics, trade deals and a murder investigation. The building manager is a suspect in that murder, but is cleared when the cops just give up on the case. Nobody in the novel seemed to care about the murdered woman, so it's fine."
Sexist, bad, and exhaustingly long? Sounds like a certain campaign, doesn't it? Maybe you should skip Trump Tower, unless you're a sadomasochist (and not the fun kind).