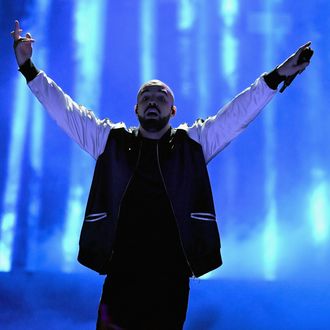 Photo: Kevin Winter/Getty Images
Tonight, Drake made a big announcement to kick off the latest episode of OVO Sound Radio: He's releasing a project called More Life in December. According to Complex, instead of a mixtape, More Life will be a playlist of original music. Here's the full announcement:
"I'm off like mixtapes, I want to do a playlist. I want to give you a collection of songs that become the soundtrack to your life, so this More Life: The Playlist. Like I said, dropping in December. All original music from me. You might hear some tunes from the family on there. Just really excited. I had a great tour, I had a great summer. And most people would like go probably take a break, but for me I just want to get right back to it. Be with the people again. Boy Meets World Tour, coming up soon. UK, I'll be there soon. Big up to UK massive. Everybody—Paris, Amsterdam, Sweden, anywhere we are touching down. But yeah, I just want to celebrate life. More life. That's what we live by. That's something we not take for granted."
But being the considerate Canadian boy that he is, Drake doesn't want to keep you waiting, and just shared three new songs, as well as a remix with U.K. artist Santan Dave.