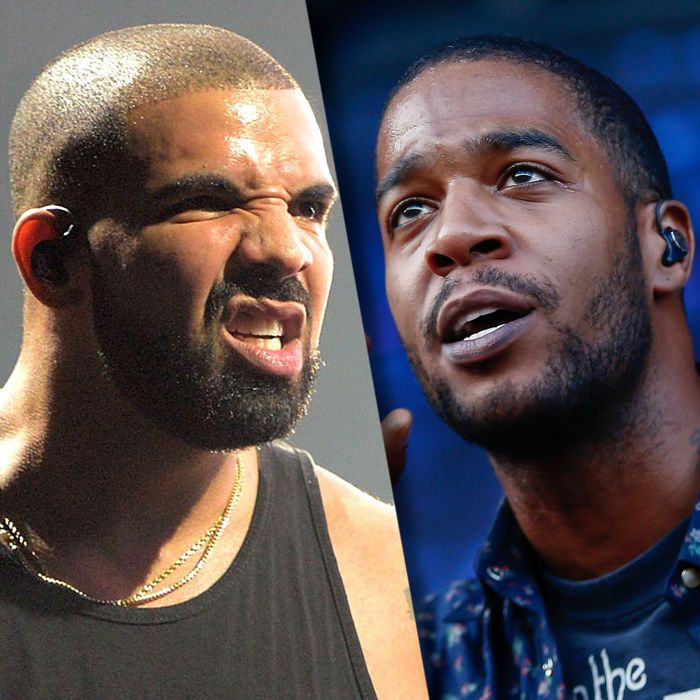 Over the weekend, Drake's ongoing smarm offensive reignited with the unveiling of three new songs scheduled to appear on a forthcoming project titled More Life. The scathing "Two Birds, One Stone" has been the source of some controversy; in it, Drake finally responds to five years of needling from Pusha T, and he sends a ruthless shot at Kid Cudi. "You were the Man on the Moon, and now you just go through your phases," Drake says, referencing Cudi's 2009 debut album. "You stay xanned and perc'd up so when reality set in, you don't gotta face it."
Response to the lines was split among fans who feel like Cudi got what he deserved for firing at Drake from nowhere on Twitter last month and others who see jokes about mood swings and self-medication as a furtherance of stigmas facing people of color struggling with mental illness. Longtime rap aficionados took the dialogue a step further: "The idea that Drake went too far speaks to how sawf [sic] our current state of existence is …" Hot 97 program director turned morning host Ebro Darden tweeted. "Rap battles aren't even fun anymore thanks to social media," Fake Shore Drive founder Andrew Barber said. "You guys all want kid gloves nowadays. Rap battles are not supposed to be PC."
 It's true that we currently have a deeper sensitivity to social justice as a society than ever before, and it's very likely that this Drake conversation might have barely registered in the past. This is, to a certain kind of thinker, evidence that people are posturing now to look "woke." Power 105.1 radio host Charlamagne tha God said: "If you think Drake went too far against Cudi and you a 2pac fan, you are a hypocrite to the highest power, and we don't respect you." He's speaking tacitly of 2pac's summer 1996 Biggie and Mobb Deep diss "Hit 'Em Up," which opens with "That's why I fucked your bitch, you fat motherfucker," and goes on to invite Mobb Deep's Prodigy to die from his sickle-cell anemia. The unsubtle insinuation is that a culture that didn't have a problem with "Hit 'Em Up" is full of shit for taking umbrage with "Two Birds."
The problem is the assumption that everyone loved the Pac record at the time. Now, there was no Twitter in 1996, but there were internet forums. A telling thread in the seminal Rec.Music.Hip-Hop forum from the week of the "Hit 'Em Up" release found members split between applauding Pac's recklessness, accusing him of posturing for attention, and praying he came to his senses before the streets paid a visit. Sounds familiar.
Lifting up 2pac and Biggie's tiff as a memorable time rappers threw caution to the wind tap dances conveniently and irresponsibly around the subject of repercussions. Speech is free, but words can come with a price, as 2pac learned cursing every East Coast rapper who stepped toward, while swearing it was all for sport. ("I don't want it to be about violence," he told Vibe's Kevin Powell in the spring of 1996. "I want it to be about money.") Biggie publicly swore off a direct response and — depending on whom you believe — either kept his word or served Pac a chilling subliminal diss record in "The Long Kiss Goodnight," a song neither rapper would live to see unleashed. It is a terrible example of the good old days of real beef: Two great friends and black figureheads cut down midway through their 20s because everyone else was too keen on what they'd say next to notice everything spinning out of control.
Another skirmish it's important to discuss here is the dispute between Jay Z and Nas. "Imagine if Twitter was around when Nas and Jigga were literally at war," Complex staff writer Angel Diaz mused. Yet Twitter probably would have been pretty happy with the final outcome of one of rap's biggest scraps. After Nas responded to "Takeover" with the cold, rude "Ether" on Jay Z's birthday, Jay went gloves-off on the savage "Super Ugly," a freestyle over Nas's "Got Ur Self a Gun" in which he says he left condoms on the baby seat after sex with the mother of his rival's child. "Super Ugly" not only lost to "Ether" in a Hot 97 listener poll Jay was present for (former host Angie Martinez: "I can see him sitting there like it was yesterday — defeated"), Jay's mom chastised him for the song, prompting an on-air apology to the women his lyrics offended. The next spring Nas told Vibe, "I feel disgusting, like I got some nasty mud on me" when asked to reflect on the back and forth.
Rap beef rarely goes off without consequence or restraint. It's a misrepresentation of history to suggest that the diss record is, by rules, an anything-goes medium. And it's whitewashing history to forget that most of the dirtiest low blows short-circuited on the perpetrators. The only two rappers in recent memory who have gotten over on saying whatever they want are 50 Cent and Eminem — who have always been friends, naturally. 50 spent his time on top bullying the nearest competition with such inspired cruelty that when it all folded up for him — in a spat with Rick Ross where it turned out no one cared about the Miami drug rap impresario's corrections-officer past — there wasn't anyone left pulling for him. Eminem has retained a large core audience but disappeared so far up his own ass that he thinks vivid rape jokes in a Donald Trump takedown is good album promo. Nobody wants to be those guys anymore.
There is a certain degree of personal cruelty you can exact on your peers that begins to cost you favor. Ever wonder why rappers love gangster flicks? They're master classes in how not to squander everything on top. There's a moment in each film where the boss finally conquers all the opposition and begins to treat everyone poorly. It's never long after that moment that they crumble.
Drake has carried out his career with a keen awareness of this balance. He is judicious and careful. He never lashes out first. When checked, he responds with a swift, considered put-down, if he says anything at all. He is a tactician whose primary weapon is the court of public opinion. But clowning Kid Cudi in rehab isn't the work of the Drake who cautiously juggles professional relationships and collaborates with hot young talent to keep abreast of every wave. Riding on everyone who offers up a negative word is late-second-act Tony Montana behavior. Maybe that's why "Two Birds, One Stone" hasn't yet made it to the streaming services along with the other More Life cuts.