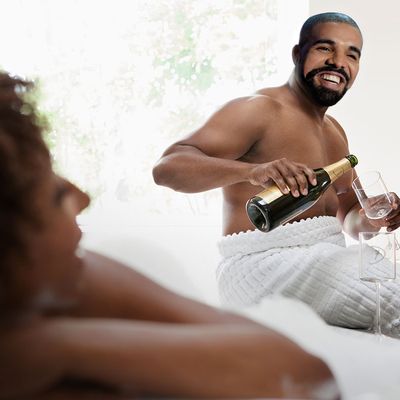 Illustration: Vulture and Getty Images
Westworld — the theme park, not the show, where an insurgent robot rebellion is currently building — seems pretty freaking awesome. The super-rich get to go, have all the adventures they want, kill people with no consequences, and alleviate all of their tension with synthetic life forms in a brothel. There's only one problem: Who wants to go to the Wild Wild West? I am not a fan of stagecoaches, cowboys versus Indians, anything that has to do with Clint Eastwood, or any environment that reminds me of the blend of Westerns and sci-fi (I had a traumatic experience at Wild Wild West).
So how about the escapist who wants to try out another fantasy? We have a few suggestions.
Chardonnayworld
The kids are gone, the husband is away on business, and hardworking mothers find themselves in this perfect oasis where no one can bother them while they sip Pinot Grigio, get mani-pedis, and talk to their closest girlfriends about last week's Vanderpump Rules reunion. Or just spend some time reading the New Yorkers that have been piling up on the coffee table. Do whatever you want, or do nothing at all. This isn't the most exciting alternative, except for when John Stamos comes by to run visitors a bubble bath, give back rubs, and nod in agreement with everything they say. Ultimate bliss.
Gayworld
It seems like the only robots for sale in the brothels of Westworld are ones with two X chromosomes (X circuit breakers?). Where are the gays supposed to go? Back to the '70s, of course, where every night Grace Jones performs at 54, quaaludes are as plentiful as mustaches, and everyone ends the night with a romp in the bathhouse. This is only fitting, since the gays created the clone look in the first place. Without any straights around and the specter of AIDS absent from non-human lovers, it will be post-Stonewall hedonism run amok all over again.
Warriorworld
Everyone in New York City is always saying that the city was better way back when, but what about in a dystopian future? Stroll the Big Apple as a part of your very own street gang, clashing with rivals and trying to find your own turf just like in The Warriors. But that's not the only dystopia you get to relish. Some guests might find themselves volunteering for the Hunger Games, road-racing Beyond Thunderdome (Tina Turner wig not included), stomping on heads at the Clockwork Orange milk bar, or running through a maze like, um, a maze runner. Don't worry, no one will be sorted into types like in Divergent. No one wants anything to do with Divergent. 
Burningworld
What's the worst part of going to Burning Man (besides having to listen to people talk about Burning Man, of course)? The journey to get there, with the dusty RV rides, the remoteness of the desert, having to lug all your costumes, glow sticks, bottles of water, dried flowers to barter with when you run out of tampons, and other supplies. Such a hassle! Why not just have an EDM dance party in this park where Burning Man happens all year round and there is someone on hand to select your costumes, cook your meals, and even lead you to the orgy tent whenever you want it. Just, please, don't talk about it once you leave.
Out of This Worldworld
Why should people want to go shooting and carousing in the past when they can get their laser guns and jet packs on in the future? This place is just like Deep Space Nine, except without any of the dorky connotations. Maybe it's more like the Mos Eisley Cantina, except here visitors always shoot before Han Solo. Explore the alien bazaar at your leisure or find yourself whisked away in a spacecraft for a visit to a gambling planet like something out of Cowboy Bebop. If the engineers at Westworld can create perfect humans, they can probably create exotic and alluring aliens, too. What would a fantasy future be without Total Recall's three-breasted woman?
Drakeworld
Yes, this is a place where every host looks exactly like Drake. He sings like Drake, he raps like Drake, he giggles at jokes that aren't really funny like Drake, he Canadians like Drake. They're all Drake. But, unlike Drake, they love you and care about your needs both sexual and emotional and they won't stop serenading you and pouring bottles of white wine by a warm bath until you are completely fulfilled in both body and spirit — by Drake.