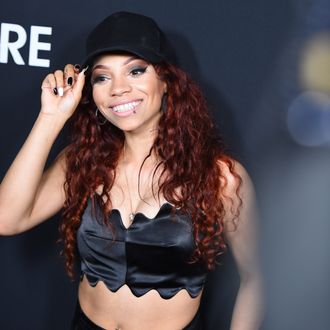 Eazy-E's Daughter, Ebie (E.B. Wright).
Photo: ROBYN BECK/AFP/Getty Images
Along with being an Oscar-worthy film, last year's Straight Outta Compton revived cultural interest in the members of hip-hop group N.W.A, particularly Eazy-E, who died in 1995. (The rapper, born Eric Lynn Wright, was portrayed by Jason Mitchell in the film). Now, however, another angle to the story has emerged: Eazy-E's daughter, Ebie Wright, is fundraising to make an investigative documentary about her father's death. As Rolling Stone reports, a Kickstarter related to the project recently surfaced, offering rewards ranging from early access to the film's eventual soundtrack to her father's original Ruthless Mafia jacket, which according to Ebie is the only thing she has left belonging to him. While Eazy-E's official cause of death was listed as complications due to AIDS, Wright, her mother, and her sister (who are billed as co-producers) allege that he was, in fact, murdered by forcible injection of AIDS-infected blood. It's Wright's hope that the documentary, called A Ruthless Scandal: No More Lies, can come to fruition via the Kickstarter campaign, which currently has raised over $2,000 of its desired $250,000 — with only six hours left to go.