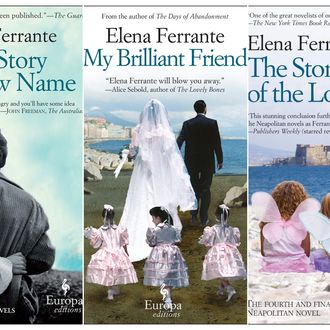 The recent outing of beloved and notoriously private Italian author Elena Ferrante has critics and onlookers divided. But one person unequivocal in her position is Ann Goldstein, New Yorker copy chief and the translator of several of Ferrante's books, including the immensely popular Neapolitan Novels. At a New Yorker Festival event today, Goldstein commented on the recent unmasking of the author by journalist Claudio Gatti, calling the revelation "totally unnecessary" and "somewhat vindictive" before taking questions from the audience. You can read a transcript of Goldstein's statement below.
I'll comment myself first of all, on what I'm sure someone will probably ask about Elena Ferrante. I just want to say that I think that this outing or unmasking of Ferrante was unnecessary, totally unnecessary, and a somewhat vindictive invasion of the author's privacy. I didn't and don't know who she is. My relationship with her has always been with the text and with the creator of that text, that is the voice of the writer of the words, and I don't expect that to change.

As in the past, when I've had questions, I've always gone through the publishers, and I'll continue to do that. In the 25 years since Ferrante published her first book, she has consistently maintained her desire for anonymity, and her reasons for it. So now, does anybody have questions? About other things?