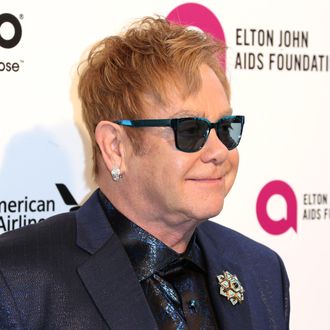 Oh you know this will be good.
Photo: Frederick M. Brown/Getty Images
Not to be excluded from today's wild and weird Nobel Prize news, Sir Elton John has announced that he's finally writing his memoir. The autobiography, John's first-ever book, will be co-written with the Guardian's music critic Alexis Petridis and published by Henry Holt in 2019 — because it takes at least three years to pack decades of a "crazy life" into one must-read. According to John, he long avoided reflecting on his past for the sake of nostalgia, but even he knew that someday he'd have to tell all. "I'm not prone to being a nostalgic person. I'm often accused of only looking forward to my next gig or creative project. It's come as quite a surprise how cathartic I am finding the process of writing my memoirs. As I look back, I realize what a crazy life I have had the extreme privilege of living," John said in a statement. "I have grown up in a period of extraordinary change in our world — and have had the joyful honor of rubbing shoulders and working with so many of the people at the heart of these changes. My life has been one helluva roller coaster ride and it's still lumbering on. I hope readers will enjoy the ride too." Grab a cuppa, because scalding hot English tea will be served.