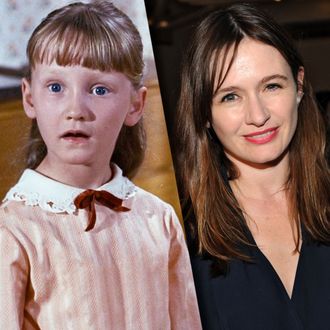 (L) Jane Banks. (R) Emily Mortimer.
Photo: Walt Disney Productions, Getty Images
Disney's Mary Poppins sequel has all the best dark-haired British Emilys. The studio announced today that Emily Mortimer (Lovely & Amazing, The Newsroom) will play a grown up version of Jane Banks (played by Karen Dotrice in the original). The equally extremely British Ben Whishaw will play her equally extremely British sibling Michael, while Lin-Manuel Miranda will play a lamplighter similar to Dick Van Dyke's character. Emily Blunt will, of course, play Mary Poppins, once she downs a few spoonfuls of sugar to recover from all that drinking on trains.