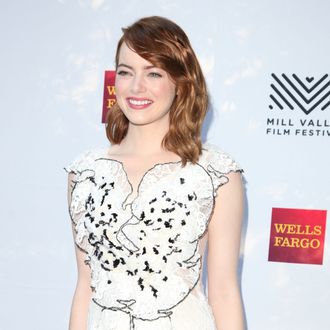 Photo: Kelly Sullivan/Getty Images
Emma Stone is cooler than you, and guess what, she's got a whole Vogue cover just to testify to that fact. Just in time to start her awards campaign for La La Land, Stone toured L.A. with a reporter, going bowling and sharing stories about the time she first moved to the city dreaming of fame and later saw someone throw up at a party thrown by Paris Hilton. Through most of the profile, she's masterfully toeing the line between relatable — her ex-boyfriend is still "someone I love very much," she says, even though they broke up a year ago — and being oh-so-cool — that ex-boyfriend is Andrew Garfield.
So, on the upper tier of the cool side of the equation, we have this wonderful story: After paying tribute to Gilda Radner at Saturday Night Live's 40th anniversary, Stone headed to the after-party. "I'd taken off my shoes to dance because I am one of those people who dances at parties," Stone says (because of course she is). "And I stepped in broken glass. It was embedded into my heel. I walked off and was bleeding all over the place."
Someone from the Plaza, Stone says, "grabbed a knife and took the glass out of my foot. I swear to God. And then 60 seconds later, one of the SNL people was like, 'Prince is onstage. Do you want to go on and play the tambourine?'"

And that is how Emma Stone wound up on a stage after midnight, surrounded by people like Rudolph, Fallon, Martin Short, and the Haim sisters, playing backup tambourine for the one and only, and now dearly departed, Prince.
Emma Stone has no Achilles heel; her feet aren't even a weak point.