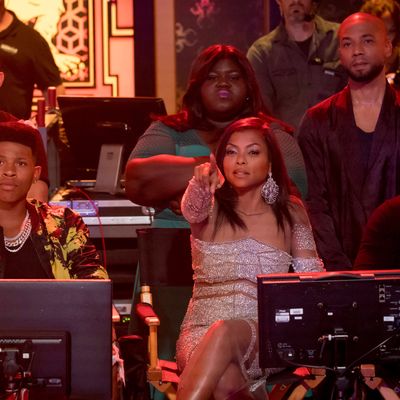 Bryshere Gray as Hakeem, Gabourey Sidibe as Becky, Taraji P. Henson as Cookie, Jussie Smollett as Jamal, Taye Diggs as Angelo.
Photo: Chuck Hodes/FX
Are you wondering if this episode ends with Ghost Rhonda helping Andre have sex with someone? You have a very specific and creative imagination, but you are right. Empire is really taking this thing to new heights. More flashbacks, more scenes at Chicago's Lyric Opera, more references to Jack & Jill to prove a character's bougie-ness, more whisper-singing. It's got everything.
Andre and Lucious are heading to what Empire would call "The Hood" to get Nessa to sign a contract. Lucious also says something about "an experience only black women can give you." Lucious is pretty complimentary toward black women even though he treats them like garbage. He's a man of contradictions, that Lucious. Shyne is inside his studio tending to a bunch of bonsai trees when Nessa and Andre's eyes lock from across the room and it is on. Shyne refuses to sign the contract that Lucious brought because — SURPRISE! — he wants to start a bidding war. So all those record executives were just hiding behind a coatrack waiting for Lucious to show up? Okay. Lucious's perm is quite disturbing in this episode.
Lucius storms back to Empire and starts yelling at Becky for not doing the job they wouldn't give her. Cookie comes in to let Lucious know they've hired a new head of A&R and it's a white guy who acts like he's black. He's obnoxious. Also, Tiana is working on a clapback to Gram and Hakeem. Lucious says that Cookie is throwing attitude his way because Angelo hasn't called her back.
Cookie heads out into the lobb — OH NO A CREEPY CHILDREN'S CHOIR. Angelo has sent tiny children to play the recorder and xylophone to sing "Frère Jacques" to Cookie because that's … romantic? Angelo is hiding behind a pillar watching the stuff of psychological thrillers serenade Cookie and pops out to invite her to a concert. Cookie makes sure that it's a date. Go 'head, Cookie. Cookie tells Porsha that Angelo probably picked a concert so that she would be comfortable because he's a gentleman. Cookie has a flashback to her dad picking her up while she was hanging out with Barry, her tragic dark-skinned boyfriend, and tells her dad that she made sure to defrost the chicken, which is the blackest thing a child can say. Her dad knows that she's been skipping school and doesn't want her to hang out with "that Lucifer Lyon or whatever his name is" because Barry is going to lift his woman up and get Cookie out of "The Hood."
Lucious is lurking nearby, watching Cookie with Angelo, and tries to sow some doubt in Cookie's mind because Angelo dates only socialites, so what would he want with her? See what I mean about the hot garbage thing?
Jamal goes back to prison with the PTSD group therapist to help him apologize to Freda … then he leaves before Freda gets there. What is the point of going there if you're gonna leave? Freda arrives and Jamal sees that she's been beaten up by Jamal Lyon fans and has two black eyes. Freda brushes it off and Jamal vows to get her out of jail.
Hakeem is hosting a party for Nessa and Shyne on Xstream. Who would watch that? Who is that for? Is anyone settling in to watch a party on Tidal? Shyne goads Hakeem into writing Empire's offer on a napkin and when Hakeem does so against all good judgment because Hakeem is a damn mess, Shyne shows the number to the camera. He says that Empire's offer is now the number to beat. Hakeem is left to eat the entire roast pig with the Empire logo branded onto the side by himself. Meanwhile, Cookie is listening to Jamal's new songs and trying on outfits for her big date with Angelo. She rejects several outfits with hats and every booty-centric outfit. She settles on an a-mah-zing look with a glitter eye and a black lip. Unfortunately, it's a black-tie fundraiser filmed at the Lyric Opera house (I recognized it because I'm a long-time subscriber and a member of the Lyric Young Professionals). Angelo introduces Cookie to some other bougie bitches he knows and Cookie overhears them talking shit about her in the bathroom and she says she's the head of the Make-A-Wish Foundation because they're gonna wish they hadn't met a hoodrat like her. Cookie sneaks off so Angelo doesn't know she left.
Cookie convinces Tiara to finish the song that claps back at both Hakeem and Gram. The new (white) head of A&R says that he has a black girlfriend and they talk about empowerment all the time. I want to punch him in the goddamn face. Jamal plays matchmaker for his mom and tries to tell Angelo to turn down the black tie and turn up the, well, regular blackness. Angelo offers to help Freda get legal help to pay Jamal back for helping him bang Cookie.
Andre heads back to Shyne's studio, where Nessa is overseeing women count stacks of cash. He tries to explain just how great Empire's contract is and why she won't want to be controlled by some huge corporation or some Dutch conglomerate. Instead, just go with the weird company run by one family who is always sleeping with each other's wives and girlfriends and/or getting each other shot. Nessa says that Shyne is always trying to protect her, so she has to listen to him. Andre stands very close to her and says that she's worth more than she knows. Mmm-hmm.
Andre gets Nessa's signature on the contract and Shyne storms into Lucious's office to beat Andre up because no one is allowed to talk to Nessa. Andre, hardened by a life of crime, punches back. When Shyne pulls a gun on him, Lucious hits Shyne in the back with a bat and forces him to sign the other half of Nessa's contract. Lucious is weirdly proud of his son for kicking Shyne while he's down. Meanwhile, Jamal goes with Freda to an emergency bail hearing with the lawyer Angelo recommended. After an impassioned speech that the Lyon family is to blame for Freda's problems because she got too famous too fast, Freda is granted bail.
Tiana is getting ready for her live Xstream performance (which my boyfriend kept insisting is not a thing anyone does) while Cookie sits by in a mostly sheer sequin dress. Angelo shows up in a black T-shirt and Jamal says, "Looks to me like he's about that club life." Uh, okay, sure. Lucious tries to intimidate Angelo by telling him a flashback story where he beat up her tragic dark-skinned boyfriend and claims the whole thing will explain how she got her nickname. (It doesn't.) Lucious congratulates Jamal on getting Freda out of jail and says that getting a doctor to falsify records for Freda is a classic, garbage Lucious move. How does it feel to be like your dad, Jamal? Jamal goes to practice his whisper-singing with his PTSD therapist who tells him it's a bad idea to mix alcohol and pills. It appears to be the first time he's ever heard the notion. He does it anyway.
Finally, Nessa comes to visit Andre at his office and they start kissing and she immediately takes her panties off. After a few thrusts on his desk, Andre says he can't do it and then he imagines Ghost Rhonda egging him on and she says she'll help him and pushes his head to make out with Nessa. Oh boy. Because another man talked to Nessa, Shyne tells his boys to stock up on their guns to start a war with the Lyons. Whatever he does when he finds out Andre is banging his sister is going to be outrageous.