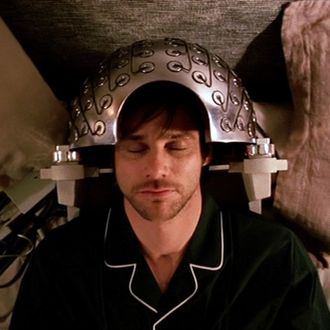 Eternal sunshine of the spotless mind! Each reboot accepted, and each IP mined.
Photo: Focus Features
Blessed are the TV development execs, for they get some pretty odd ideas. Per The Hollywood Reporter, Steve Golin, who produced Charlie Kaufman and Michel Gondry's 2004 mind-bending romantic drama Eternal Sunshine of the Spotless Mind, is looking to remake it into a TV series. The film centers on two exes — played by Jim Carrey and Kate Winslet — who erase each other from their memories. Zev Borow (Chuck) is reportedly near a deal to write the script; Kaufman is not involved. It all sounds like a great idea, though only if your erase all your memories of the near-perfect original film.