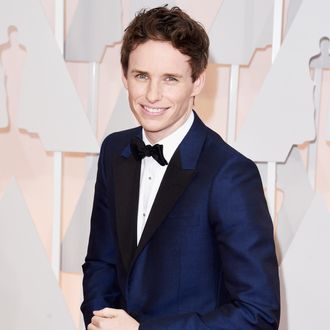 Photo: Jason Merritt/Getty Images
Eddie Redmayne and Katherine Waterston will be starring in Fantastic Beasts and Where to Find Them, and they finally addressed the news that there will be five Fantastic Beasts movies, instead of the expected three, according to EW. "When she said we were doing five, that was news to us … there's so much that we're not privy to," Waterston said of J.K. Rowling's announcement.
But, of course, Rowling's word is final. "The thing is that it's [Rowling's] imagination," Redmayne said, before elaborating:
She has such a passion for it and a specific story that she wants to tell and we get glimpses into that, and as Katherine said, it's insanely exhilarating when that happens. I think Fantastic Beasts the title and Newt and his creatures are a way into this world, but there's a much bigger story here about good versus evil that she wants to tell, and you haven't seen much of it in the trailers and the clips of the film. But it's really a core of the story that she's telling and it has an epic, epic quality to it. … So I do see that [Fantastic Beasts] is a macro story that could take more time.
The film is directed by David Yates, and it follows Scamander (Redmayne) as he travels to New York City in 1926 with a magical case full of fantastic beasts, serving as a prequel to the Harry Potter series. Fantastic Beasts will be released on November 18.