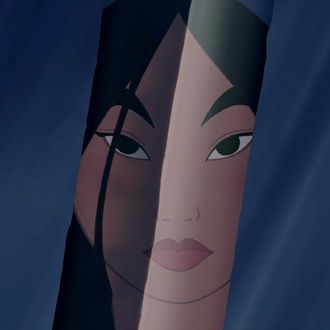 Photo: Walt Disney Pictures
Because Hollywood has a not-so-great track record with Asian representation, and Mulan is such a treasured exception to the rule, fans of the film have urged Disney not to cast a white male lead in its upcoming live-action remake. This comes after an essay from someone who claims to have had access to the Mulan spec script initially purchased by Disney said that the first draft features a "30-something European trader" who helps defend China after falling for Mulan. Since buying that script, Disney has hired new writers, Rick Jaffa and Amanda Silver (Jurrasic World), to work on Mulan, and a source close to the film tells Vulture that, just as fans hoped, the film will indeed feature an Asian love interest. "The spec script was a jumping-off point for a new take on the story that draws from both the literary ballad of Mulan and Disney's 1998 animated film," the source says. "Mulan is and will always be the lead character in the story, and all primary roles, including the love interest, are Chinese." The studio has also promised a "global casting search" to find a Chinese actress to play Mulan herself.
This post has been updated throughout.