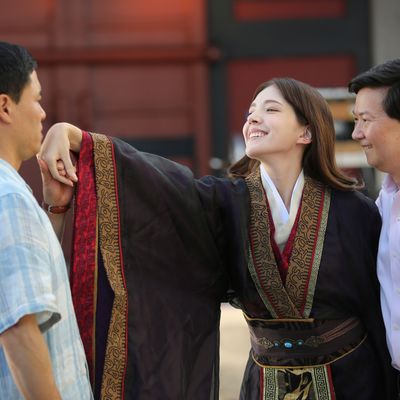 Hsu Wei-ning as Margaret, Ken Jeong as Gene.
Photo: Henry Jen/ABC
I cannot believe it actually happened, but somehow, Fresh Off the Boat made an episode without a single white person. Yes, they had to go to Taiwan to do it. Yes, this is probably the last time it will happen, but I will take what I can get.
Last season's finale left me wondering whether or not the Huangs would actually go to Taiwan, or if they'd construct some shoddy version of a night market on a back lot somewhere in Hollywood. But instead of a knockoff Taipei, the Huangs returned to their ancestral homeland and made a wonderful half-hour of television. "Coming From America" is a beautiful, funny reminder of how essential it is for sitcoms to expand their fictional worlds from time to time.
So the Huangs are in steamy, humid, bustling Taiwan, because Louis and his brother Gene got into a fight about many things — Money! Weddings! Choices made by their father about which son to send to America! — and Gene absconded with Grandma Huang just in time for his wedding. Everyone showed up prepared: Jessica has an empty suitcase, ready to be filled with everything the family needs from the night market, and Evan brought his AAA guide to Taiwan, a suitcase full of toilet paper, and Cinnamon Toast Crunch. Seems fine! While the circumstances of their trip are less than spectacular, this is a wonderful opportunity for Eddie, Emery, and Evan to see where they're really from. Yeah, they've never been to Taiwan, but it's still their home, albeit a "home" they know nothing about because they were born and raised in America.
At Big Auntie's house, the Huangs settle in to be reunited with Grandma, their cousin Hennessy, Little Auntie, and an uncle or two. This is nice, but we're not here for this. We're here to find Gene and make his relationship right with Louis. It turns out Gene does pretty okay. His wedding is being held at the Grand Hotel and it is on the staircase in the hotel lobby where Gene and Louis engage in one of the best bits I've seen on this show since the Chinese polite fight. Communicating through a translator who scurries down the stairs to present Louis with a note scrawled on a legal pad, Louis bellows across the lobby in English just how much money he spent to bring the entire family to Taiwan, engaging in a budget-off with his brother. With each revelation, Gene scampers down a few more steps, climaxing in Louis's declaration that they flew direct, in economy plus. "You spent so much! So much!" Gene cries with the unfettered glee of someone who understands that a true sign of love is whether or not someone else is willing to pay full price.
And who is Gene's mysterious bride? Margaret (Taiwanese star Hsu Wei-ning) is a beautiful actress and model whom we first see starring in an on-the-nose energy-drink commercial featuring traditional dancing and a dude in a bear costume doing a split. Margaret is beautiful and famous; Louis, bless him, is in complete and utter disbelief.
Meanwhile, Jessica and the kids take a walk down Dihua Street, relieved and relaxed in a sea of people that look like her. She relaxes so much, in fact, that she temporarily misplaces one of her children and picks up another that isn't Evan — similar to when I walk up to another short Asian woman in Marshall's thinking it's my mother. Jessica is on a quest to show her kids Taiwan as she remembers it. Sadly, her beloved Mr. Deng who sells the swordfish soup doesn't remember her and even if he did, he's out of soup. Pro tip: Go to the street vendors early if you want to actually eat there instead of at a McDonald's down the street.
Back at Big Auntie's house, everyone loves Margaret and Louis is still in disbelief that his dumb brother bagged such an impressive fiancée. He's even more impressed when they leave the apartment and go up a floor to see where Gene and Margaret stay. Surprise! It's really, really nice. "American middle-class is like Taiwan rich," Louis tells his gobsmacked children and also, technically, himself, as a means of self-soothing before the inevitable nervous breakdown he will later have while writing a happy wish for his brother on a paper lantern to be lit and sent heavenward. See, he can't think of anything nice to say because he's still super-mad at … himself? Gene? His father, for choosing one son to make it in America while the other stayed in Taiwan and made a nice life for himself? Turns out, it's a combination of all three, and because most intra-sibling rivalries are nothing more than pettiness writ large, Louis isn't backing down.
When Jessica Huang and her children descended up on the night market, I wrote "YAASS NIGHT MARKET" in my notes followed by a lot of unintelligible jabber denoting my excitement. Please understand that this scene at the night market is perfect, from Jessica's bargaining with the vendors to the way Eddie's Jordans fall apart within minutes of wear. This writing staff really gets the details; this sequence in particular manages to delight at every turn.
It's time for the actual wedding, a.k.a. the whole reason they came to Taiwan in the first place. Gene and Louis still aren't talking after the lantern fight, so Gene introduces his own wedding video — a beautiful retelling of Ghost starring Margaret, Gene, and a Ming vase spinning on a potter's wheel, already painted. Sure! While contemplating the extravagance of the wedding, Louis and Jessica have a little chat about their expectations and how they were blown away by their visit home. Nothing in Taiwan is the same, really, because it's not home anymore. Yes, if Louis had stayed in Taiwan, through the frictionless slip of connections and family friends, he'd have the same kind of life that his brother does. But Cattleman's Ranch wasn't built in a day and neither was the comfortable life they have for themselves in America. For them, that's worth it.
Oh, and as for the kids? Eddie spends most of the episode wandering around Taipei looking for a fax machine so he can send Allison letters because it's still 1997. Ah, pre-smartphone romance.
Authenticity Index
To parse out individual moments of this episode and rate them by how authentic they are would take up too much time. The entire episode is a beautifully wrought story about identity, one that is so rarely seen on television. Every detail feels correct and resonates, from cousin Hennessy's chosen American name to the rapid-fire bargaining at the night market to the look and feel of Big Auntie's apartment with its linoleum floors and mismatched chairs. The Huang family's experience of being trapped between American life and Taiwanese life is one that many first-generation kids feel. To visit the land your parents came, without knowing the language and feeling distinctly American while looking like everybody else is a strange feeling. The tiny moments that captured this — Eddie asking his dad how to say something in Mandarin, Evan's horror at the way a Taiwanese elementary school is run — are utterly wonderful. If forced to rate its authenticity, I give it a lifetime supply of baozi, sold from a bamboo steamer, washed down with a grass jelly drink on a humid morning. It is that good.